How is the family feud playing out on the ground? Vandita Mishra travels from the homes of Akhilesh and Mulayam on Vikramaditya Marg, Lucknow, to their background in Saifai, to find out.
In Saifai, people wish they wouldn't ever be asked to choose. Between father and son, "Netaji" or "Bhaiyya". Mulayam Singh Yadav, the founder of the Samajwadi Party, or the SP government's Chief Minister, Akhilesh Yadav.
The cast of characters in Yadav versus Yadav is most vivid in and around the place that is home to Mulayam's family, which, with its gleaming white buildings of stadiums and colleges, upcoming mall-like shopping centre, leaning watch-tower and airstrip, has long outgrown the description of village. Here, attached to each figure is a quirk or an anecdote, a shadow or a memory.
Stories abound of Netaji's unparalleled "jan sampark" and "pehchaan", his contact and connect with ordinary people. He used to travel to the villages on a battered cycle without a carrier, a humble jhola swinging from his shoulder, many remember from long ago. He would hold "nyay panchayat" to resolve local disputes, they say.
Netaji may be old now, it is also said, but he hasn't forgotten the names of people, or the way to their village — that is how he built the party, brick by brick, and that's why he rose so high in the country's politics. He would come here, sit beneath that peepal tree, have tea at Baba Nirmal Singh's tea-shop at Udi Mod Chauraha, about 30 km from Saifai. Netaji last came to Udi five years ago when Veerbhan Singh Bhadoria lost his daughter in an accident, even though Bhadoria had already left the SP and joined the BSP. That is just Netaji's way, they say.
In Saifai, they also talk about the crowds that regularly gather outside the kothi of "chhote mantri" Shivpal Singh Yadav. In popular accounts of the Yadav family feud outside, Shivpal is a dark, almost sinister, figure. He is Mulayam's ambitious brother who presided over as many as 13 departments in the Akhilesh government, now determined to unseat Akhilesh. Shivpal, it is often said, patronises party lumpens.
In Saifai, however, the crowds seen outside Shivpal's home are the largest, larger than those outside the CM's residence or even Netaji's. It is because Shivpal is the SP MLA from Jaswantnagar constituency, in which Saifai falls. But it is also because "chhote mantri" may or may not get your work done, but he will not turn you away, many say.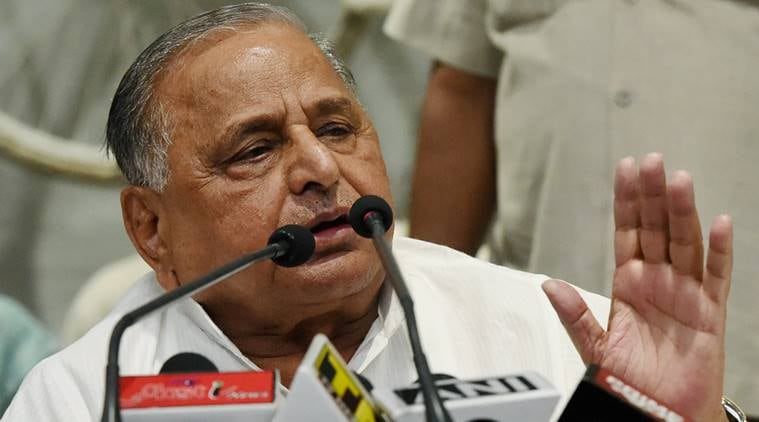 On the other hand, Ram Gopal Yadav, Mulayam's cousin who is prominently in the Akhilesh camp, "professor sahib" as he is known, is so stern, some say — or as others put it, so arrogant — that he will refuse to meet you if you are even a minute early or late.
Akhilesh, the lead protagonist and hero in the unfolding SP saga in Lucknow, seems the least storied figure in Saifai.
Yet, "ek hi toh baat hai (it is the same thing)", people say. The son is an extension of the father, as sons are; he is taking forward the family legacy, as sons do. We will only vote for the SP, and they will get together again. It is only a matter of time, you'll see — after all, aren't they father and son, and wasn't it the father who made the son chief minister in the first place?
*****
But persist with questions about the public rift and struggle for power in the SP's First Family, and you can touch the divide it is stoking within families in and around Saifai.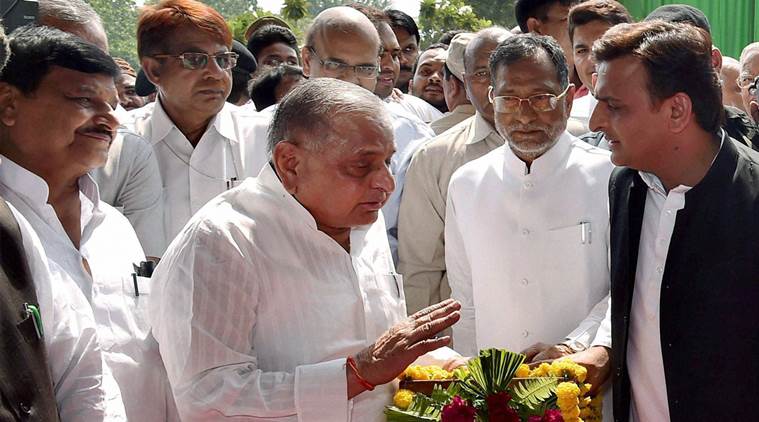 In Shahjahanpur village, 5-6 km from Saifai, in the home of former sarpanch Mukaddam Singh, who was by Netaji's side in many of his early political struggles in this region and who twice went with him to Fatehgarh jail, a group of men talks affectionately of Netaji. They say that he brought the road, electricity and college here, put Etawah on the country's map. "Naye purane ka khel hai (it's a game of old versus new), but everyone here is with Netaji," concludes old and grizzled Mukaddam Singh.
"But I think Akhilesh is right," interjects Gajendra Yadav, a much younger man in his 30s. "It is true that Mulayam-Shivpal struggled their way up, but they are now in the wrong. The issue at the centre of the dispute is whether or not party tickets should be given to those like Atique Ahmed, Mukhtar Ansari and D P Yadav. Yeh baat sahi hai, goondagardi baahar honi chahiye (It is correct that lumpenism should be kept out), the party must be cleansed of it."
The older men in the group are provoked instantly: "Did Akhilesh go to jail? Has he seen poverty up close? Lived in a hut, taken the lathi on his back, faced politically motivated cases? What does he know, who studied abroad, saw only the good times, got the chief ministership on a platter, and surrounds himself with upstarts and opportunists?"
At Mukaddam Singh's home in Shahjahanpur, the numbers look stacked against the Akhilesh supporter. But they are more evenly poised, and there is a clearer generation divide, in the group that gathers in the temple courtyard in the village of Amratpur, further away from Saifai — about 25 km from Mulayam's village.
"This is a domestic quarrel but even the family is more with Akhilesh," says Deepu Yadav, a 25-year-old shop-owner. "Netaji is old now. He was the farmers' neta, but Akhilesh is a politician of today, versed in modern technology. When Mulayam was the chief minister, Shivpal patronised lumpens while Akhilesh has put a stop to such things," he says. Deepu and other young men in the group count other achievements of Akhilesh raj: Samajwadi pensions and scholarships for the poor, 'Dial 100', distribution of cycles and laptops, good roads.
"Who planted the tree?" counters Man Singh Yadav, who retired as an employee of the PWD. "Hum toh khurpiya wale hain (we work with our hands in the fields), for what do we need computers? As for lumpens, we don't know, but the party needs the support of everyone," he says. "Laptop doodh dega (will the laptop give milk)?" challenges 66-year-old Ram Prakash Yadav. "If the party splits, I will be with Mulayam, tan, man, dhan, lathi aur danda se (with all that I have)," says Man Singh.
Anuj Kumar Singh Yadav, 30 year-old, sums up the debate: "The SP family feud is dividing our families. If it comes to a choice, we will tell our elders that we are voting Mulayam, and press the button for Akhilesh."
"Netaji is poojniya (venerable), we will put his picture up on the wall, but vote only for Akhilesh," says Neeraj Singh Yadav, the 35-year-old SP pradhan of village Madiyan Kareelgarh, which lies on the other side of the Etawah town from Saifai.
*****
On the road to Saifai from Lucknow, the choice seems less torn and tangled, and the narrative is more impersonal.
In the posters that loom sporadically on both sides of the highway, Akhilesh's face appears to grow more prominent, standing out and apart from those of local leaders who share the space. In Uttar Pradesh, the political graffiti and posters are seldom a one-man show and local candidates and office-bearers are given pride of place — a reflection, perhaps, of the multi-cornered contests in a more fragmented political space.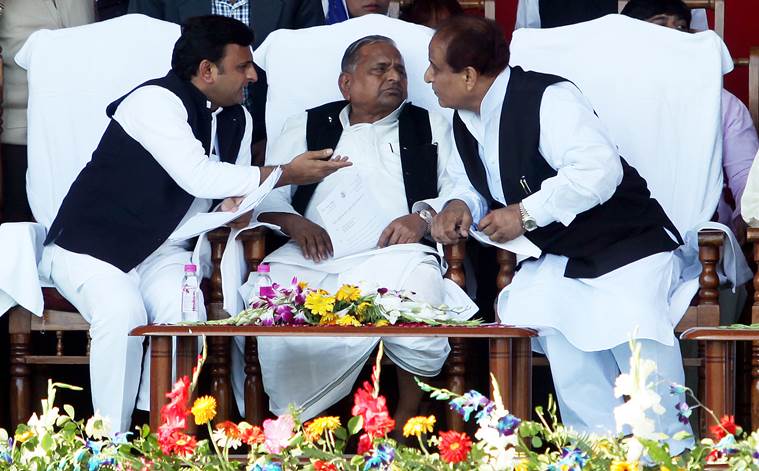 Disbelief is palpable in the non-Yadav, non-Muslim village of Chirhuli, district Auraiya. "It's a dikhawati ladai (a make-believe fight)," says Amit Kumar Sharma. "What do we have to do with it? Whatever work the SP government has done is either in Lucknow or Etawah," he says.
"If this is really a genuine fight, Akhilesh is right," says Rajan Tiwari, cautiously. Tiwari says he has supported the SP earlier but won't vote for the party this time, because "we have seen how in an SP government, the Yadavs take over everything. My village, of Pandits and Harijans, had to suffer because we are surrounded by Yadav villages."
SP leaders are only testing their strength in their respective constituencies, others say — Akhilesh among the young, Shivpal among the lumpen, Mulayam among farmers. Having done that, they will get back together again. Because this is "noora kushti (a fake fight)" — there is no difference, and no differences, between Mulayam, Shivpal and Akhilesh.
The story changes in Bara village, district Kanpur, where a group of men, all Muslims, is convinced that the SP tug-of-war is a battle of worldviews. "Yeh usoolon ki ladai hai (it's a fight of principles)," says Abdul Wali, an SP worker.
"Akhilesh thinks very differently from Mulayam," says Mushir Ahmed, young and unemployed. "Under Mulayam, there is gundagardi and tanashahi (lumpenism and dictatorship). Akhilesh is trying to clean things up and that is why the party is with Akhilesh."
Bara has no good road to speak of, and no public water supply. There is a primary school, but hardly any teaching, they say, no Inter college or health care centre. "The lower officials have failed us," says Mushir Ahmed, but he feels that "Akhilesh is trying".
"The father's time is in the past, the son is the future," says old Haji Mohammad Mushtaq with an air of finality.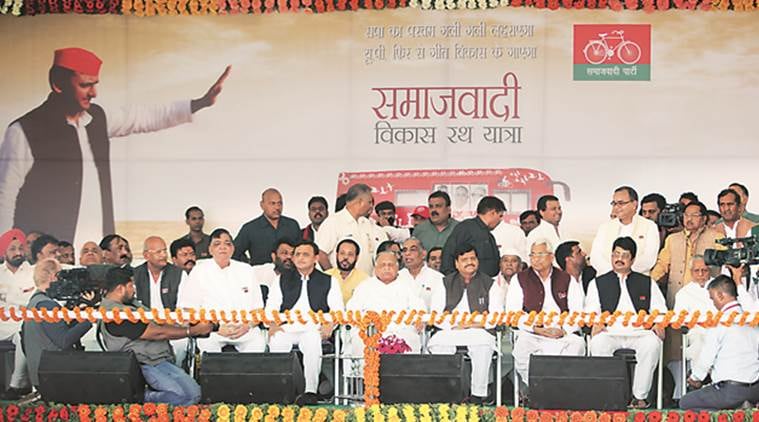 It's a similar story in Muslim-dominated Dariyapur, district Unnao. "Mulayam is like my father," says Babu Khan, as he plays cards with his friends in a village-clearing. "It was not for nothing that he was called Maulana Mulayam, he gave us respect and dignity. Yet today, more people are with Akhilesh. He has given laptops to the young, and 'Dial 100'." Babu Khan chuckles as he recalls the time he actually dialled 100, after a game of cards erupted in a half-serious fight, and the police came, took them all away.
"We will see hawa kiski hai (who is winning). For the moment, it is Akhilesh," says Ashiq Ali.
In village Babakoti, lit up by electricity a mere seven-eight months ago, Birendra Yadav, a small farmer, is clear: "We haven't got anything from the Akhilesh government, but there is talk about him. We hear he has delivered elsewhere in the state." And Medi Lal Yadav asks: "Why must the father still work, when the son has come of age?"
On the road from Lucknow, where a majority of the SP MLAs have cast their lot with Akhilesh, to Saifai, which seems reluctant to choose, three factors seem to favour Akhilesh as he confronts his father. He is seen to be more winnable, more in step with the demands of the changing times, and more alert to the power of the political image.
As he fights his last bout, Mulayam, the old wrestler, is on the mat.
For all the latest Elections News, download Indian Express App