Uddhav Thackeray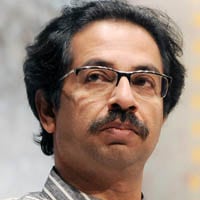 Shiv Sena
Uddhav Thackeray
AGE
Education NA
Assets NA
Liabilities
Criminal Charge:
Constituency Data
Total Electors
Percentage of Votes %
Attendance in Parliament NA%
Debate Participated NA
Questions Asked
MPLAD Utilization %
Uddhav Thackeray, the 53-year-old Shiv Sena president, is the youngest son of late Bal Thackeray. Uddhav is an alumnus of the J J School of Arts and an avid wildlife enthusiast. Known in his initial days to be reticent and shy, the soft spoken Uddhav Thackeray started gaining prominence in the party during the Shiv Sena-BJP combine stint at power in the state between 1995-99.
Thackeray was known more for his backroom management skills, but was elevated to the post of the party's executive president in 2003 much to the chagrin of senior party leaders. The younger Thackeray subsequently started playing a role in the day to day functioning of the party and formulating strategies, irking senior leaders like Narayan Rane.
The dismal performance of the Shiv Sena in the 2004 elections which were fought with candidates selected by Uddhav Thackeray made senior leaders like Narayan Rane raise the banner of revolt. After Rane's exit, the Sena faced yet another revolt, this time from within the family with Raj Thackeray quitting.
Under criticism for his leadership style Uddhav did his bit by going all out on tour across Maharashtra just before the 2009 elections. The party, however, won lesser seats than its alliance partner the BJP in the 2009 elections.
After the setback, the Shiv Sena came back under his leadership and manged to win the BMC elections. Thackeray also faced a health scare after being diagnosed with a heart ailment during the period. This was followed by the death of Bal Thackeray in 2012. Uddhav is the sole leader of the party, but many have questioned his leadership style and have blamed him for surrounding himself with a cabal.