Sushma Swaraj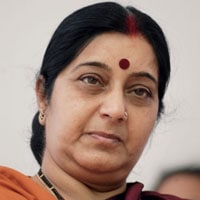 Bharatiya Janata Party
Sushma SwarajVidisha, Madhya Pradesh
AGE 14.02.1952
Education BA, LLB
Assets 7,35,82,637
Liabilities 58,250
Criminal Charge: No
Constituency Data
Total Electors 12,33,394
Percentage of Votes 70.10%%
Attendance in Parliament 94%%
Debate Participated 102
Questions Asked 43
MPLAD Utilization 82.17%%
Sushma Swaraj has been known as a powerful orator and a popular face of the Bharatiya Janata Party. Swaraj began her political career with the youth wing of the BJP – ABVP – in 1970s, and went on to become the youngest Union Cabinet minister at the age of 25, and also served Delhi as a Chief Minister.
Swaraj, who is considered very close to veteran leader L K Advani, has often been quite close to being named the prime ministerial candidate of the BJP.
One of the most interesting episodes related to Swaraj's political career is her contest against Congress president Sonia Gandhi in Bellary, Karnataka. Though she lost the election, she was hailed for her the tough contest she posed for Sonia in probably her toughest political challenge. This time, she won the Lok Sabha election from Vidisha in Madhya Pradesh, and is expected to play a key role in the Modi government.
POWER PUNCH
While every one else stood in deference to Narendra Modi at the party's national conclave in March, she said she would begin where Modi left in his speech.
OOPS MOMENT
When she said she would raise an important issue in Parliament: "Why is it that attack in films is only on Hindu beliefs and on names like Sita, Radha and Kaushalya?"
BY THE WAY
She is an ardent follower of Lord Krishna.