Parkash Singh Badal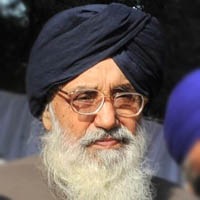 Shiromani Akali Dal
Parkash Singh BadalNA
AGE 87
Education Graduate
Assets 6,75,27,974
Liabilities 0
Criminal Charge: No
Constituency Data
Total Electors NA
Percentage of Votes NA%
Attendance in Parliament NA%
Debate Participated NA
Questions Asked NA
MPLAD Utilization NA%
At 87, Punjab Chief Minister Parkash Singh Badal has the rare distinction of being the country's youngest as well as the oldest chief minister.
Badal entered public life in 1954 and has been elected to the Punjab Vidhan Sabha 10 times. He has remained the chief minister of the state five times – 1970-71, 1977-80, 1997-2002, 2007-12 and 2012 to date. He served the centre as the union minister of agriculture and irrigation in 1977.
Considered to be humble politician, Badal keeps his ears to the ground. His sangat darshan– weekly meetings with public in their villages- are hugely successful, which he also uses as channels of feedback.
Badal's politics has for most of his reign been "panthic" (religious) in nature. His opponents feel he has "used" religion to gather votes with the change coming in only in 2012 when his son, the deputy chief minister Sukhbir Badal shifting the agenda to "development".
Badal has however kept his party the Shiromani Akali Dal closely bonded with the BJP, in the belief that the Sikhs and Hindus can stay together harmoniously only if the two parties stay together. A lesson well learnt after the two decades of Sikh terrorism in the state. A staunch votary of peace, Badal has since managed to walk the tight rope in keeping the hardliners Sikh groups in the state assuaged as also have the BJP on his side.
In other ways Badal is no different from the other politicians in India. He is given to populist vote politics – free power to farmers and subsidized atta-dal for the economically weaker sections have been his tickets to power.
In promoting his son and other family members in politics– daughter-in-law, daughter in law's brother, son-in-law – too Badal has succumbed to the nepotistic tendencies characteristic of most politicians in India.
Referred to as "cunning as a fox" by his opponents and even those within the party who have chosen to break away from him, Badal does not let anyone know what he is thinking. He continues to be an enigma even to his close family members. His son– the CM in the waiting– say his close aides, too does not know what his father's next political move will be.