BJP leader Manohar Parrikar has been sworn-in as chief minister. He took the oath of office in Konkani. The Supreme Court has given Parrikar 48 hours to prove his majority on the floor of the house. It refused to stay the swearing-in ceremony of Manohar Parrikar after the Congress filed a plea before it. The Congress Legislature Party also met the Governor at 1.30 pm after she refused to meet them this morning, urging that the swearing-in ceremony be postponed. She however refused to do so.
Get the latest updates from the Goa Floor test here.
Highlights from the swearing-in ceremony in Goa:
6.20 pm: Goa Forward party leaders – Prabhakar Timble (who resigned as President), General Secretary Mohandas Lolayekar, and spokesman Prashant Naik boycotted the swearing-in ceremony.
6.15 pm: Prime Minister Narendra Modi has tweeted his best wishes to Parrikar and his newly appointed team.
Congratulations to @manoharparrikar and his team on being sworn in. My best wishes in taking Goa to new heights of progress.

— Narendra Modi (@narendramodi) March 14, 2017
6.05 pm: "We will prove our majority first. Other procedures can follow later. Portfolios only distributed after proving majority on the floor. The first common minimum programme was to come together."
6.00 pm: Parrikar has addressed the media, here's what he has said:
"My Hindi is improved after going to Delhi. You might be wondering how I managed the magic figure. Everyone who signed the letter had only one condition – asking Modi to relieve me from Delhi to help form a government in Goa. I have the support from Sudin and Vijai for Goa's development and that speciality called "goankarponn". I am grateful. Jis tarah court ne congress ke fatkara hain, agar majority hain toh kisne rokha.
In ten years they have 12 CMs. No one wants to support them as everyone knows there is infighting. They proved it again today. I am asked again, will you prove majority. We had 21 on day one. 22 now came late. Congress came in a bus. The reason is they are scared if they come in car, they are scared some cars might disappear. They packed 17 in a bus. We have MGP, Goa Forward and two and a half Independents. More than 55 per cent Goans are thus represented. Thus, we have a post-election coalition. This is adequate proof for floor of the House. We will prove it. Let everyone be very clear – 365 x 5 years."
5.50 pm: Manohar Parrikar is the new chief minister of Goa. He took oath along with nine other ministers. He now has till Thursday morning to prove his majority on the floor of the House. The BJP has indicated that they will prove their majority tomorrow itself.
5.45 pm: Former Congress leader, who jumped to the BJP ahead of polls, Pandurang Madkaikar has also been administered oath of office. He represents Cumbharjua constituency. Independent Govind Gaude, from Priol has also been administered oath. Goa Forward's Vinod Paliancar from Siolim also takes oath. Jayesh Salgaonkar, who contested on a Goa Forward seat defeating sitting BJP MLA Dilip Parulekar, also takes oath.
5.35 pm: Manohar Ajgaonkar, who defeated Rajendra Arlekar, former minister of forests and environment, takes oath. He fought on  an MGP ticket. Rohan Khaunte, who fought from Porvorim in a pre-poll alliance with Congress, takes oath. He fought as an Independent.
5.30 pm: Second to take oath of office was Sudin Dhavalikar of the MGP. He, predictably, took oath in Marathi. Next was Goa Forward's Vijai Sardesai who took oath in Konkani. Deputy CM Francis D'Souza who resigned from the government this noon, also took oath as minister.
5.22 pm: BJP leader Manohar Parrikar has taken oath as chief minister. He took the oath of office in Konkani.
5.15 pm: Protests pick up outside Raj Bhavan. #NotMyCM, Backward Goa are among the messages on placards being held by protesters
5.10 pm: Former chief minister Laxmikant Parsekar as well as BJP chief Amit Shah and Union Minister Nitin Gadkari have arrived at Raj Bhavan.
4.55 pm: Goa Forward's Vijai Sardesai and his MLAs have arrived at Raj Bhavan for the swearing in ceremony.
#Goa protest the undemocratic swearing in of a #CM.. #NotMyCM pic.twitter.com/oceoYAbYIw

— Roman D'souza (@romandsouza) March 14, 2017
4.50 pm: Vijai Sardesai reacts to Luizinho's 'sacrifice' remark. Speaking to The Indian Express, Sardesai says it's too late for anything. "There's no question of us withdrawing our support to the BJP. We got Parrikar to resign as Defence Minister and come here… to ditch him?… it's difficult for us to digest Luizinho saying sacrifice."
4.45 pm: Less than an hour to go for Manohar Parrikar's swearing-in ceremony to begin. There are small protests outside Raj Bhavan, by citizens and few Congress party workers.
4.00 pm: The protest outside Raj Bhavan has begun. Among those seen are Congress party workers.
3.45 pm: Digambar Kamat: "Rajiv Gandhi was asked in one election,… he said he doesn't have numbers and was willing to sit in Opposition.  Vajpayee didn't have numbers and yet he formed a government and it fell in no time. We go by convention and follow tradition. We want a floor test and we will prove majority."
3.30 pm: "Soniaji is a rare example of sacrifice in democratic world… had a chance to be PM twice but she chose Dr Singh…. We have told all like minded MLAs and parties that we are ready to sacrifice, please join us," Luizinho Faleiro said, indicating that the Congress was open to negotiations. Read more about it here.
3.05 pm: Senior BJP leader and Union Finance and Defence Minister Arun Jaitley has shared his view on the political stalemate in Goa. In a Facebook post, Jaitley said there were precedents wherein the Governor of the day invited another group of MLAs other than the single largest party to form government. He goes on to say that "they appeared before the Governor in person and submitted a letter of support. The Congress did not even submit a claim to the Governor."
Here is Jaitley's full Facebook post
3.00 pm: In fresh developments, BJP Goa president Vinay Tendulkar says they will inform the Governor that they are ready for a floor test to be conducted tomorrow itself and that there's no need to wait for Thursday. Meanwhile,  Luizinho says "we have got the majority and we will prove it."
2.55 pm: There are protests planned near Raj Bhavan in Dona Paula today. Messages circulating on WhatsApp call for people to step up and "protect their democratic right". "No political parties are involved in this, only voters who have been short-changed and taken for a ride by the strong-arm tactics of Manohar Parrikar and the greed of Goa Forward, MGP and independent MLAs," the message says.
2.45 pm: Luizinho Faleiro has said he told Governor Sinha that as per convention, the Congress Party should be invited to form government and that they will then prove their majority on the floor of the House. "As per the convention, you invite us to form the government and we will prove our majority on the floor of the House."
2.30 pm: Goa Pradesh Congress Committee chief Luizinho Faleiro says: "We have asked the governor to consider postponing the swearing-in. We have given in writing that we are the single largest party. We also have informed her (Governor Sinha) that the BJP didn't have a pre poll alliance with any political party."
2.20 pm: "Without calling the single largest party they have invited the smaller party. And now they are asking us to prove our majority, this is injustice, Babu Kavlekar of the Congress said, highlighting what the delegation told the Governor. The Congress has also asked that the swearing-in ceremony slated for later this evening be postponed.
2.10 pm:  The meeting between members of the Congress party and Governor Mridula Sinha has ended. We are waiting for AICC general secretary and Goa in-charge, Digvijaya Singh to make a statement.
Earlier, the Supreme Court refused to stay the swearing-in ceremony of Manohar Parrikar. The apex court, however, ordered a floor test to be conducted in the assembly on Thursday. Governor Sinha had on Sunday given the BJP 15 days to prove their strength. Digvijaya Singh termed the SC order a 'victory' for the Congress. At 5.15 pm today evening, Parrikar will be administered oath along with all three MLAs of the GFP, two MLAs of MGP and two independents.
2.00 pm: While the Congress MLAs are currently meeting the Governor, preparations continue for the swearing-in ceremony this evening. Two tempos with fans and carpets are pulling into Raj Bhavan to set up the swearing-in ceremony.
1.50 pm: The BJP says at 5:15 pm, three Goa Forward MLAs, two MGP MLAs, two independents, and two BJP MLAs – former deputy CM Francis and MLA Pandurang Madkaikar will take oath as cabinet ministers along with Manohar Parrikar. The portfolios will be decided officially post the state budget.
1.45 pm: The Congress MLAs are now inside Raj Bhavan. In just about four hours from now, BJP MLAs led by Manohar Parrikar will arrive to take oath of office.
1.35 pm: The BJP is all set for the swearing-in ceremony at Raj Bhavan. Posters welcoming BJP leaders have been put up along the route to Raj Bhavan, located on the top of Dona Paula hill with a majestic view of the Arabian Sea.
1.20 pm: In his remarks before boarding a bus to go and meet the Governor along with his MLAs, Digvijaya Singh said the SC order was a victory for the Congress. Meanwhile, Parrikar refused to speak to the media only saying: "Come to the swearing-in ceremony and I will tell you what I have to, over there."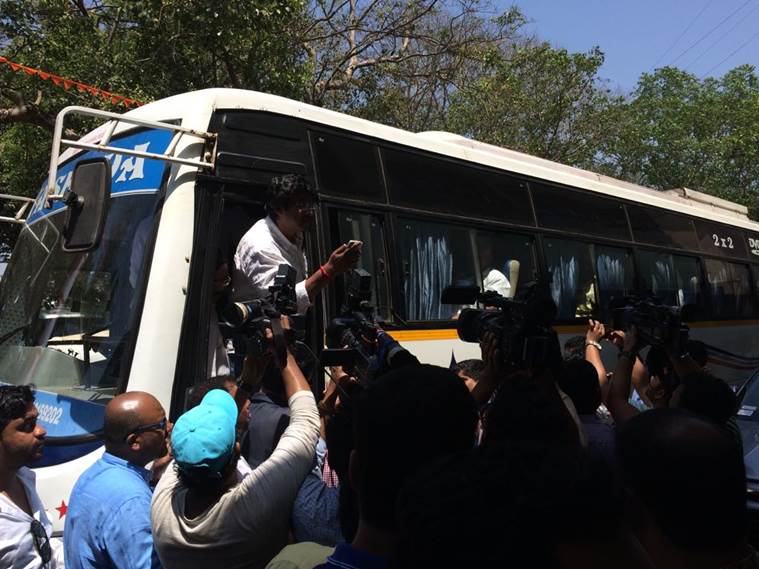 1.20 pm: Senior BJP leader and Union Minister Venkaiah Naidu has also reacted to the developments in Goa and Manipur. "Majority was not received by any parties in Goa and Manipur, other parties gave us support for formation of government."
1.15 pm: Congress Party leaders are now on their way to meet Governor Mridula Sinha. They had earlier sought a meeting at 10.00 am this morning but the Governor refused to meet them saying she would meet them only at 1.30 pm.
1.05 pm: Rahul Gandhi has reacted to the developments in Goa. "We are in opposition, you have ups and downs, we had a little down in UP, it's fine, we accept that. It's very difficult to stake claim in Goa as Governor appointed Parrikar as CM. It's not about how soon you went it's with how much money you went."
1.00 pm: The Congress Party has reportedly agreed to 11-term MLA Pratapsingh Rane as their representative to chair the floor test, while the BJP has reportedly gone with former deputy CM Francis D'Souza.
12.50 pm: The BJP office, meanwhile, has already given a "comprehensive guest list" to Raj Bhavan and all arrangements are in place.
12.40 pm: Lots happening at both the party offices in Panjim. At the BJP office, Parrikar is currently in a meeting with top party leaders. At Congress House, that overlooks river Mandovi, Congress leader Digambar Kamat had a meeting with Digvijaya Singh, post which he left the building. Digambar is seen as a good friend of Congress MLA Vishwajit Rane. Stay tuned as all of this unfolds.
12.30 pm: Abhishek Manu Singhvi outside Supreme Court: "The Governor didn't talk or telephone the single largest party. How could she arrive at a decision? The Supreme Court has intervened in significant manner. The Governor had given 15 days, we know how it is used to cobble up  a majority. We wanted a floor test. The court has preponed it significantly for dayafter for logistical reasons as opposed to tomorrow. So Parrikar can be CM for two days."
12.25 pm: The Governor had earlier given Parrikar 15 days to prove his majority on the floor of the house. He now has 48 hours to prove it. Congress leader Abhishek Manu Singhvi, who petitioned the SC, said it was for the BJP to decide if they want to hold the swearing-in today or not. "It's for them to decide if they want to be CM for two days."
12.20 pm: BJP's GVL Narsimha Rao, in its first reaction, says the Congress been given a long rope by the Supreme Court. Gadkari, speaking to the reporters, said: "Congress was not able to choose a leader due to their internal tussle and they are blaming us for it."
12.15 pm: There's renewed excitement at Congress House in Panjim. Senior MLAs Dayanand Sopte, Vishwajit Rane and others are happy with the order. The CLP meeting will get the MLAs in line for the floor test.
12.10 pm: The Congress Party now wants the Governor, who they are meeting at 1.30 pm, to issue a letter of invitation to them as well, before the swearing-in ceremony.
12.05 pm: The Supreme Court has refused to stay the swearing-in ceremony of Parrikar. It has ordered that the floor test be conducted on March 16 or within 48 hours. So the swearing in could take place this afternoon.
12.00 pm: Now that the matter has moved to the Assembly, let's recap the numbers. The BJP won 13 seats, the Congress 17. Goa Forward won 3, MGP won 3 and three were independents. NCP has one seat. Letters of support have been given to BJP by the MGP, the Goa Forward and the three Independents. The BJP was to hold its swearing in ceremony this evening. However, now the SC has asked for a floor test. The Congress says it has the numbers – a minimum of 21.
11.50 am: What happens to the swearing-in ceremony now? It is likely that the swearing in ceremony will be postponed. We could soon see the BJP hold the smaller parties and independents close as they would not want the Congress approaching them before the test. In court, the SC told Salve, appearing for the Centre: "You are a very powerful man, you can manipulate anything. That's what he is saying."
11.40 am: Some reports indicate that the Supreme Court may direct that a floor test be conducted in Goa with senior most MLA as Speaker.
11.35 am: Congress has told Supreme Court that it wants a floor test conducted today itself. Congress claims they have the numbers.
11.30 am: There's a huge presence of police force in Panjim and Dona Paula – where Raj Bhavan is located – to pre-empt any untoward incident. Messages on WhatsApp have called for citizens to come to Dona Paula and protest the 'undemocratic' move by the BJP.
11.20 am: In the Supreme Court, the bench has said that the numbers should determine the single largest party. "You would have held a dharna outside Raj Bhavan if you had  a majority," the bench has reported. "You had enough time… There is not a single affidavit from any member who supports you." The bench has also asked Congress why they did not approach the Governor of Goa over government formation.
11.10 am: Congress has staged a walkout from Lok Sabha over the BJP's move to form government in Goa and Manipur. They had asked for an adjournment motion.
10.57 am: In Supreme Court, the Congress is reportedly facing some tough questions from Chief Justice Khehar. "Did you submit in writing names of the MLAs who are supporting you and submit it to the Governor?"
10.52 am: Congress's Digvijaya Singh has said that the Governor has decided to meet them only at 1.30 pm. 'We had asked for an appointment at 1030 am. We would have been happier if she would have met us before. We are upset that the Governor called Parrikar without following the norms."
10.45 am: The matter is currently being heard in the Supreme Court. The Congress will also raise the issue in Lok Sabha where they have asked for an adjournment.
10.20 am: The Supreme Court will hear the writ petition filed by Congress in a few minutes from now. The Congress Party will appeal to the bench to stay the Governor's order. Its plea will be that the Governor is in blatant violation of the well established constitutional conventions of inviting the single largest party to form the Government. Additional Solicitor General Maninder Singh will appear in the case challenging appointment of Parrikar as Goa CM.
10.05 am: Meanwhile, Congress MLA Vishwajit Rane has once again hit out at the top leadership of the party. "It's a failure on part of Congress leadership… cannot identify any individual but there was a failure. Despite having 17 seats, we couldn't form government, our decision making was slow. There were lapses in decision making," he said.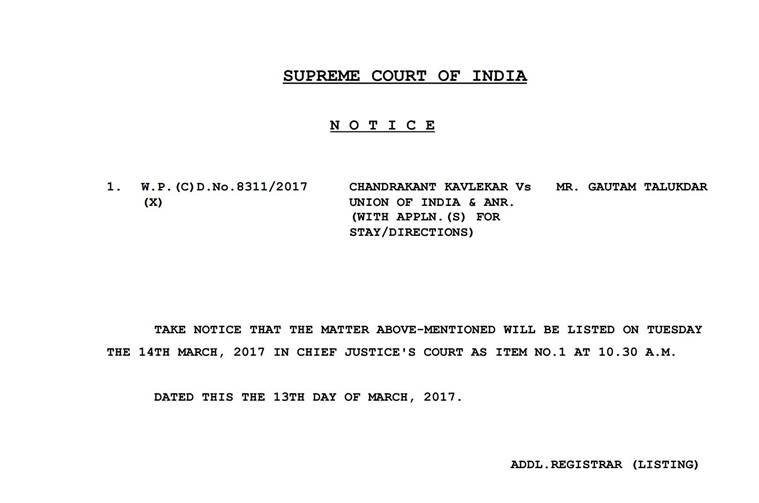 10.00 am: Quick fact – If the Supreme Court does indeed stay Parrikar's appointment as CM for a few days, then the Governor may have to impose President's Rule in Goa. The term of the current legislative assembly ends on March 18. A new government has to be sworn in before this date. If not, the term expires and without a new government in place, it will have to be President's Rule.
9.55 am: While they will have to be in Delhi to attend at least the morning session of Lok Sabha, Union Minister Nitin Gadkari, along with BJP chief Amit Shah will arrive in Goa to attend the swearing-in ceremony of Manohar Parrikar. This, of course, given the Supreme Court does not stay his appointment as CM by Governor Mridula Sinha.
9.50 am: In Lok Sabha, Congress has gives a notice for adjournment of proceedings to discuss the issue of government formation in Goa and in Manipur. It will have to be seen whether Speaker Sumitra Mahajan accepts the motion and allows a discussion on the same. The BJP, as we said earlier, has issued a whip asking all its MPs to be present in the House.
9.40 am: In Supreme Court, the Congress's plea will be represented by senior advocates and party leaders Abhishek Manu Singhvi and Kapil Sibal.
9.30 am: In Delhi, Finance Minister Arun has taken charge of the Defence Ministry. He has been given additional charge of the same after Parrikar resigned on Monday and the President, on the recommendation of Prime Minister Modi, accepted it and gave Jaitley additional charge.
9.20 am: More from Digvijaya Singh's statement to the press. Now he refers to what happened in Delhi, when a hung assembly was elected. "In Delhi, when BJP was the largest party, they were called to form government but they refused. That's when AAP was invited, so AAP-Congress formed government."
9.10 am: "The Governor has to act according to the Constitution. There are established procedures that she has to follow," says AICC General Secretary Digvijaya Singh. When asked if the Congress Party had the numbers, Singh said it does not matter at this stage as the numbers have to be proved on the floor of the House. Also seen outside the Congress House in Panaji were state president Luizinho Faleiro and senior party leader Pratapsingh Rane. The CLP meeting begins now.
9.05 am: This is what the Congress Party told Governor Sinha Monday night, requesting her to meet the CLP leaders and invite Congress to form government. "Any invitation to the BJP to form the government at this stage without first giving an opportunity to the single largest party (Congress) would mitigate against the essential democratic rights of the people of the state who have chosen the INC as the single largest party in the state."
9.00 am: The AAP, late Monday night, questioned the role of Governor Mridula Sinha, saying she acted in haste without first asking the single largest party to prove its strength. In a press note issued, AAP demanded the President recall Governor Sinha for failing in her constitutional duties. "AAP denounces the hurry with which the Governor endorsed the politically adulterous BJP-MGP-Goa Forward combination and appointed Manohar Parrikar as CM-designate," party spokesperson Dr Oscar Rebello said.
8.50 am: With Parrikar's return, and if he gets the SC nod to go ahead and become chief minister, he will have to contest an election within six months. The most likely scenario is that he will contest from his home seat of Mapusa, which is currently represented by BJP's Francis D'Souza. When asked, D'Souza said: People of Mapusa will be happy if Goa's chief minister  contests from their constituency. If the party asks, I will follow what they say." Francis could well be the party's Rajya Sabha candidate. The elections for the same are a few months away. The current Rajya Sabha MP is Shantaram Naik of the Congress.
8.45 am: Besides moving SC and meeting the Governor today, the Congress Party will also raise the issue of government formation in Goa and Manipur in Parliament today. The second leg of the Budget session is underway. The BJP has issued a whip asking all its MPs to be present in the House. So, while they reacted late to government formation in Goa, it appears the Congress is now doing all it can to stop BJP from forming government in these two states.
8.40 am: This is what the Congress legislators will tell Governor Sinha. "We will ask the Governor to consider our side. We will be asking her to reconsider her letter of appointment issued on Sunday night. We are using all constitutional apparatus available to us." This includes them moving the Supreme Court last evening and getting an urgent hearing that has been slated for 10.30 am this morning.
8.35 am: Meanwhile, the BJP has just strenthened its numbers. They now have Sanguem Independent MLA Prasad Gaonkar's letter of support. This now takes their tally up to 22. BJP – 13, Goa Forward – 3, MGP – 3, Independents – 3. The halfway mark in Goa is 21. The BJP has also been trying to get support of lone NCP MLA Churchill Alemao. Alemao is yet to reveal which side of the fence he will be on. Much depends on the central leadership of the party.
8.30 am: While the Congress Legislature Party meets in a few minutes from now, what is important to note is how many of the 17 MLAs actually turn up. Sources say a section of the newly-elected MLAs are upset with the top leadership of the party and want to split into a new faction. We will have to wait and watch.
8.20 am: The Congress Legislature Party (CLP) will meet at Congress House, the party headquarters in Panaji before they head out to Raj Bhavan. They will be at Raj Bhavan before 10 am as the Supreme Court hearing begins at 10.30 am. They would want to arrive before the matter begins.
For all the latest Elections News, download Indian Express App