Setting the stage for a pulsating Saturday when votes will be counted to decide winners of the Assembly elections in five states, exit polls Thursday gave the BJP a clear edge in the heartland state of Uttar Pradesh though the number of seats that the party can win swung wildly. In Punjab, all polls predicted the exit of the ruling SAD-BJP alliance and a neck-and-neck fight between the Congress and AAP.
In Uttar Pradesh, at least five polls predicted that the BJP would emerge as the single largest party and may come close to the halfway mark of 202 in a House of 403, if it does not get a clear majority along with its allies. Two exit polls predicted a comfortable majority for the BJP, with one estimating that it could get as many as 285 seats.
The SP-Congress alliance was shown to be at the No. 2 spot. The BSP was way behind, its seat count under 100. Two exit polls placed the SP-Congress close behind the BJP in the number of seats, but said they may be 50 seats short of a majority. India TV and ABP News put the alliance at around 145-160 seats, but Times Now and India News predicted that it may win close to 120 seats. News24 and India Today, both of whom gave the BJP more than 250 seats, predicted that the SP-Congress alliance may get 100 or less seats.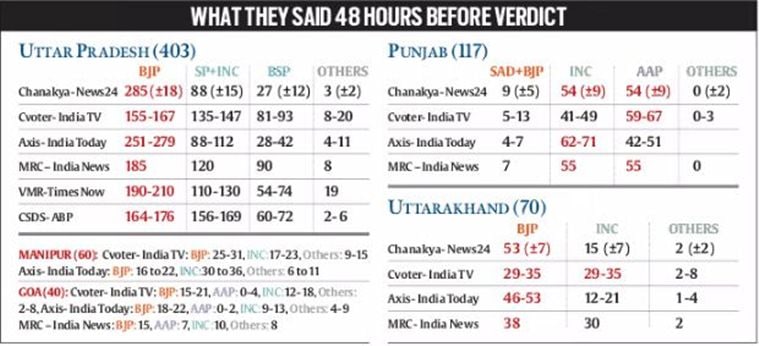 Exit polls also suggested that the SAD-BJP alliance in Punjab may be wiped out in the state — four polls gave it less than 10 seats. Two exit polls projected a tight contest between the Congress and AAP, giving both parties equal number of seats.
According to these polls, both Congress and AAP may get over 50 seats each, short of the 59 seats needed in the House of 117. India Today said the SAD-BJP alliance may get a minimum of 4 but a maximum of 7 seats. It predicted that Congress may get as many as 71 and AAP a maximum of 51 seats. India TV gave AAP the upper hand, giving it up to 67 seats for 49 to Congress. News24 and India News gave Congress and AAP almost equal number of seats, 54 and 55 respectively.
Watch |Exit Polls 2017: BJP Confident, Congress Predicts Close Fight

According to the exit polls, the BJP may be able to have its chief ministers in Uttarakhand and Goa too but the Congress is not far behind in both states. A handful of seats there could change the outcome. The AAP, according to the exit polls, may not even get half a dozen seats in the House of 40 in Goa.
News24 and India Today gave BJP a strong edge over the Congress in Uttarakhand, giving it a maximum of 53 seats. But India News and India TV were more conservative about the BJP's lead. While India News gave BJP and Congress 38 and 30 seats respectively, India TV said both parties had a chance to win, getting 29 to 35 seats each.
In Goa, though the BJP may get a majority, the Congress is close on its heels. India TV and India Today said BJP may win a maximum of 22 seats, but India TV gave Congress a chance of winning up to 18 seats. AAP was the clear loser in the state, with a chance of winning 7 seats, according to India News. All other exit polls said it will get fewer seats than that.
The only two channels which put out exit poll projections for Manipur — India Today and India TV — gave both BJP and Congress a chance to win. India TV said that BJP may cross the halfway mark in the 60-member Assembly, while India Today said Congress should sail through, winning up to 36 seats.
For all the latest Elections News, download Indian Express App