The deadliest Ebola outbreak in recorded history is affecting right now Sierra Leone, Liberia, Guinea and Nigeria. Health officials are working to calm fears about how the virus spreads, while encouraging those with symptoms to get medical care. The disease has a fatality rate of up to 90 per cent, with no known vaccine, cure.
The current outbreak
At least 1,711 people have so far been infected, of whom 932 have died. This is the most severe outbreak since Ebola was identified in humans in 1976.
The experimental drug
Called ZMapp, the treatment was developed with US military funding by a company named Mapp Biopharmaceutical Inc. It was created using antibodies harvested from lab animals injected with the Ebola virus. It works by boosting the immune system's efforts to fight the virus.
The super-secure isolation unit in Atlanta, US
Americans Kent Brantly, a doctor, and Nancy Writebol, a missionary, were infected in Liberia last week. Both are receiving treatment: Writebol with an experimental serum and Brantly with blood transfusions from a 14-year-old boy who survived the disease in his care, the AP reports.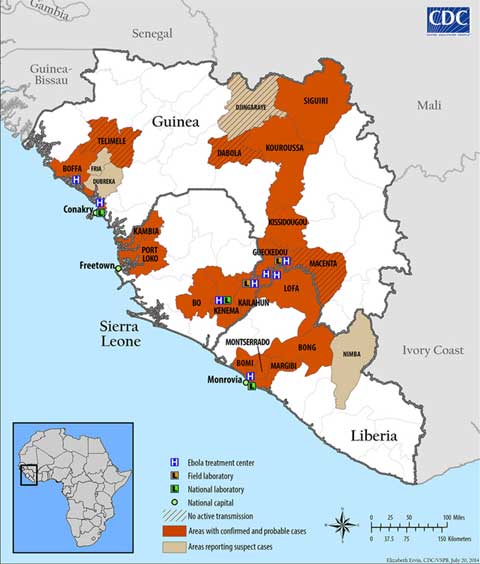 The two were brought to Emory University Hospital in Atlanta, near the Centers for Disease Control and Prevention main campus. The hospital has a super-secure isolation unit — one of four such units in the US.
Inside the unit, patients are sealed off from anyone who doesn't wear protective gear.
"Negative air pressure" means air flows in, but can't escape until filters scrub any germs from patients. There is a vestibule where workers suit up before entering. All gear is safely disposed of or decontaminated.
Flying in safely
# The two US citizens who contracted the disease were brought to Emory in a highly-modified ex-Royal Danish Air Force Gulfstream III.
# The 32-year-old plane was sold to US military air support provider Phoenix Air in 2005 and was modified into the most advanced air ambulance in the world.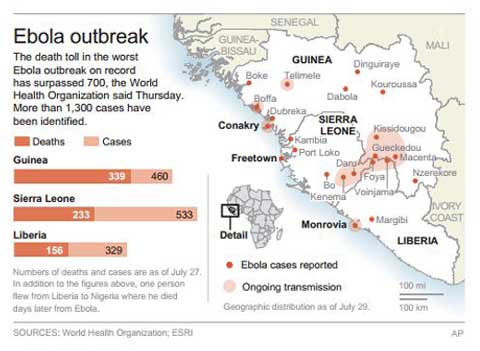 # To fly the two patients, the plane was outfitted with a modular Aeromedical Biological Containment System — a tent-like plastic structure with negative air pressure to keep pathogens from entering the cabin.
Protective suits
The one thing that stands between caregivers and patients is Personal Protection Equipment suits (PPEs). These resemble Hazmat suits and cover every part of the body.
But care givers can still contract the virus if they don't follow the right steps to put the suits on. Infection control, through sterilisation of equipment and surfaces, is also important.
A global pandemic?
# In Saudi Arabia, a man suspected of contracting Ebola during a recent business trip to Sierra Leone died on August 6 in Jeddah.
#Health officials in Thailand are monitoring 21 visitors from Sierra Leone, Liberia, and Guinea for a period of 21 days.
Measures being taken world over
# Sierra Leone's army blockaded rural areas that have been hit by the virus on August 7.
# Liberia has declared a 90-day state of emergency.
# US health officials put out a recent travel advisory to not travel to the countries hit by the outbreak. Greece has also done the same.
# Dubai-based carrier Emirates halted all flights to Guinea on August 3.
# British airlines are on alert for cases after tests revealed a man died in Nigeria from the disease after having been allowed to board an international flight from Liberia.
# Asian nations are making "adequate" measures to screen visitors, a WHO spokesperson said. The measures include infra-red thermal imaging cameras to screen air passengers with fevers, and awareness campaigns.
For all the latest World News, download Indian Express App