A footage released on Monday shows a Russian Tu-22M3 strategic bomber drop bombs on Islamic State positions in Deir-ez-Zor after taking off from an unknown military base in Russia.
WATCH: Multiple bombings kill at least 20 in Homs city, Islamic State claims attack
The video shows the bomber releasing multiple bombs at IS positions in Deir-ez-Zor.
The nearly five-year Syrian conflict that began in 2011 with protests against Assad's rule, has morphed into an all-out war that has killed a quarter million and displaced millions.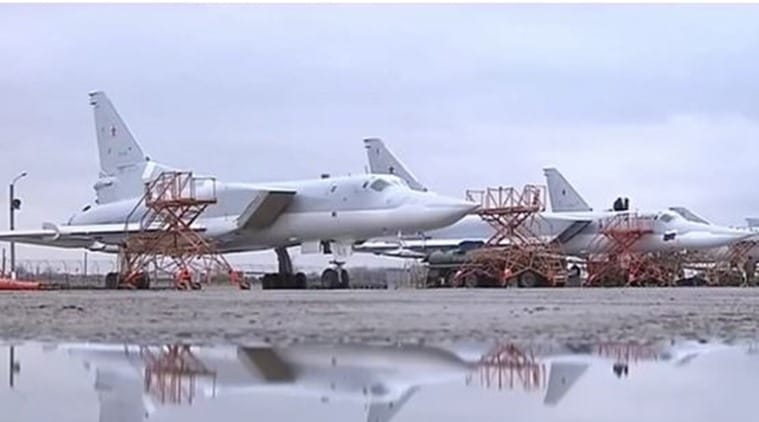 Russia, a key ally of Syria, has helped the Syrian army regain control over large territories of Latakia province from opposition fighters. the Russian air blitz has helped Syrian President Bashar Assad's army to launch offensives and seize some key areas from the opposition in recent weeks.
Russian warplanes have flown nearly 6,000 combat missions since Moscow launched its air campaign in Syria on Sept. 30. The Russian warplanes are based at Hemeimeem air base in Syria's coastal province of Latakia.
WATCH VIDEO
Lt. Gen. Sergei Rudskoi of the military's General Staff said that Russian warplanes have been flying between 70 and 100 missions a day in the past few days to support the Syrian army's offensive.
READ: Russia urges for including Kurds in Syria talks
Rudskoi said that long-range Tu-22M3 bombers flying from Russian territory have joined the warplanes based in Syria in the last few days.
He said those bombers had performed 18 missions in the area of Deir el-Zour, a government-controlled city in northern Syria that has been besieged by militants.
(with inputs from AP)
(Additional Inputs from AP)
For all the latest World News, download Indian Express App