Israeli fire killed at least 21 Palestinians in the Gaza Strip early on Wednesday as the Jewish state said it targeted Islamist militants at dozens of sites across the coastal enclave, while Egyptian mediators prepared a revised ceasefire proposal. According to reports, the death toll reached 1,262.
Israel's Channel Two TV said progress was being made to achieve a deal in Cairo, where a Palestinian delegation was expected to arrive for discussions.
Israeli tank shells pounding houses in eastern Jebalya in the northern Gaza Strip killed 13 people and wounded many others, health ministry spokesman Ashraf Al-Qidra said. Among the dead were a medic and an infant, he said.
Eight people, including five members of the same family in Jebalya, were killed in other strikes across the Gaza Strip.
Gaza hospital officials put the total number of Palestinians killed in the conflict at 1,224, most of them civilians. On the Israeli side, 53 soldiers and three civilians have been killed since the start of the offensive on July 8.
Israeli military shelled a UN school in Gaza killing 20 people early on Wednesday as Palestinian factions head to Cairo to discuss a temporary humanitarian ceasefire. The shell slammed into the school in northern Gaza as the conflict between Israel and Hamas entered its 23rd day. The school was being used as a shelter for those displaced by fighting, emergency services spokesman Ashraf al-Qudra said. The Israeli offensive, which began on July 8, has killed mostly civilians according to the UN and injured over 7,000. The fighting has forced over 215,000 Gazans to flee their homes in the overcrowded coastal strip, the WHO said.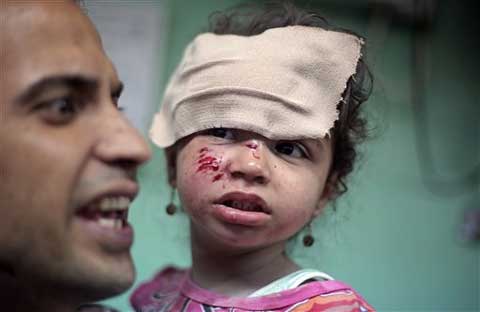 Israel launched its offensive in response to rocket salvoes fired by Gaza's dominant Hamas Islamists and their allies.
UNRWA, the main UN relief agency in Gaza, said it was at "breaking point" with more than 200,000 Palestinians having taken shelter in its schools and buildings following calls by Israel for civilians to evacuate whole neighbourhoods before military operations.
The Israeli assault intensified after the deaths of 10 soldiers in Palestinian cross-border attacks on Monday; Prime Minister Benjamin Netanyahu warned of a long conflict ahead.
The army said it needed about a week to complete its main mission of destroying cross-border infiltration tunnels, and there has been strong Israeli public support for holding course.
In a bid to boost Palestinian spirits and demoralise Israel, …continued »