AAP volunteers in US coming down to India to campaign for the party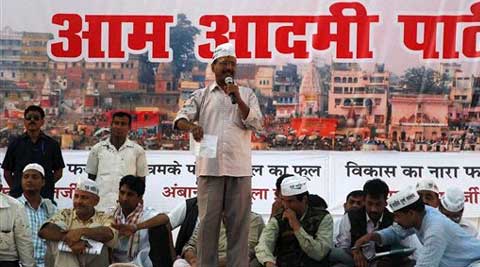 AAP's press release stated that the funds received by Congress and BJP has raised serious allegations of conflict of interest and bribery. (PTI)
Several Indian Americans have joined the campaigning for AAP candidates in the Lok Sabha elections fray in their own way — few travelling to India, others making calls to friends and families back home seeking votes and some signing as cyber warriors.
After its Delhi Assembly experiment, AAP US has adopted nearly a dozen Lok Sabha constituencies where its volunteers would concentrate during the polls.
While the Texas unit of AAP has adopted the Bhopal Lok Sabha constituency where the party has given ticket to Rachna Dhingra; its Seattle chapter has adopted the constituencies of eminent social activist Medha Patkar (Mumbai North East) and Prashant Mishra (Bhandara-Gondiya, in Maharashtra).
Among others, AAP California has chosen Hoshangabad Lok Sabha constituency in Madhya Pradesh from where Maya Vishwakarma is contesting; the New Jersey unit has adopted the campaign of Purshottam Dagar (Faridabad).
AAP Global Student Supporter group, which represents university students, has chosen entire Madhya Pradesh; while AAP chapters of Boston, Washington DC and Singapore have joined hands to adopt the constituencies of Baba Hardeo Singh (Mainpuri in Uttar Pradesh) and Radhe Mohan Mishra (Gorakhpur in Uttar Pradesh).
While Charlotte, North Carolina chapter of AAP is supporting the party unit in Chhattisgarh; Atlanta and Chicago is adopting Karnataka and AAP Middle East is supporting Kerala. The virtual teams with NRI supporters are focusing their energies in Andhra Pradesh and Tamil Nadu.
"The challenge is that we have so little time to mobilise. The good news is that it's a very dynamic environment filled with action packed frenzy of activity," Pran Kurup, spokesperson of AAP USA, told PTI.
"The reality though is that given the large number of candidates we are not going to have enough time to support everyone with everything. We'll do the best we can. Very often this depends on the candidate and their ability to mobilise resources, reach out and take help," he says.
Pradeep Sundriyal, in the US for more than a decade, left his high-paying job in the Silicon Valley to be campaign in-charge of Kumar Vishwas, AAP's candidate from Amethi against Rahul Gandhi. Sundriyal is among a small group of Indian Americans travelling to India to campaign for the Lok Sabha elections.
Several Indian Americans have volunteered for phone-o-program to make calls to friends and families back home asking them to vote in favour of AAP candidates. An equal number of large number of AAP supporters in the US have also signed as cyber warriors who are active on the social media propagating for its candidates and campaigning against its rival leaders and candidates.
"The phone program has close to 18,000 people signed up over time but not everyone has been active. The calling is just getting underway and its …continued »