By:
PTI
| Islamabad |
Updated: August 20, 2014 11:49:34 am
Pakistan opposition leader Imran Khan has threatened to storm Prime Minister House if Nawaz Sharif refuses to step down by this evening, as thousands of anti-government protesters entered the heavily fortified 'Red Zone' and set up camp in front of the Parliament House.
"If Nawaz Sharif does not resign then we will enter into the PM House," Khan said on Tuesday night while addressing to protesters, outside the parliament.
Khan said that he asked the PM to resign by Wednesday. Earlier, the rallies led by Pakistan Awami Tehreek and Pakistan Tehreek-e-Insaf marched into the Red Zone and set up camp in front of the Parliament House, even as the government, opposition members and the army urging all stakeholders to end the impasse via talks.
"Promise me, if something were to happen to me, you will take revenge from Nawaz Sharif," Khan said before starting his march towards the Red Zone that houses important government buildings including the Parliament House, Prime Minister House, President House, the Supreme Court besides embassies.
Unfazed by army deployment, Khan and Awami Tehreek chief Tahir-ul Qadri marched towards the Parliament demanding Sharif's resignation, putting the PML-N-led government on the backfoot.
Police baton-charged Qadri's Awami Tehreek protesters as they neared the Parliament. Clashes took place between them and the police. After the initial minor skirmishes, police slowly retreated as part of policy to avoid violence.
The protesters had reached the Constitution Avenue as the government decided to withdraw security forces.
"PM just told me he has ordered the police not to use any kind of force against the protesters as women & children are in the front rows," Sharif's daughter Maryam Nawaz Sharif tweeted late last night.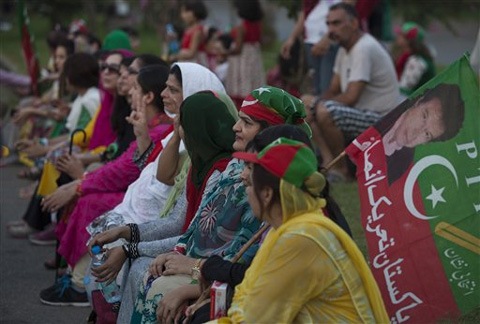 Inter-Services Public Relations spokesperson Asim Bajwa tweeted: "Bldgs in red Zone r symbol of State & being protected by Army, therefore sanctity of these national symbols must be respected."
"Situation requires patience, wisdom & sagacity from all stakeholders to resolve prevailing impasse through meaningful dialogue in larger national and public interest," he said.
Pakistan Army has also taken charge of the Interior Ministry's control room, Dawn News reported.
The protesters of Khan and Qadri started separately but later moved towards the Parliament together.
Information minister Pervaiz Rashid told Geo TV that the marchers have violated written commitment that they will notenter the Red Zone.
For all the latest World News, download Indian Express App