As the siege of Parliament continued, Pakistan's opposition leader Imran Khan on Wednesday shut the doors for negotiation with the government until Prime Minister Nawaz Sharif resigns while cleric Tahirul Qadri was open to dialogue after the army sought peaceful resolution to the week-long crisis.
Khan, however, said he would abide by the Supreme Court's verdict on the issue of alleged rigging in last year's general elections. Both Khan and Qadri have been called by the court tomorrow in connection with the hearing on the protest, currently outside the Parliament.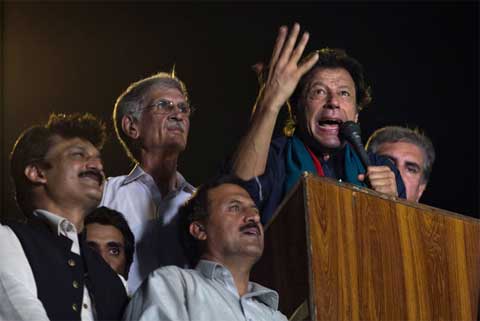 Threatening to storm the Prime Minister's residence, the cricketer-turned-politician and Pakistan Tehreek-i-Insaf (PTI) chief refused to negotiate with the government until Prime Minister Sharif resigns. He told the media that he would abide by whatever the Supreme Court says.
In the first sign of thaw between the government and the protesters, Sharif on Wednesday sent a four-member team to negotiate a deal with Pakistan Awami Tehreek (PAT) leader Qadri.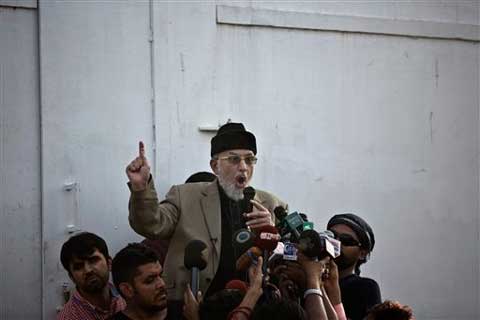 The move came after the powerful army called for calm following the breach by protesters of the high-security Red Zone that houses important government buildings including the Parliament House, Prime Minister House, President House, the Supreme Court besides the embassies.
"Situation requires patience, wisdom and sagacity from all stakeholders to resolve prevailing impasse through meaningful dialogue in larger national and public interest," military spokesman Maj Gen Asim Saleem Bajwa tweeted.
ISPR Release 2/3:Situation requires patience,wisdom&sagacity from all stakeholders to resolve prevailing impasse

— AsimBajwaISPR (@AsimBajwaISPR) August 19, 2014
Qadri declined to give any guarantee about the success of the dialogue but maintained that he had never opposed talks. The team sent to Qadri comprised of Minister for Frontier Region Qadri Baloch, Minister for Railway Saad Rafique, opposition leaders Ijazul Haq and Haidar Abbas Rizvi. "Our leader had said that the negotiations should reach a conclusion which is in the best interests of the people," PAT representative Khurram Nawaz Gandapur told reporters after the delegation met Qadri in his bullet-proof mobile container.
"We are yet to put forward our demands and they would be presented once the government delegation visits us again. I am hopeful of a positive result to arise out of our efforts," he said.