By:
Agencies
| Houston |
Updated: April 3, 2014 10:20:21 am
A soldier opened fire on Wednesday at an enormous US army base in Texas that was the scene of a deadly shooting rampage in 2009, killing three persons and wounding 16 others before taking his own life.
The gunman, identified as Ivan Lopez, 34, opened fire at two locations in Fort Hood — inside a building housing a medical brigade and in a facility belonging to a transportation battalion — prompting authorities to order a lockdown.
The suspect, a soldier who had served in Iraq, "had behavioural health and mental health" issues, the Army post's commander Lt General Mark Milley said.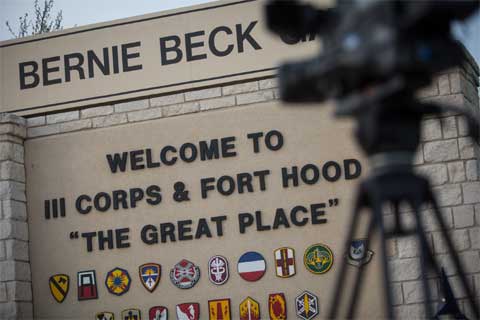 The shooting is believed to have occurred at the Carl R Darnall Army Medical Center, located at the military base. A shelter in place order was issued, asking the civilians and soldiers on the base to close doors and stay away from windows.
He said there was no known motive for the shooting.
Milley said the suspect was carrying a .45 calibre Smith and Wesson semi-automatic pistol bought recently in the local area and not registered with the base, as is required.
Another US official said the shooter was wearing combat fatigues. The lockdown was lifted at the base about five hours later.
Nearby Central Texas College in Killeen immediately evacuated all students and staff after the shooting incident. The classes for the afternoon and evening have been cancelled.
Major Nidal Hasan was given the death penalty last year for murdering 13 people and wounding more than 30 more on the Texas army base on November 5, 2009.
The shooting comes one day after the US Marine Corps confirmed an FBI search is underway for a former Army recruit, identified as Muhammed Abdullah Hassan or "Booker", who was plotting a "Fort Hood-inspired jihad against US soldiers."
Obama vows thorough probe
President Barack Obama said on Wednesday he was "heartbroken" that another shooting had occurred at the Fort Hood Army base in Texas and described the situation there as fluid.
Obama vowed that investigators will get to the bottom of the shooting, seeking to reassure the nation whose sense of security once again has been shaken by mass violence.
In a hastily arranged statement, Obama said he and his team were following the situation closely but that details about what happened at the sprawling Army post were still fluid. He said the shooting brought back painful memories of the 2009 shooting.
"They serve with valor, they serve with distinction and when they're at their home base, they need to feel safe," Obama said. "We don't yet know what happened tonight, but obviously that sense of safety has been broken once again."
Defense Secretary Chuck Hagel is calling the shootings at Fort Hood, Texas, a "terrible tragedy."
In remarks to reporters in Honolulu, Hagel says he is aware of casualties at the Army base in Texas and that the facility remains under lockdown.
For all the latest World News, download Indian Express App