President Barack Obama started his vacation on the Massachusetts island of Martha's Vineyard with just one of his daughters, and he may leave with just one of his daughters when the two-week getaway ends next weekend. In a first for Obama family summer vacations, neither teenager is spending the entire holiday with her father.
Obama left Washington Aug. 9 with his wife, Michelle, daughter Malia, and the family's two Portuguese water dogs. The White House said 13-year-old Sasha would join her parents at a later date for "part of their stay" on this quaint island of shingled homes. But Malia will not be around when her younger sister arrives.
The daughters essentially are trading places, and the vacation is boiling down to Obama getting about a week with each one.
Malia, 16, returned to Washington with her father early Monday and was not expected to go back to Martha's Vineyard. The White House said Sasha will join her parents this week, without saying when she will arrive or what kept her away last week, or why Malia left the island.
Obama often draws chuckles from sympathetic parents who understand his complaints about his girls' lack of interest in spending time with him.
"What I'm discovering is that each year, I get more excited about spending time with them. They get a little less excited," Obama told CNN last year.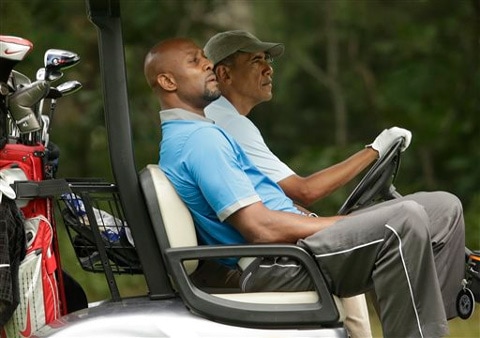 Former NBA basketball player Alonzo Mourning, left, and President Barack Obama, right, ride in a golf cart while golfing at Farm Neck …continued »