By:
Trends Desk
|
Updated: November 11, 2016 1:06:03 pm
On November 8, Prime Minster Narendra Modi shook the country with his bold move when he declared that notes of Rs 500 and Rs 1,000 will hold no value after midnight. In what he called a step against black money and corruption, the announcement received a mixed response from people, as some were proud of it, while others questioned the practicality of the suddenness of the government's decision.
Twitter user @AmbaAzaad, in a series of tweets, raised concern for people who are probably going to be most affected by this move. These people don't account for minority, majority or any such group but are the ones who still constitute major part of the Indian population — those who may not have any sort of identification document or easy access to banks or post offices to exchange their money.
In a series of 16 tweets, the user expressed shock and disappointment at the government's 'ignorance' – or maybe we should say dismissal, or even refusal to acknowledge – of many such people who might face a lot of problems because of the new rule. The user asked what will happen to the "Hijras who are also paid in cash but who cannot get IDs or bank accounts in the gender they self-identify as" or "Parents in villages where the nearest bank is 10 km away who have been sent cash by their urban migrant children" or "Children who have run away from abusive homes with some cash, but no paperwork. And no access to a support system."
Many have questioned the suddenness of the move, and even Modi, during his address, admitted that it's initially going to be a little difficult but stressed the importance of the same in the larger context. "In a country's history, there come moments when every person feels he too should be part of that moment, that he too should make his contribution to the country's progress. Now, we again have an opportunity," he said.
Read all the tweets here.
People wandering into my mentions who do not know people who have no form of ID with which to 'walk into a post office' – you terrify me.

— Amba Azaad (@AmbaAzaad) November 8, 2016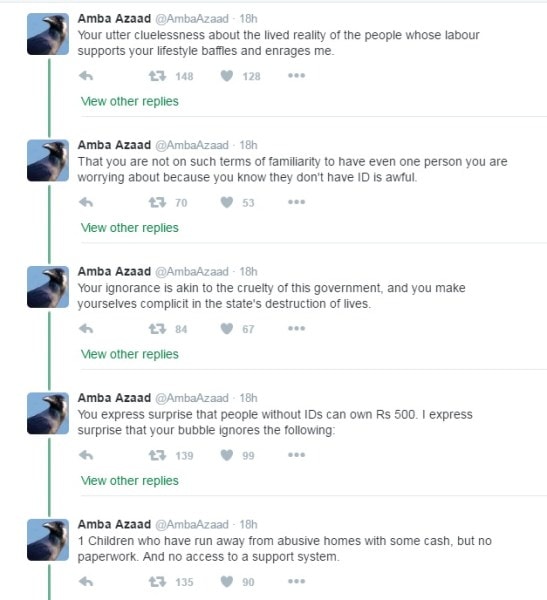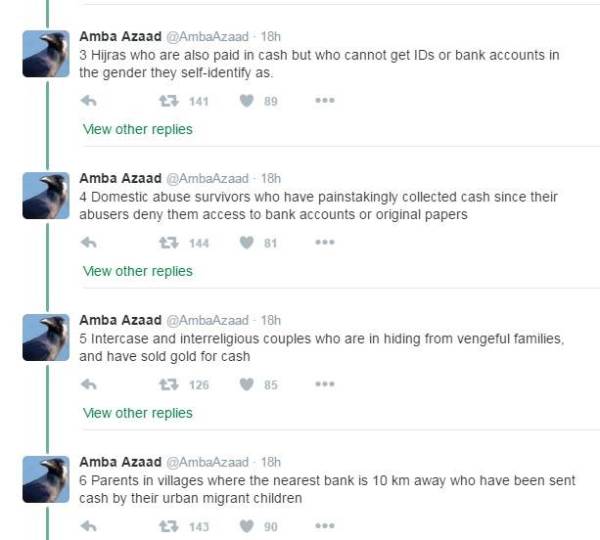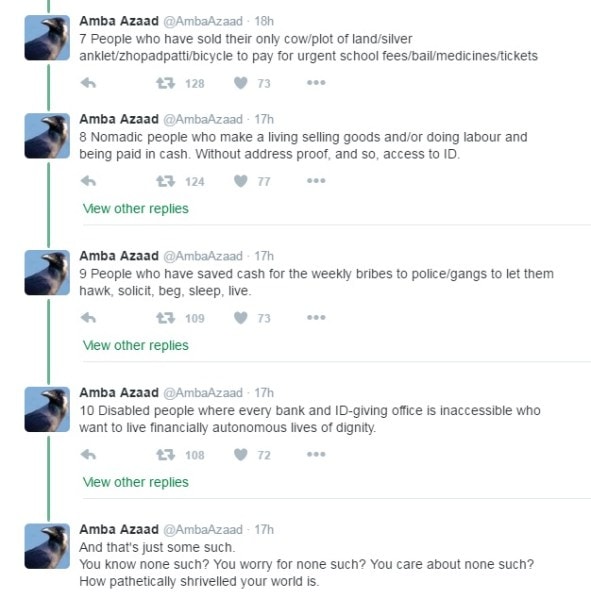 Do you agree or disagree? Tell us in the comments below.
For all the latest Trending News, download Indian Express App