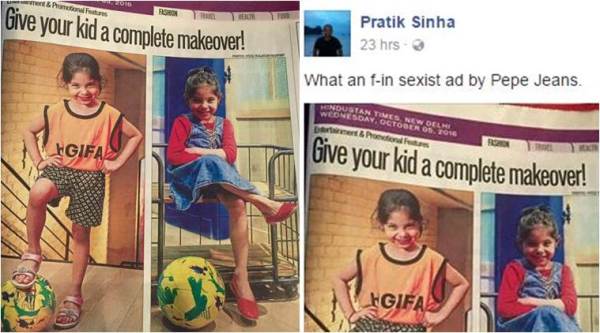 A denim and casual wear brand is drawing a lot of flak on social media over a 'makeover' of a toddler that was published in a news daily. In the advertorial, a little girl is standing with her foot on a football wearing a jersey and shorts in one of the pictures titled 'before'. In the 'after' picture, however, she is sitting crossing her hands wearing a denim dress with flat ballerinas. "Give your kid a complete makeover," read the headline – and that has not gone down well with many on social media.
But like most things on which we outrage, there are multiple sides to a story. At a time when the protest against stereotyping on any public platform is immediate, images such as this trigger a spontaneous response. One such reaction came from Facebook user Payal Talreja, Creative Director of an e-retail store, who shared the image online with the caption: "Am I the only one who finds this Pepe ad regressive, outrageous and offensive? What's wrong with 'before'? Why must a child be 'prettified' into someones idea of a girl? HEY PEPE ! LEAVE OUR KIDS ALONE!!! For shame! This is where it starts – making children confirm to gender stereotypes!!! Such RUBBISH! Which MORON came up with this?" she wrote in a post that has now been deleted.
Interestingly, with the deletion of Talreja's post, among a barrage of comments against the images, was the response of the mother of the girl in the photographs. In a lengthy response, she clears the air and provides context to the photo shoot. "Words fail me to see how most comments have poured in without even understanding the context of what's been featured here…Well, first allow me to share with you what's been done here…" She goes on to explain how her daughter, who played football, had just won some clothes from the denim brand's Autumn Winter collection, and contrary to popular belief, she had actually chosen the clothes for herself. It wasn't that she was being given a makeover by the brand in question. She even drew attention to the fact that the newspaper clipping had, in fact, brought much joy to her little one's day, who would have been pretty kicked to see her picture in the paper, and that the outrage against the images was completely unwarranted.
Here's her complete response: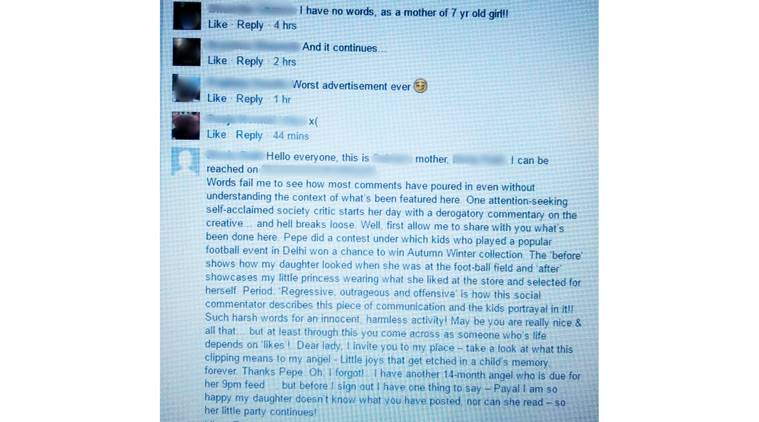 So, what went wrong?
It was mainly the headline 'Give your kid a complete makeover' that got everyone riled. And justifiably so. After all, if one started feeling the need to give toddlers style makeovers, then there would be no end to stereotyping ever. But that's the thing… this wasn't really a makeover. It was just a kid who was given a chance to win some clothes and get featured in a national daily.
Also read: Why we need to have a kids-free ad world
Responding to the online outrage against the image, the denim company later released a statement saying that they neither had any intention to offend anyone not do they propagate gender stereotypes.
"We collaborated with Hindustan Times for Great Indian Football Action to encourage kids to channelize their enthusiasm and passion towards football. As part of this initiative Pepe Jeans awarded the 'Player of the Day' with a fun shopping experience at the Pepe Jeans store and the kids were asked to pick their favourite outfit which best represents their style of dressing. This was then incorporated by Hindustan Times in a series of three articles depicting on field and off field look of three kids. The objective was to recognise and appreciate the players performance without any gender stereotyping. We extended this association further by supporting underprivileged kids through the initiative 'Football for All'. Pepe Jeans believes in appreciating the talent of every child," said the MD of the denim brand, Kavindra Mishra.
So, much a do about nothing? Maybe not. It's understandable to raise dust against gender stereotyping and that too if it were at such a young age, but in this instance, there was definitely more than what met the eye, and that's what prompts yet another introspection…on social media behaviour.
For all the latest Trending News, download Indian Express App