Mincing words is not something Congress MP Shashi Tharoor is known for. And if it's with a tweet of just 140 characters, the tone is sharper still. Remember when his Twitter spat with actor Anupam Kher went viral as he responded to the actor's comment stating that he is "scared to say openly that he is a Hindu"? (link)
This time, Tharoor decided to pick on the ruling Communist Party of India (Marxist), especially targeting Kerala Chief Minister Pinarayi Rajan. He tweeted out a picture collage of Vijayan, CPI(M) state secretary Kodiyeri Balakrishnan, US President Barack Obama and Pope Francis using umbrellas during rains, with the caption: "The difference between capitalist systems & Communist rulers. People's democracy in action in rainy Kerala!"
In the photo, latter two are holding their own umbrellas, while the former have others holding it for them. It would be wrong to say that Obama and Pope Francis' security personnel have never held umbrellas for them, but Tharoor cleverly tried to play on the contradiction between ideology and action in the with his selection of photos.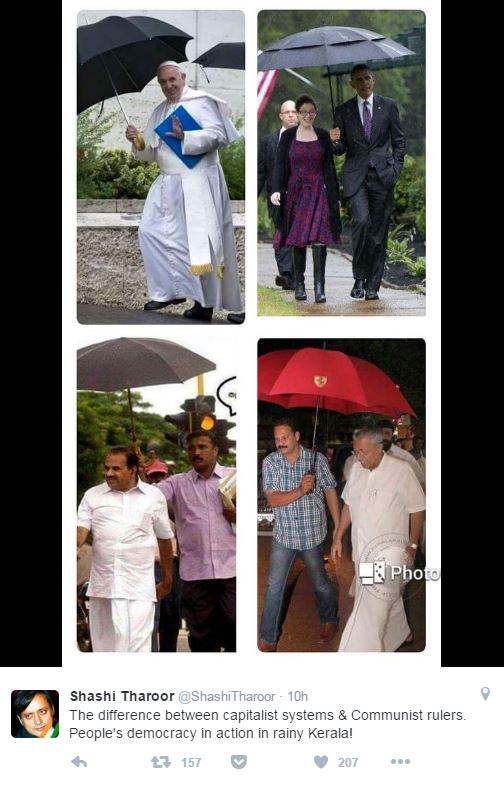 Of course, nothing escapes the attention of the astute Twitterati, some of whom quickly dug out images of other party ministers caught in the rains.
@ShashiTharoor what does one say to this then! pic.twitter.com/5oLM6wkm5T

— Deepali Hiwrekar (@mohokar_deepali) September 7, 2016
.@ShashiTharoor Wow much capitalism so respect…Who are you king of the south? pic.twitter.com/IYmTPpRV1z

— zombie (@starlordism) September 7, 2016
@ShashiTharoor
The similarity btw capitalist systems & Indian rulers. People's democracy in action in rainy India! pic.twitter.com/dzviPymq2E

— Shalu George (@shalugeorge) September 7, 2016
@ShashiTharoor http://t.co/S2KVMWVcvl pic.twitter.com/byUMg4ILoB

— Salil S (@TweetsofSalil) September 7, 2016
Tharoor's last comment that went viral was when he took a dig at the ruling BJP-led NDA government during Jawaharlal Nehru University controversy in March, when he quipped that 'nationalism will now decided by whether one can say 'Bharat Mata Ki Jai' or not'.
"Today nationalism is decided by whether or not one can say 'Bharat Mata Ki Jai'. I am happy to say it, but should I also oblige everyone to say it? Our Constitution gives people the right not to say it just as it gives people the right to say it as well. I will choose when to say it and that's democracy," he had said, while addressing students at JNU.
It might be all in good humour but it as a Twitter user points out, "as if Congress and BJP leaders in India do it the so-called "capitalist way" It's the Indian mentality to blame."
© The Indian Express Online Media Pvt Ltd