Updated: November 11, 2016 4:36:52 pm
Prime Minister Narendra Modi demonetised Rs 500 and Rs 1000 notes in a bid to curb corruption and put an end to black money floating in the country. The first two days have been troublesome for many because of the suddenness of his decision but there are millions who have lauded the move too. However, as expected, Delhi Chief Minister Arvind Kejriwal isn't one of them.
WATCH VIDEO: India Queues Up Outside ATMs
In a Facebook live video on November 10, he slammed the PM's bold step and said it's not going to solve the problem of black money and corruption, instead it's going to increase it. He also alleged that BJP's "friends" already knew about the development in advance and they have already sent their money abroad.
"Do you find black marketers in the queues? Or rich people? Those in the queues are traders, rickshaw pullers, autorickshaw drivers, farmers, workers. Are these the people with black money?" he asked.
In a series of tweets, he also took potshots at PayTM declaring that the company is the biggest beneficiary of this new move. "Paytm biggest beneficiary of PM's announcement. Next day PM appears in its ads. Whats the deal, Mr PM?" he tweeted.
But PayTM CEO and founder Vijay Shekhar Sharma took note of what the CM said and decided to share a piece of his mind with him. His response is truly winning the Internet with nearly 10,000 retweets.
AUDIO: Worried About Replacing Rs 500 & Rs 1000 Notes? Don't Fall For This Fraud Call
"Dear Sir, The biggest beneficiary is our country. We are just a tech startup, trying to solve financial inclusion & make India proud," he wrote.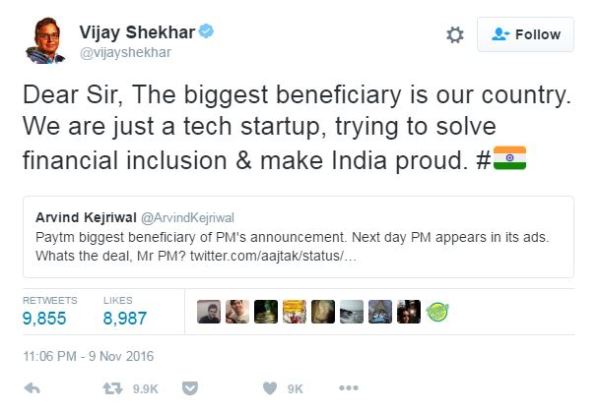 Have something to add to the story? Tell us in the comments below.
For all the latest Trending News, download Indian Express App