By:
Trends Desk
| New Delhi |
Updated: November 28, 2016 2:06:30 pm
Delhi Chief Minister Arvind Kejriwal has been quite vocal against BJP's demonetisation move since the first day of its announcement. The minister – who is very active on social media – has been attacking the move on Twitter by highlighting its impact on daily lives. However, his penchant for tracking the 'big fat Indian marriage' seems to surpass all other concerns at times. On November 22, replying to Manish Sisodia's tweet, Kejriwal questioned how sisters-in-law would get the money for 'joota churai' ceremony.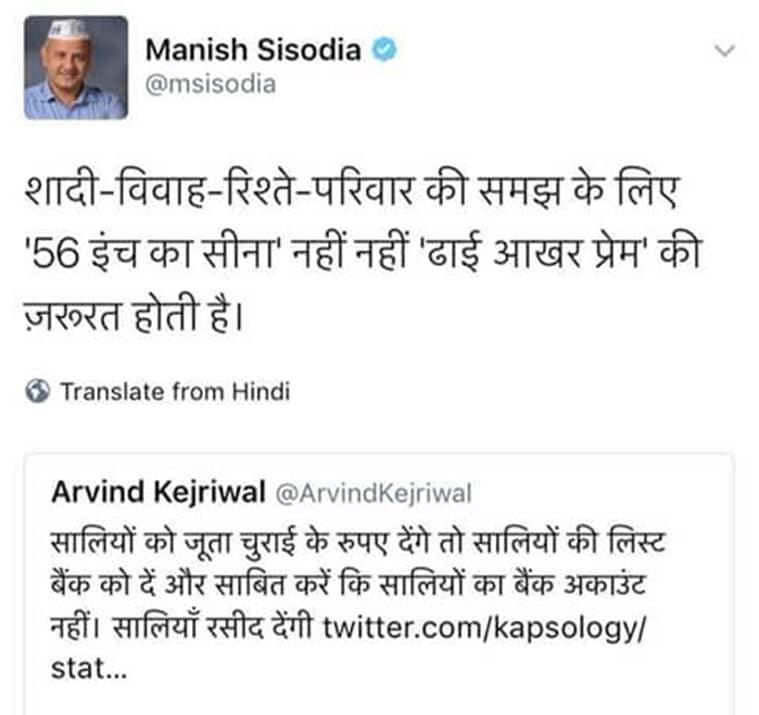 Then it was the multi-crore wedding of Andhra Pradesh mining tycoon Janardhan Reddy's daughter that raised eyebrows. Well, to be fair, this Rs 500-crore nuptials had everyone interested, including the Income-Tax Department. Well, once again, another wedding has caught Kejriwal's attention and this time it's that of Union Minister Mahesh Sharma's child, except, in his haste to raise to point fingers, the AAP chief seems to have gotten a basic fact wrong – much to the amusement of many on social media.
On Monday (November 28), Kejriwal showed his concern for wedding of Sharma's 'daughter' only to discover that it is actually the minister's son who is getting married. Kejriwal tweeted: "BJP MP Mahesh Sharma's daughter is getting married. Are they making all the payments using cheque? Are they organising the entire wedding for Rs 2.5 lakh? How did they exchange their notes?".
भाजपा सांसद महेश शर्मा की बेटी की शादी है। क्या सारी चेक से पेमेंट कर रहे हैं? क्या ढाई लाख रुपए में शादी कर रहे हैं? उनके नोट कैसे बदले गए?

— Arvind Kejriwal (@ArvindKejriwal) November 28, 2016
To this, the minister replied: "please correct your information, it is my son who is getting married. All the payments are being made via banks".
अपनी जानकारी सही करिये। मेरे बेटे की शादी है। जी हाँ, सभी पेमेंट बैंक के माध्यम से की जा रही है। http://t.co/zXsr2ikMXb

— Dr. Mahesh Sharma (@dr_maheshsharma) November 28, 2016
True to its nature, Twitterati has been reacting to this Twitter war with a dash of humour. From calling out the Delhi CM for being the new 'marriage lokpal' to pointing the number of times he got his facts wrong on the social media site. These past two weeks have been particularly error-ridden, with Kejriwal first retweeting a misleading picture of a man who had hung himself at a bank in Madhya Pradesh, saying the man had committed suicide because of Modi's demonetisation move, only to be later corrected that the man had actually gone to rob the bank and took the extreme step when he found out that he'd been surrounded by the Police. Then he'd retweeted a photo of Syrian refugee children, claiming they were found at the site of the Kanpur train accident.
Interestingly, this is not the first time that Kejriwal has raised questions over Mahesh Sharma's daughter's wedding either. In February last year, Aam Aadmi Party had raised objections over renting of a Noida stadium, which they claimed was only mean to be used for sports activities. At that time, Sharma had said that AAP touched a new low in politics by targeting his daughter's wedding.
However, it seems like his son's wedding will also face some controversy. But in the time of demonetisation, when most of the marriages celebrations have been impacted, this seems to be a minor 'inconvenience'.
For all the latest Trending News, download Indian Express App