If you are someone hooked to Twitter, there's no way you would have missed Abhishek Bachchan's parody account because it's absolutely hilarious and if there was a certification available for trolling, this person would have owned it. His/her favourite time-pass is obviously trolling junior Bachchan and one of his tweets on the actor that went viral read, "The only reason I don't tweet for long periods is to confuse people that I actually have some work."
And guess what? This parody account got an invitation from a student from Indian Institute of Management- Ahmedabad to be the Keynote speaker for their annual Business conclave in sports and media domain. Interestingly, the account holder asked the student to read the bio which clearly states "[PARODY]" but the students didn't get the hint. He went on to please thinking it's Bachchan.
"Read my Twitter bio and don't tear your CAT scorecard and your degree after that," said the person, to which, the student replied, "Haha. That's very humble of you sir. We wish hear your insights on future of sports and media industry in the country."
The account tweeted screenshots of the conversation which has gone viral with a couple of hundred retweets.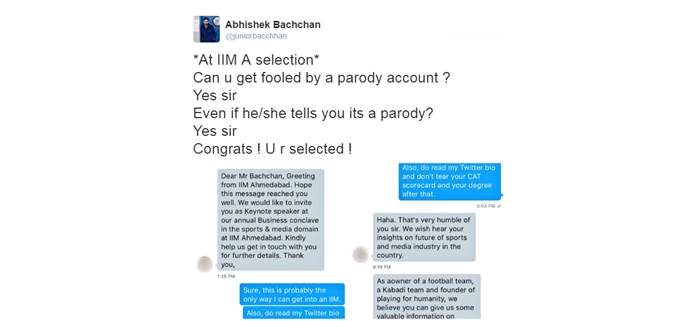 People can't stop laughing and are actually advising the person to go and have fun!
@juniorbacchhan chale jao bhai, free me air tkt, 5 star hotel booking sab milega, wo log abhi ko dhundenge aap aish krna

— Babu Bhaiya (@Shahrcasm) October 21, 2016
Probably there are parody IIMs also. 😄

— Dhiraj (@Dhiraj141984) October 21, 2016
@juniorbacchhan Pehle confirm kar lijiyega ki IIM A is Ahmadabad ki Amritsar.. Har Galli main khule hain!!

— Mihir Sangodkar (@justmihir) October 22, 2016
Just imagine what the reaction of the real Abhishek Bachchan if and when the students approaches him.
For all the latest Trending News, download Indian Express App