On October 7, many woke up to Pierce Brosnan aka James Bond staring at them with Pan Bahar's tin-can in his hand as he appeared in its ad published in a national daily. Indian Internet trolled him mercilessly and he was trending on social media through the day. He also did a video for the company wherein he can be seen pulling his Bond-like stunts and concluding with the statement, "Pan Bahar. Class never goes out of style."
A lot of people on social media asked if he even knew what he was endorsing referring to tobacco content. Many were disappointed with him endorsing a product that's 'injurious to health'.
Responding to these comments on social media, the company has issued a statement saying that Pan Bahar is a Pan masala, a mouth freshener, and has no tobacco content present in it. They even shared a certificate for the declaration of no tobacco and no nicotine.
Here's what they wrote:
"As we support our country's 'Make in India' campaign, we are proud to have Mr. Brosnan on board and would like to thank him for lending his image for the short film of Pan Bahar and taking the brand to next level while making it classier with his elegance and style. There is rave on social media regarding the new (ad) however we believe there is lack of awareness about the product that Mr. Brosnan has done a short film for – a Pan Masala (Indian mouth freshener) which has Betelnut, Lime, Catechu, Cardamom seeds, Sandal wood oil, and Kewara in it and there is NO Tobacco No Nicotine content in this product. Also confirming there is no tobacco product under this brand name… attached (is) the certificate for the declaration of NO Tobacco, No Nicotine from the brand. We need to convey the same to media so that they are aware of the fact before publishing any negative comments."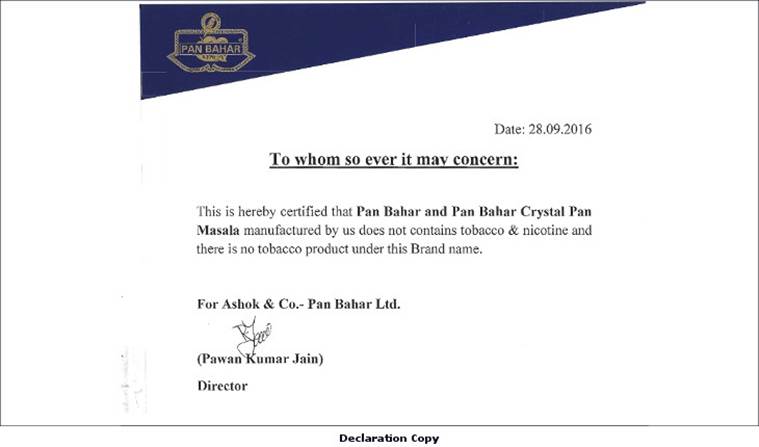 Have something to add to this story? Tell us in the comments below.
For all the latest Trending News, download Indian Express App