By:
Trends Desk
|
Published: November 17, 2016 3:20:25 pm
The to-be US First Lady Melania Trump has been in news for quite sometime now, mostly because of her beauty and her admiration of Michelle Obama's brilliant word play. She was so inspired by FLOTUS, that she ended up copying an entire speech? Following Donald Trump's election as the next US President, social media sites have been on overdrive analysing the Slovenian model's past and present. Old photos are being dug out, every inch of her wardrobe is being scrutinised, even her facial expressions!
And all this not only by Americans, but by people here in India as well. Film director Ram Gopal Varma stirred a lot of trouble when he compared Melania Trump with Michelle Obama, comparing their looks on Twitter. Soon he was lambasted by all and sundry, including Omar Abduallah. Well, another Mumbai-based Twitter user also had an interesting observation to make regarding the new FLOTUS, and that too quite a while back.
Also read: Delhi girl goes topless in protest while standing in an ATM queue
Twitter user @krazyfrog had posted a message way back on July 20 with photos of Trump, saying, "Melania Trump constantly looks like she's seen you somewhere but can't remember where," but interestingly, the tweet was 'stolen' by American comedian Chris Rock, who tweeted the same picture with the comment on November 15. What's surprising is that he even put his watermark on the image.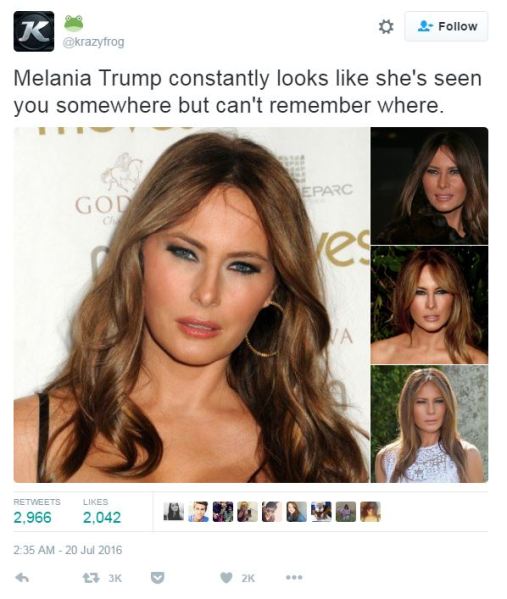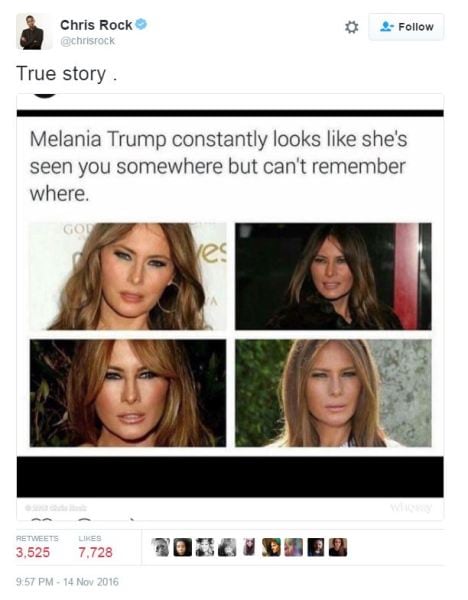 However, @krazyfog took it light and here's what he had to say about it. Also, looks like Chris Rock wasn't the only one.
Abey yaar lol pic.twitter.com/S0ogvti2zc

— 🐸 (@krazyfrog) November 16, 2016
Chris Rock bewafa hai.

— 🐸 (@krazyfrog) November 15, 2016
Me: So Chris Rock used my tweet
ATM people: Chup chap line ke peeche ja ke khada reh

— 🐸 (@krazyfrog) November 15, 2016
What the… http://t.co/bAxzZ5Svqg

— 🐸 (@krazyfrog) November 15, 2016
But the Indian Internet junta didn't let it go and they fought for @krazyfrog's original tweet.
AAAAYYY SOMEONE PLS TELL CHRIS ROCK'S SOCIAL MEDIA PEOPLE TO STOP STEALING @krazyfrog 's TWEETS FROM INDIA. http://t.co/5v3ztZMmg4 http://t.co/05OiPi3Op3

— José Covaco (@HoeZaay) November 15, 2016
If you saw @chrisrock's tweet, this is the original tweet whose handle he cut off. 👇 http://t.co/8MNzD8rF1I

— Sandhya Ramesh (@sandygrains) November 15, 2016
@chrisrock You don't take a screenshot of someone else's tweet and put a copyright on it. Not cool. http://t.co/etzp7NiU6H

— Denver Ka Dhakkan (@tantanoo) November 15, 2016
What I want to know is what is Modiji doing about the fact that Chris Rock stole @krazyfrog's joke?

— Rohan (@mojorojo) November 16, 2016
And as karma would have it, Chris Rock was called out for the tweet as people thought it was racist of him to be tweeting out a message as such.
.@chrisrock @TheRu1es
That's because, like many Russians, she has Asian heritage.

You just made a "slanteye" joke, Chris. -:)

— Scott Malcomson (@RoyCalbeck) November 15, 2016
Why are Americans always so racist? @RoyCalbeck @chrisrock @TheRu1es pic.twitter.com/pf6jCGxj9B

— Plippy McGee? (@Plipster) November 15, 2016
Same deal over here. Yelling "bigot" really lost it's power quick. O.o @CBBloch @RoyCalbeck @chrisrock @TheRu1es

— Plippy McGee? (@Plipster) November 15, 2016
Have something to add to this story? Tell us in the comments below.
For all the latest Trending News, download Indian Express App