By:
Trends Desk
|
Updated: November 11, 2016 6:14:25 pm
As Prime Minister Narendra Modi scrapped Rs 500 and Rs 1,000 notes starting November 9, people have gone into a frenzy. The decision was so sudden that people had no time to manage their cash flow. While many call it a bold move against corruption and black money, there are others who acknowledge that the first few days could be troublesome because banks and ATMs will run out of cash.
While a lot of people from the film industry have lauded the PM's move, actor Arshad Warsi doesn't seem so happy. In a series of tweets, he lashed out at PM Modi asking him to make new laws and amend the older ones that doesn't allow fraudulent companies to function at all and increase the number of tax payers in the country. "@narendramodi Sir please enjoy your chair but please stop using the honest TAX payers as your foot rest." he tweeted. "A fraudulent company is allowed to do business by the Govt & the innocent tax Payer has to pay the price. Where is the justice" he wrote in another tweet.
People on Twitter didn't take his opinion on the matter too well and trolled him massively. "If you were an honest tax payer you wouldn't have felt like a foot rest," wrote a user.
Later, with a pinch of sarcasm, Warsi tweeted, "Sir,you have effectively eradicated black money.Please also change dated laws & work on increasing the number of tax payers"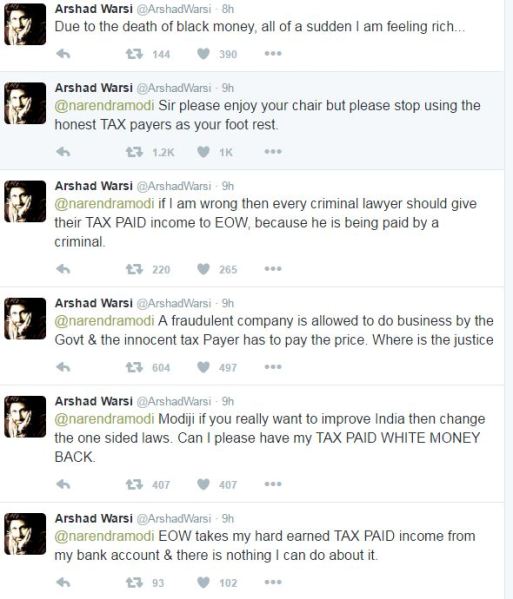 Here's how people reacted.
If you were an honest tax payer you wouldn't have felt like a foot rest. http://t.co/Cq0iUw0Yf9

— Maithun (@Being_Humor) November 11, 2016
Aaj " circuit" "short circuit" ho Gaya hai @ArshadWarsi 😂😂

— Calvin Hobbes (@icalvinhobbes) November 11, 2016
Actor @ArshadWarsi loses ₹23.7 crores of black money. – sources. pic.twitter.com/nc3hCweSHQ

— NEWS OUR (@News_Our) November 11, 2016
Dear @ArshadWarsi ji please tag @IncomeTaxIndia or if u want to mk it political then @ArvindKejriwal .. @narendramodi is out of country

— Raju bhaiya (@bhaiya_gajodhar) November 11, 2016
Knew Bollytards will cry, but didn't expect you to be the first, @ArshadWarsi ! Abbe circuit…lagta hai Mamu ne akkhaa waat laga dali! 💰🔥😢 pic.twitter.com/JGaEFogkhj

— गीतिका (@ggiittiikkaa) November 11, 2016
Writing random things to get rt from anti – corruption crusader shri @ArvindKejriwal ji http://t.co/msj2Ehe2Hr

— Maithun (@Being_Humor) November 11, 2016
Have something to add to the story? Tell us in the comments below,
For all the latest Trending News, download Indian Express App