Virender Sehwag is known for his wit and humour on social media. He can easily pass off as one of the best Indian trolls in Twitterverse who can tickle your funny bone and leave you on the floor laughing with his tweets – and all that, without even offending someone! Thanks to his descriptive narration at cricket matches all done with a dash of hilarity, Hindi cricket commentary is gaining popularity and his one-liners during matches pretty much rule Twitter each time.
But guess what, this time, the troll king got trolled by none other than his wife when he wrote that only a married man can understand the urgency of coming home as he wished Ravichandran Ashwin for winning Man of the Match in India Vs New Zealand Test match for his best figures so far, that is, seven for 59 in Test innings.
"Congrats @ashwinravi99 for an incredible 7th Man of the series. Only a married man can understand d urgency of going home early. #FamilyTime" tweeted Sehwag, to which Ashwin responded with a "lol". But the conversation didn't end at that because their wives butted in to add that they never really did anything that would require the gentleman to hurry home!
Ashwin's wife Pritha said she "didn't do much" but the masterstroke came from Sehwag's wife Aarti who tweeted, "Neither did I. Both in a hurry as always @ashwinravi99 @virendersehwag".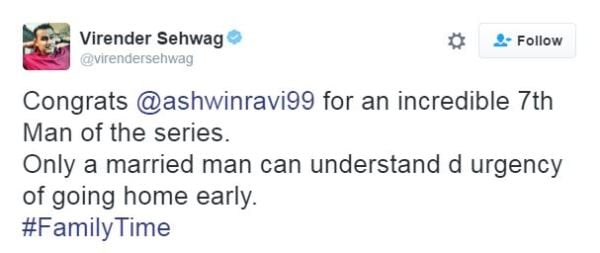 Well, Sehwag tried hard to be witty with Ashwin, but this time, their wives are the ones who absolutely stole the show!
For all the latest Trending News, download Indian Express App