Twitter is strange place and when #AIBcensored started trending, it took time for people to understand why. Apparently, All India Bakchod, an Indian comedy collective known for their hilarious take on current affairs put out a meme on their social media accounts on September 19. The meme was about the latest revelation on the Internet that starting riff of Pritam's 'Bulleya' from Karan Johar's film Ae Dil Hai Mushkil is a rip off of Papa Roach's biggest hit 'Last Resort'.
On September 19, #Bulleya was trending on Twitter for the very same reason but the producer of the song Sunny MR told SpotboyE.com, "The Bulleya guitar riff is, musically, no where close to any of the songs it's being referred to. The notes are totally different. The riff is in a simple 1/16 timing widely used in many genres not limited to any specific song. This timing is also used for many background score pieces. It's like calling a rock song a copy of another rock song just because they use the same set of instruments."
The same day, AIB shared this meme.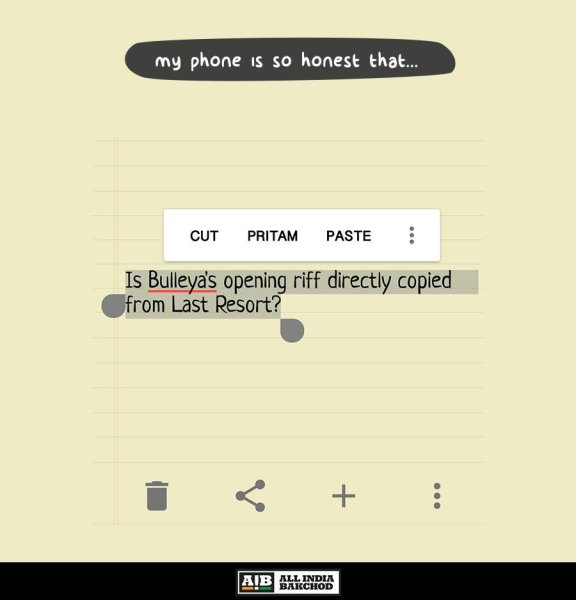 But today, nobody could find it and Twitterati being Twitterati blamed it on Karan Johar for censoring it and even Ajay Devgn for running a paid trend given the alleged tiff between the two.
LOL Ajay Devgn's team from "Shivaay" is pushing the paid-trend #AIBCensored to counter Karan Johar. Beneficiary is AIB :D

— Gabbbar (@GabbbarSingh) September 20, 2016
Karan Johar asked them remove the pic #AIBCENSORED @KaranJohar @AllIndiaBakchod pic.twitter.com/mtdhOP6vnZ

— Anupama (@Anupama75) September 20, 2016
#AIBCensored & it has been proven once again that freedom of speech is for people with power. Sad. @KaranJohar pic.twitter.com/1VCw8yLJy5

— Jasti Yogesh (@PseudoSarcastic) September 20, 2016
But guess what! None of that happened. In a typical AIB way, Tanmay Bhat told Buzzfeed that it was an old joke, hence deleted.
"We have a social media person who's responsible for making jokes. Every now and then, he accidentally makes a joke which has either been done by others before us, or that we're repeating. It's not intentional but it happens sometimes, if you're making 20 jokes a day. Someone pointed out to my social media manager that this joke had been made before, so we took it down. Today, I was napping after a long day of work. I woke up to see that I've been censored by Karan Johar, which… Isn't true. We've said worse things about Karan Johar, TO Karan Johar's face and he didn't censor us. Why would he do it for a meme? I don't know anything about anyone paying anyone to trend this. But if anyone is being paid, I would like to be paid a little also, thank you," he was quoted as saying.
On another note, this was his response.
Hahahahahahahahahahahahahahahahahahahahahahahahhahaha

— Tanmay Bhat (@thetanmay) September 20, 2016
Just woke up from a nap. What the actual fuck is going on.

— Tanmay Bhat (@thetanmay) September 20, 2016
Have something to add to this? Tell us in the comments below.
For all the latest Trending News, download Indian Express App