Mocambo, a popular restaurant in Kolkata has been in news recently, but definitely not for the reasons they would have wanted to. A  Facebook post by a woman about how her driver was denied entry by the restaurant staff because he was not "properly dressed", went viral recently and since then, Mocambo continues to be at the receiving end of much censure.
Dilashi Hemnani on September 10, wrote an evocative post on how her driver Manish was not allowed to eat in the Park Street restaurant because he was not dressed as per the standards they have set. So much so, Hemnani wrote that the staff even accused him of being drunk, so they could not let him eat there.
After Hemnani's post went viral on social media, other accounts of people's anger and disgust towards the restaurant's behaviour has taken over the Internet, with a lot of them demanding corrective action by the restaurant, others asking people to boycott the eatery; even its patrons have said how appalled they were at the incident. But other miscreants decided to go a step ahead to tarnish the restaurant's image, which is anyway taking a hit. People decided to create fake pages of the restaurant on Facebook and post tasteless comments, driving many people to give the restaurant bad reviews.
The restaurant's manager had reportedly stated earlier that though they don't have a dress code, if someone is not dressed properly, they do not allow them inside.
Though the fake comments were taken down soon, people took screenshots of some of the rude statements.
The restaurant, however, has now gone on record to clarify that the comments were indeed by fake pages. The post by the restaurant claims this is the first time that they are taking to the social media, and harsh comments by fake Mocambo pages instigated them to do the same. IndianExpress.com could not independently verify if this Facebook account is an official one, yet. A response from the management is awaited.
Though the post assures enquiry into the matter, that the restaurant management decided to take any step at all came only after the slew of fake pages came up does beg the question: Are they even apologetic about what has happened? Going by their official clarification, other than saying that they will look into the matter, there is no remorse or even acknowledging the possibility that such a class discrimination could have happened.
As soon as this clarification was published online, a slew of responses erupted – yet again targeting the restaurant management for not handling the issue properly. Some even recounted similar episodes of rude behaviour from the staff, while others called the message out as a diplomatic response but lacking humanity.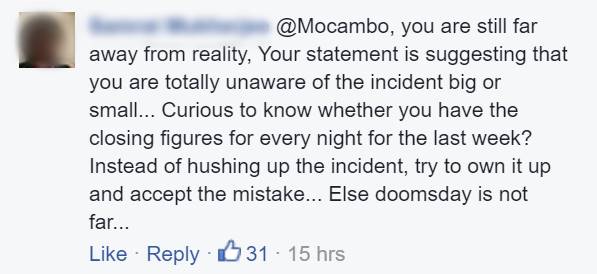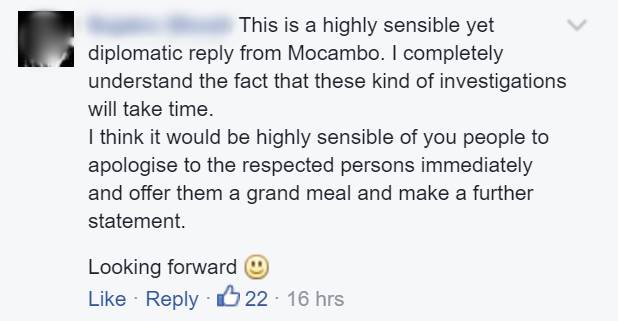 With no apology and the claim of an enquiry, it remains to be seen if this online movement will have any impact on the restaurant's sale. Its reputation has taken a toll for sure, while any follow-up response from Hemnani is still awaited.