By:
Tech Desk
|
Published: August 5, 2014 1:41:37 pm
In signs of that Xiaomi is emerging as a global smartphone super power, the Chinese company has taken the largest market share in its home territory. The significance here is that mainland China accounts for 37% of global shipments making it the world's largest smart phone market.
Globally, 292.4 million smart phones shipped in Q2 2014, representing a 23% year-on-year growth and 5% growth on the first quarter. Samsung retained its global lead with a 26% share, its lowest global share in two and a half years.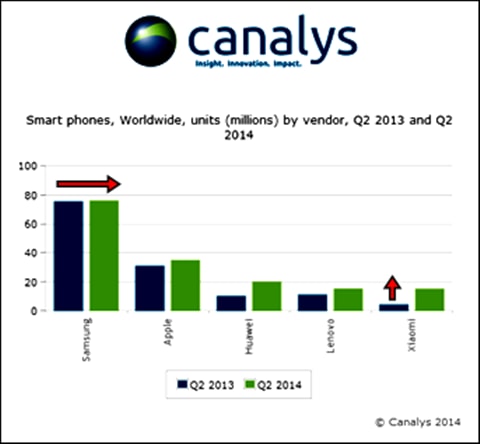 A bit like India, four of the top five vendors in China were local companies. Xiaomi is leading smart ahead of Samsung in volume terms in Q2 with a 14% share, says  independent analysys company Canalys. For the  record, that is a 240% year-on-year growth.
"Lenovo, Yulong, Huawei, BBK, ZTE, OPPO and K-Touch, the eight Chinese vendors in the top 10 together accounted for a total of 70.7 million units and a 65% market share," the Canalys report said. Samsung and Apple, the only international vendors in the top 10, had 18% of the smart phone market in China.
Shanghai-based Canalys Research Analyst Jingwen Wang called it a phenomenal achievement for Xiaomi, though anticipated. "But that is only half the story – Xiaomi has also executed on its strategy to grow volume shipments. It has delivered compelling products at aggressive price points, focused chiefly on its locally relevant MIUI software features and services, backed by effectively targeted marketing," he added.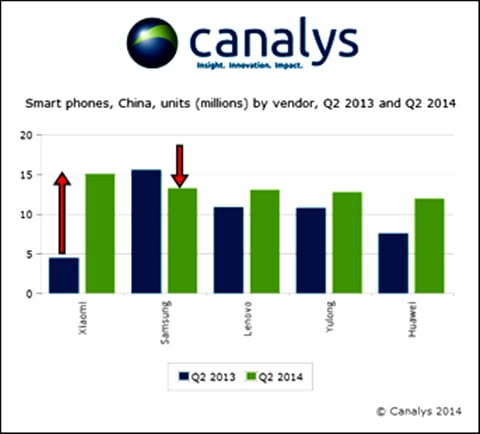 While in Q2, about 97% of Xiaomi's Q2 shipments were into mainland China, the company is now eyeing other markets like India, Indonesia, Mexico, Russia and Thailand. 'Its aggressive pricing model will certainly resonate beyond China, but the challenge it faces in scaling its model for success on a global stage should not be underestimated,' said Singapore-based Analyst Jessica Kwee.
Samsung has slipped to second place in China for the first time since Q4 2011, primarily due to a shifting demand toward 4G handsets. Meanwhile, Canalys said Apple had a relatively strong year-on-year performance, up 58%, helped by the iPhone's position as one of few high-end device options available to consumers looking to use 4G services from China Mobile.
While Motorola, backed by the success of Moto G, saw it achieve a tenth place global ranking with a 3% share, combined with the share of its new owners Lenovo the market share would be a substantial 8% share. That would put it at the third spot globally.
For all the latest Technology News, download Indian Express App