TCS Android app keeps finger on poll pulse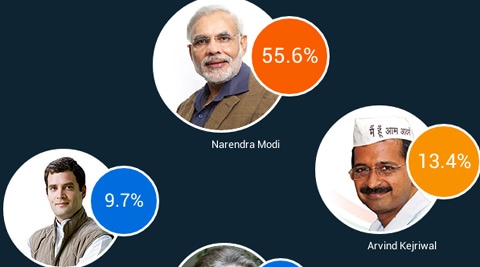 Top trending candidates, political parties, issues related to Indian elections plus a few other things come under iElect's portfolio. (IE)
Tata Consultancy Services launched an app for Android devices that allows users to track top election-related trends in real-time. iElect is available for free-download on Google Play Store.
Top trending candidates, political parties, issues related to Indian elections plus a few other things come under iElect's portfolio.
The app is still in beta phase but it runs flawlessly. We haven't encountered any bugs so far. It is just 10.04 MB in size and consumes not more than 1 MB of data after every use.
iElect is a collaboration between two teams working in different time zones. A TCS team based in Santa Carla and another team working from Chennai designed and built the app.
The design is simple and easy to navigate. The menu at left has five options that tracks tweets in real-time. It collapses once you select an option.
The menu is neatly divided into eight options if you count the 'About' selection too. The Trending option gives you a glimpse of the top candidates and political parties that are currently trending on Twitter. You can choose the way you want to view the results as the app allows you to switch between a bubble list and an ordered list organised in descending order.
At the time of writing, Narendra Modi is on top of the candidates list at 57% and his party, the BJP, are nowhere close to Modi's figures. BJP is third in the list at 7.4%, behind the Congress (49.83%) and the Aam Aadmi party (37.29%).
If you tap on a candidate or a party, the data breaks down into a pie-chart that shows what percentage of the tweets are positive, negative and neutral. It does spring a few surprises like for example, Shiv Sena had a 100% positive feedback at the time of writing. We can also see a percentage breakdown based on location.
Another nifty feature is that it graphs the trends and we can compare the mood of the public between any two candidates or parties.
The second of the eight options is Viral Tweets. The number of retweets a tweet gets is used as a measurement to judge virality. It displays the most viral tweet of the day, in the past three days and in the last one week.
BJP leader Subramanian Swamy's 3-day old tweet was retweeted 1220 times: "The 'seculars' wants Hindus to be divided and Muslims to be united. Don't like it Vice versa."
The third option is Celebrity Tweets. You get to choose from a list of twelve celebrities who are active on twitter. You view their recent tweets. It is basically a Twitter list.
The fourth and fifth options deal with trending election topics and tags on Twitter. They list out the most discussed election topics to the most used tags.
"TCS has always been a B2B company. We had the resources to build iElect and thought it …continued »