The team behind Cooliris, the browser extension that created a 3D wall of image searches and then went on to power the three-dimensional effect on Android phone galleries, is back with an iOS app that will change the picture as far as messaging goes. After all, this app is all about pictures, even though it is a messaging app.
BeamIt is all about conversations around photos. You can send a bunch of pictures to a single contact or to a group of friends on BeamIt. They can comment on or like individual photographs and kickoff conversations. With 1.8 billion photos being shared daily according to the 2014 KPCB Internet Trends by Mary Meeker, you guess the kind of impact a messaging app built from the photo up can have. Come to think of it, a big chuck on our messages are now photographs.
"The app is more about shared experiences between close-knit families and close group of friends.  These can be messages, media and in the new world there is hardly a distinction between media and the message," Soujanya Bhumkar, Cooliris CEO and co-founder, told indianexpress.com.
Bhumkar, who is originally from Mumbai, said they will launch desktop web version in less than four weeks from the iOS launch on June 26, as he feels "this gap needs to be plugged ASAP".  He said the Android app will come two weeks after that.  The app will initially be available for both iPad and iPhones.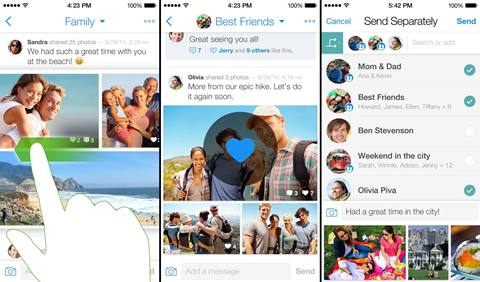 I tested the app on a Apple iPhone 4 and the results were seamless. Conversations were realtime and you don't really need to wait for photos to load. I also liked the fact that you get to see the familiar Cooliris 3D wall effect everytime you go into camera roll to pick pictures.
Bhumkar says users who care about their media, who care about privacy and those who care about being able to message from multiple devices and offline support will be the early adopters. "Messaging apps are notorious for deprecating media resolution and experience and media sharing apps lack communication feature.  We are targeting this unmet need head-on," he added.
BeamIt leverages Cooliris' patented layout engine on the client side as well as its real-time database on the backend. It is a combination of these innovations that makes it possible to have Photo DrawersTM for efficient navigation, provide full control to users for maintaining privacy, and offer offline support to consumers for saving money, said a release.
The app will have a freemium model and will offer an ad-free free experience. But premium in-app purchases are scheduled to appear in subsequent versions
Bhumkar thinks close groups of friends and close-knit families will assign value to his app+service. We can already see a lot of grandmothers' eyes lighting up to the possibility of being greeted with a flurry of pictures of their grandchildren abroad every morning.
For all the latest Technology News, download Indian Express App