The Cambodian summer is oppressive. But one can't allow an unbearable tropical sun to thwart a once-in-a-lifetime opportunity to check out the Google Street View trekker, a backpack loaded with cameras. The trekker had just finished mapping the Angkor Wat, arguably the world's largest temple complex. After wearing the backpack for a few minutes, I was filled with respect for the guys who wore the 18-kg apparatus for hours on end to let the rest of the world see the grandeur of Khmer architecture, without breaking into a sweat.
Most of us know about the Google Street View car that goes around major cities in the world recording every nook and cranny to give a very visual, very Google take on cartography. But not everyone knows that the tech giant has modified the camera in the car to be used in a backpack to map places that can't be accessed by a vehicle, such as the top of the 65-metre high Mount Meru. So if there's a 360-degree panoramic experience of the Qutub Minar or Taj Mahal, it is because of these trekkers.
But mapping Angkor was a project much larger in scale than anything Google has attempted before. In fact, the Angkor collection on Google covers over 100 temples in the complex and stitches together about 90,000 360-degree views of the Khmer temples. The detailing is good enough for students and researchers sitting halfway across the globe to complete their thesis on Khmer architecture.
The Angkor project, in a sense, is a coming-of-age of the Google Cultural Institute, a three-year-old partnership with hundreds of museums, cultural institutes, government bodies and archives the world over. Powered by Google and its latest technologies, the virtual institute aims to showcase the best of human cultural achievements from across the globe.
"Our initial idea was to make museums more accessible. We view the Web as a tool for cultural institutions to bring their content online," says Amit Sood, the Mumbai-born director of Google Cultural Institute (GCI) and Founder of the Google Art Project. While GCI excels in digitising content from the largest museums in the world and curating the works of artists spread across the globe, of late it has begun documenting locations that are an integral part of human history and culture. The Google Cultural Institute now brings content from over 400 museums and scores of other locations around the world to your laptop or tablet.
Sood asserts that the requirement of the technology and the art project is keenly felt in Asia and Latin America and that is why the project covers over 40 mediums from stone to fabric, which are more popular in these areas, where "art" does not always refer to oil on canvas. "My mother, for instance, was fascinated when she saw that we were documenting gold as a medium too, and she could see jewellery from around the world in one place," explains Sood, who used to work on Google's Android operating system before he took over the institute.
The Google imprint of high technology is clearly visible on the project. So some of the 40,000-odd works of art that have been digitised are in gigapixel format — one gigapixel is equal to 1,000 megapixels. So without even being in Amsterdam, you can see each stroke, even a hair from the brush that got left behind, on Vincent Van Gogh's paintings. These tiny details, brought to you by Google, is the real reward of the project. No amount of quality time spent with these priceless works of art can allow for so much access.
Sood knows this is the USP and revels in showcasing the power of the technology with The Harvesters (1565) by Pieter Brueghel. It is hard, almost impossible, for the naked eye to discern that one of the people in the painting is actually having a piece of toast, or that on the back of the canvas is a depiction of a medieval game played during Easter. All it takes is just a zoom in on the gigapixel image used by GCI.
Instead of a slideshow format, many of the collections have been showcased in virtual walkthroughs of the museums. For this, the GCI roped in the Street View team led by Manik Gupta. Soon, the trekkers were inside the museums and their galleries. By no means was it an easy job, considering the images were shot indoors and light was not always a constant. "Street View is not necessarily about streets. We want it to lead to live, breathing maps that help people explore places," explains Gupta, who is the group product manager for Google Maps. With this goal in mind, Street View is now available in 55 countries, and has mapped over 6 million miles.
But when it comes to recording monuments and museums, Google understands that it cannot do everything on its own. That is why they have a trekker loan programme to democratise the technology, which could be of great use in countries like India that are a virtual treasure trove of culture.
In fact, Sood says "a lot" is coming up in India, but does not divulge any details. "I didn't know what the structure was in India or who to speak to. But I found a big supporter in Kumari Shelja, the then-minister for culture," says Sood, who now regularly visits the country. "In India, we are looking beyond traditional museums and are looking at archaeological sites too," he says, adding that his next focus area will be India's living heritage where there has been no concentrated effort. "Let us first get all the stories in and then see how to disseminate it," he says.
The Google Cultural Institute is a non-commercial entity, but there is no overlooking the fact that these projects have helped changed the perception of Google's technologies. "These projects have helped change the perception of Street View. It showcases what technology can do, but with the help of culture," Sood adds.
The task is challenging: here is a high technology company like Google trying to interact with a sector that has not really embraced technology with open arms. "These are not organisations that have resources and staff or tech-savviness to do this on their own. So it is a demand-based equation and we go do it when they ask us to. If they focus on the curation, we will focus on the technology," says Sood. But the ideal situation for him will be when these entities can operate the technology by themselves by using the free Google programme interface (APIs) to digitise their content. "If they want to work me out of a job, I will only be too happy," he says.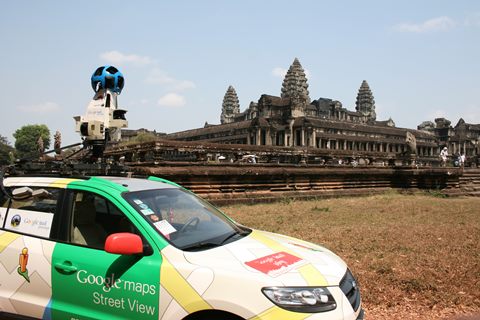 Street View Cars: A four-wheeler fitted with a Street View camera on top that clicks 360-degree panoramas as the car moves. Used mostly to document the outer peripheries of monuments.
Street View Trekker: Can go inside places where the car can't, so used primarily indoors in places like museums. Is a 18-kg backpack with a camera similar to the one on the car. It has 15 lenses with 75MP resolution each. It comes with a battery that can last up to six hours and has data storage too. Is controlled using a Android phone.
For all the latest Technology News, download Indian Express App