Written by
Pranav Mukul
| New Delhi |
Published: October 4, 2016 1:32:30 am
As smartphone sales in India have increased over the years, it has caused an exponential rise in consumption of mobile data — almost double to nearly 14 lakh terabytes during 2015-16, compared with a three year ago period. However, this surge in data usage still hasn't taken the centrestage when it comes to telecom policies and regulations, which are still largely based on traditional voice services.
Even as the Telecom Regulatory Authority of India (Trai) is in the process of forming regulations for over-the-top services, a recent Delhi High Court order highlights the lack of rules governing these internet services. In the case of new privacy policy of instant messaging service WhatsApp, the Delhi High Court has directed the Centre to consider the issue related to the functioning of such services or apps and to decide if it was feasible to bring them under the statutory regulatory framework.
Watch What Else Is Making News
On the one hand where the lawmakers might have been less focused on forming rules and regulations over internet services vis-a-vis voice services, the telecom operators on the other — as made clear by the ongoing spectrum auctions — have placed huge bets on data operations, especially on back of declining voice usage.
According to data provided by Trai, the average minutes of usage came down to 319 minutes per subscriber per month in 2015-16 from a high of 446 minutes in 2006-07. Experts believe that even though voice usage — which comprises nearly 80 per cent of revenues for telecom companies — is falling, it is unlikely that the operators will try to arrest this decline by reducing tariffs.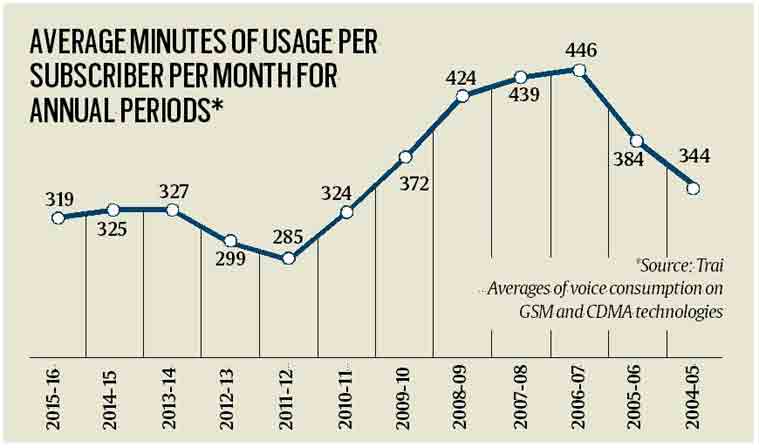 "It's not because of pricing or elasticity that minutes are coming down. India is the lowest when it comes to tariffs, and on a consolidated basis, the debt is almost two times the revenue. You look at the balance sheets of these companies, there is no scope for a further fall in average realisation per minute on voice," said Prashant Singhal, global leader for telecom practice at EY. Average realisation per minute is a metric that telecom companies use to understand the profit realised on every voice minute used on its network.
Importantly, though, that the wireless subscriber base during the nine-year period also grew over 500 per cent to 1.03 billion as of end March 2016, against 165.11 million as of end March 2007.
Despite data traffic inching into the territory of voice usage, it is likely that in the years to come, due to introduction of newer technologies such as 4G-LTE, and a possibility of internet telephony kicking in, it is expected that mobile internet would expand the revenue pie of the telecom companies.
"Younger people are now talking less and texting and messaging on services like WhatsApp, etc more. As internet usage is rising, people are finding lesser reason to make a voice call. Going ahead, the data revenue will comprise a larger proportion of telecom companies' total revenue, but it doesn't mean it will become the predominant source of revenue, which is voice," said Mahesh Uppal, director, ComFirst India.
While the overall pie of revenues for telecom operators continues to expand, in terms of average revenue per user (ARPU), a key metric for telecom companies, the ARPU earned from mobile data traffic has started eating into that from voice traffic, and even though with rising competition in the sector, the data tariffs are expected to go down, the cannibalisation of voice ARPU is not likely to reduce.
"The recent rise in data average revenue per user will soon start to reverse and cannibalisation by data services will continue to reduce voice ARPU," Fitch Ratings had said in a recent report.
An analyst with a leading consultancy firm said that telecom operators may not see falling voice revenues as a reason to reduce tariffs and push up voice usage in terms of volumes, the competitive pressure being faced by the companies, could mean good news for the consumer.
Concurring with the argument, Uppal said: "There is no doubt that there is pricing pressure on the operators but the tariffs of the operators are largely determined by the market. If one operator offers voice services for free, another operator would have to match that offering to stay in the business. The issue is not whether there is scope or not; if there is competitive pressure, and if one company decides to use voice tariffs to expand its market share, other operators don't have any option but to reduce their prices."
Fitch said that to respond to Reliance Jio's data only plans — which could be "particularly disruptive, given that most incumbents still derive the bulk of their revenue and profit from voice and text messages" — incumbent operators may lower their own tariffs to retain customers. "We expect the industry blended tariff to fall by 10 per cent to 15 per cent in the next year." Fitch said.
Going forward, the data consumption in the country is only expected to grow manifold, and will continue to be one of the major causes of declining voice usage per subscriber. However, it is believed that despite several operators betting big on data services, voice revenues will continue to dominate the earnings of these companies in the near term.
According to a recent report by Ericsson, data traffic per active smartphone is likely to increase fivefold from 1.4 gigabyte per month in 2015 to 7 gigabytes per month by 2021.
"With more and more of data usage coming in due to number of smartphones coming in, average minutes of usage could go down to between 250-300 levels. But voice is still important for India, and these numbers are still higher than most countries in the world," Singhal said.
For all the latest Technology News, download Indian Express App