Written by
Nimish Dubey
| New Delhi |
Updated: January 15, 2016 10:40:40 am
With the Indian tour of Australia under way, cricket is well and truly in the air. And if you wish to put willow to leather without having to step out of the confines of your room, well, there are a few options for you. Here are six cricket games that will satisfy your cricket senses – in six different ways, from the serious to the casual, from the strategic to the silly.
Don Bradman Cricket 2014 (Xbox One/360, PS4/PS3, PC) 
Price: Rs 3,999 (consoles), Rs 1599 (PC)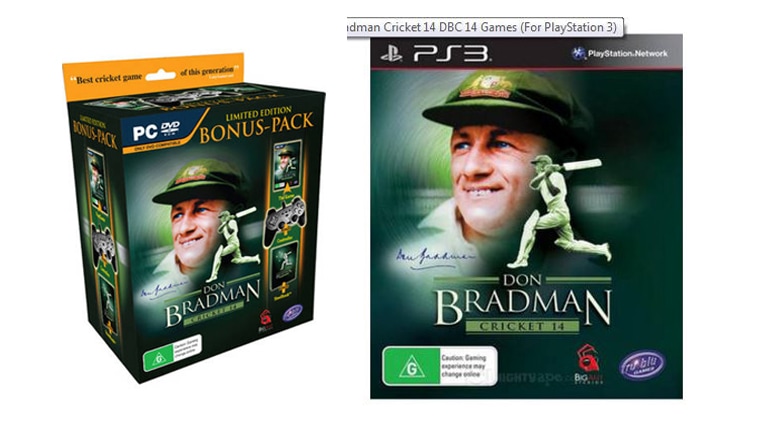 Yes, we can hear the gasps of outrage from those who see the year in the game's title. We concede that the game is not the youngest in tech town, but that said, there is no game that comes even close to this one when it comes capturing the experience of cricket in digital form.
Yes, there is a steep learning curve involved and you need to get the grasp of perhaps way too many controls, but on the flip side, you get to actually influence every aspect of the game, from bowling to batting to field placing.
This is as intense as it gets and the graphics are very good indeed too. No, it does not come cheap (although some online stores have dropped prices) and yes, you need a console to play it, but if you have the patience to master a very complex control system, this is the best cricket game around. By any yardstick.
ICC Pro Cricket 2015 (Android, iOS, Windows)
Price: Free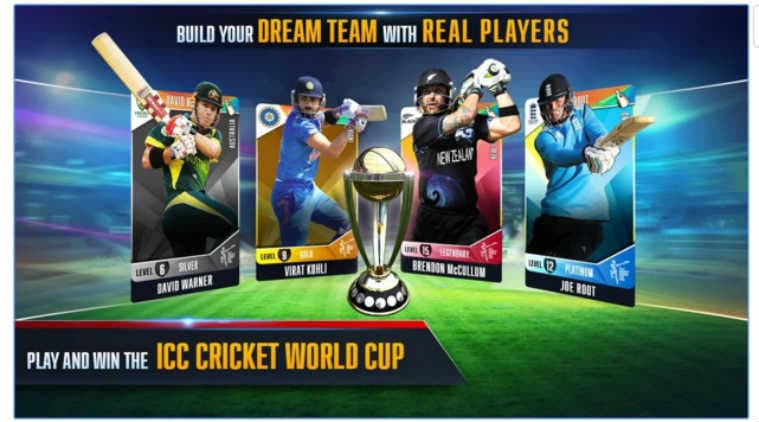 Pretty much THE game for those who want to have the time to work out which stroke to play and which delivery to bowl and also to fiddle with field settings on the phone. For, this is quite as comprehensive as a game on a mobile phone can get (yes, it is available on Windows too, but in essence this is a mobile game).
Fortunately, the developers have not got you tapping dozens of buttons to do every act on the field – batting is as simple as selecting the direction in which you wish to tonk the ball and choose between hitting an aerial or a ground shot at the right time, although bowling does get slightly more complicated (you have to trace the direction of the ball along the pitch).
Graphics are very good, players and teams are official and the game is free. It can take some time to play, but then so does the real game.
Cricket Captain 2015 (Android, iOS)
Price: Rs 500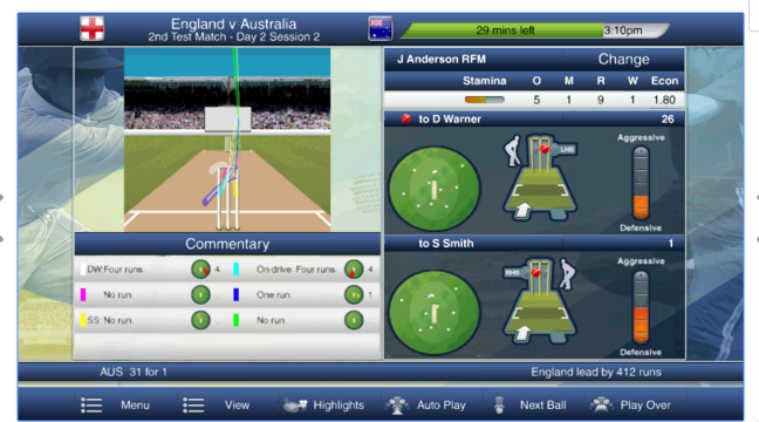 If you are the person that believes that the little grey cells matter more than sheer muscle power in the Gentleman's Game, then this is the series for you. Modelled on management sims, the Cricket Captain series focuses purely on the decision making aspect of the game.
In essence, you have to look out for players, pick a team, work out strategies, check out player fitness, fiddle batting and bowling orders…and then just sit back and watch the action unfold and hope that your decisions pay off.
This is not a classic action game but if you like working out cricket strategies, it is inch perfect for you. Pity about the price, though.
Cricket Career: BigInnings (Android, iOS)
Price: Free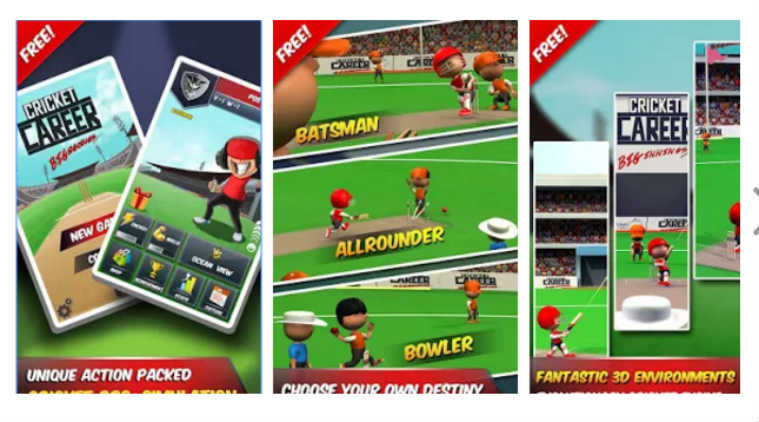 Want to build your own cricketer and take them to the highest level of the game? Well, this game focuses on just that. It is as close to a role playing game (RPG) as any cricket game will ever be, with you getting to choose the role you wish to play (batsman, bowler, all rounder) and then participating in a series of mini games as you get about earning fame, and rise through the ranks.
The graphics are not the greatest and some of the mini games can be a little too simple, but the single (rather than team) player perspective of the game puts it in a league of its own at the moment. Needs polishing, but is definitely worth a try for those who love cricket and RPGs.
Stick Cricket 2 (Android, iOS)
Price: Free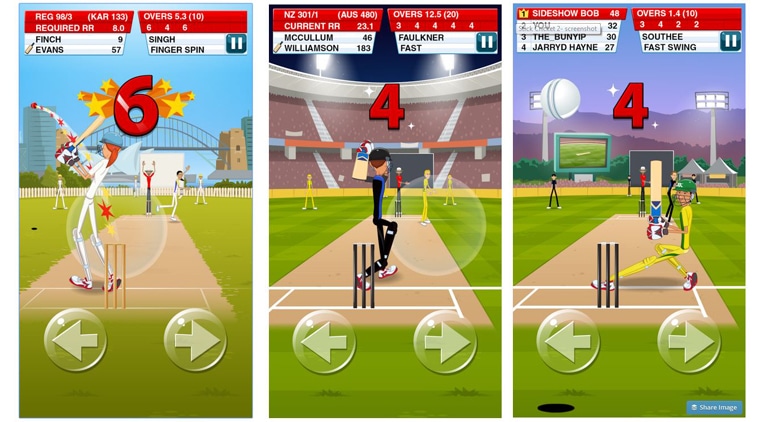 If the likes of Don Bradman Cricket and Cricket Captain try their best to recapture the essence of the game, Stick Cricket goes to the other end and simply focuses on out and out entertainment.
You don't have to worry about bowling or field placing – all you have to do is wade into the bowling, bat in hand, hitting fours and sixes. There is not even any running to do between the wickets – you get runs awarded based on how well you timed your shot.
All you need to do is choose the direction of the shot you wish to play and tap the button at the right time. You receive targets to achieve at different levels as you go on your run feast. Purists might blanch, but this is simply the simplest and most entertaining cricket game of them all – and with official player names too.
One More Run (iOS)
Price: Free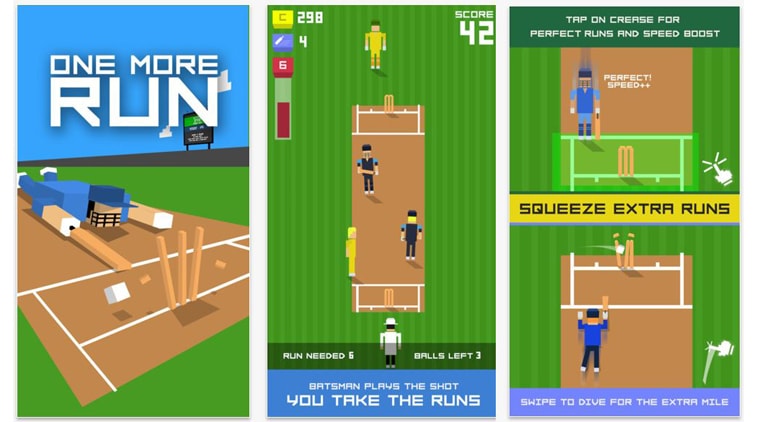 If you had told us in early 2015 that a cricket game which totally revolves around running between the wickets would become a rage, we would have laughed out loud…and would have been eating humble pie right now.
For, One More Run has managed to compress a lot of fun into one of the least highlighted aspects of cricket – running between the wickets. You don't have to worry about the bowling or the batting – all you need to do is ensure that you take your runs efficiently and without getting out. You get more options like diving for the crease as you get further into the game.
Some might find the graphics archaic, but most will simply be too worried about making their ground safely in this insanely addictive 'Endless Cricket Runner.'
For all the latest Technology News, download Indian Express App