Tablet are no longer creating the buzz in the market as it seems buyers around the world, especially those who don't have too much spare cash lying around, are moving towards the large phone. This is why even among tablets the smaller sizes are doing much better than the 10-inchers. While we have seen lots of 7-inch tablets in recent weeks, it is after a while that a premium tablet has hit the shelves. Here is the Samsung Tab S.
Specs: 8.4" 2560x1600p(WQXGA) Super AMOLED display | Qualcomm 2.3 GHz Snapdragon 800  | 3GB RAM | 16/32GB internal memory + 128GB external | 3G Micro SIM | 8MP rear camera, 2.1MP front | 3G, Wi-Fi 802.11 b/g/n, Wi-Fi hotspot, Wi-Fi direct, Bluetooth 4, DLNA | 4900mAh battery | Android 4.4 KitKat
Price: Rs. 43,090
Design: This is where the Tab S is a stunner, primarily because it is the thinnest tablet around by far. At 6.6 mm, it is not much thicker than the thinnest smartphones around. What this wafer thin body gives the user is a solid grip for using the device as a tablet or phone. The phone has a bit of bling too in the form of a golden rim around the body, may be catering to the kind of price segment the Tab S finds itself in. The tab also sports a Galaxy S5 like perforated rear, which adds to the grip while using the device. All the buttons and slots are on the right edge, while under the display you have a home key flanked by recent and back.
Screen: You would expect any Samsung device to have a stunning screen, after all that is one of their core businesses. The Tab S does a step ahead and gives you a  2560x1600p which is better than Full HD. And it shows. Pretty much everything looks good on this screen. The screen is ideal for watching Full HD video streams or movies. The audio quality is also pretty decent. But the high resolution screen makes content on some pages, especially those that open in mobile mode, look really time. The screen changes according to the content you are watching and also gives you the option to choose modes like in televisions.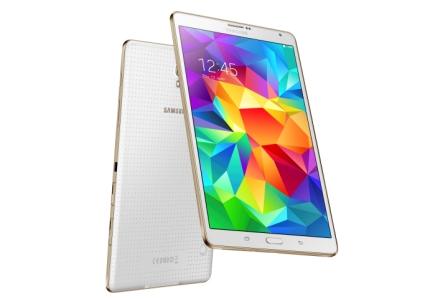 Performance: This tab has been made to perform, with one of the best processors in the market. It is as if multitasking is what gives the tab a high and Samsung has created it for this very thing. You can play a Full HD video and open the Chrome browser in the rest of the screen using multi-window and the tab won't complain. But like with other Snapdragon devices, this one too heats up a bit when it is doing the legwork.

Camera: I have seldom called a tablet camera good. The Tab S seems to be an exception with the rear camera providing great detail and clarity. This is good for lot of us use tablets to digitise documents. The Tab S can also shoot Full HD videos. The front camera is good for video calls.
Storage: With such a high price tag, I guess Samsung could have afforded to provide more than 16GB storage. Unlike a phone, people like to store stuff on a tablet and you can't expect all of them to spend more on a external card. Of the 16GB, just half is available for use.
Software: The Tab S software makes it really comfortable to use as a tablet. It is among the few UI customised for a large screen, especially the features like multi-window and cards on the lock screen. There are some good new additions like Side Sync that lets you view a phone screen on the tab. But this works only with Samsung phones.
Battery: The 4900mAh battery is pretty good and if you are not on a 3G network it will last close to a week. If you use the Tab S as a phone you will get at least 36 hours out of this one. But remember, it takes ages to charge a battery this large.
Connectivity: There we no issues on this front.
Verdict: If you are looking for a tablet which you want to use for productivity as well as fun, then the Tab S is a good choice. If offers premium features and is right up there among the top tablets in the market now. But don't mistake this for a mass market option this is premium all the way. My only suggestion to buyers is to use the phone feature just as a backup. If you can afford to spend Rs 43,000 on a tablet, you can surely afford a good phone too.
For all the latest Technology News, download Indian Express App