What has the world come to. I switch on a new Nokia phone and the first thing I see is the BlackBerry Messenger. And did I mention the fact that this was a Nokia Android phone. Yes, a Nokia phone running a version of Google's operating system which some people in Finland thought was never worth a second glance.
Sorry, if I sound like a Fandroid, which I am not. But I am still trying to reconcile to the harsh realities of 2014, a time in which Nokia has been forced to use an operating system it was not particularly fond and BlackBerry being pushed to let its BBM be used in every phone.
If you didn't get what I am getting at, let me tell you that I am staring at the Nokia X. This is the first of the Nokia phones to feature a modified operating system based on the Android Open Source Project (AOSP). But let us get one thing clear, this is not an Android phone. In fact, it is as much an Android phone as the latest version of the BlackBerry OS that lets you side-load apps. Here is why:
1. The design is not Android
The Nokia X looks and feels like a slightly large Asha 501. It has a thinner bezel and hence more real estate. It is also a bit more heavier. It comes from the same design family as the rest of the Nokia phones these days and hence has a bright colour body unless you opt for the black one. The rear flap also tries to protect the camera bump. But the one big difference in comparison to Android phones is that there is just one back button under the screen, like in the Asha series. And this is not exactly a Home button and that has a considerable impact on the way you use this phone.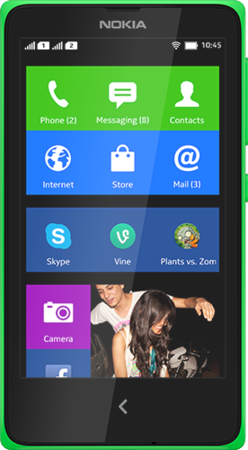 2.The OS is not Android
If you didn't know this was an Android phone from Nokia, you would have thought it was a fake Chinese version of the Lumia. This phone OS does not look like any Android phone you have ever seen. Nokia has tried to bring in the Lumia design language into the phone and you have a tile-based interface that is many notches below what you find on the Lumia 525 for instance. So this Android phone actually looks more like a Windows phone. You can add apps to the homescreen and make some basic tweaks to the entire look and feel.
But it is a not a bad interface. Nokia is using Fastlane from the Asha series to give a completely non-Android user experience on the phone. Everything you need is one swipe away and the phone is very fast when you swipe through the apps. One swipe left …continued »