Micromax on Monday launched its first phones powered by Microsoft's Windows Phone operating system. The 5-inch Micromax Canvas Win W121 has been priced at Rs 9,500 and the 4-inch Canvas Win W092 will be priced at Rs 6,500 making this the most affordable Windows Phone device in the market.
Earlier this year, Microsoft has made its OS licence-free for devices that have a screen size smaller than 9 inches and also made it universal by letting OEMs convert phones designed for Android into Windows devices. Micromax, now the 10th largest smartphone manufacturer in the world, could give Microsoft the kind of volumes that Lumia devices have not been able to achieve despite its popularity.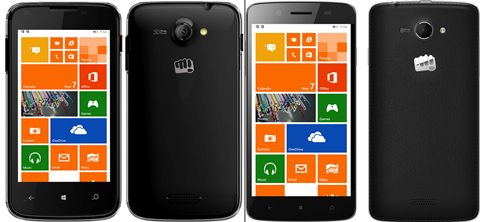 Sanjay Kapoor, executive chairman of Micromax, said they are a company that understands the market better and can translate that to their products. "It is time we offered a new operating system and we are the first Indian brand to offer a product running on the new Windows Phone 8.1 OS," he said, calling it the next phase of their journey.
Microsoft India chairman Bhaskar Pramanik said he is convinced of the partnership as Micromax will leverage the Qualcomm reference designs to bring products at the best price points. "We believe this ushers in a new world of choice for Indian consumers," he added.
Dr Avneesh Agrawal, president of Qualcomm India, said he is confident this partnership will help make Windows Phone a big success in India.
Canvas Win W121 specs: Windows Phone 8.1 OS, Qualcomm Snapdragon 200 processor with 1.2 GHz Quad Core CPU, 5-inch HD IPS display, 2000 mAh battery, 8MP rear camera with flash; 2MP front camera
Dual-SIM, 1GB RAM; 8GB ROM, Up to 32GB expandable memory
Proximity Sensor, Gravity Sensor, Light Sensor and Accelerometer
Canvas Win W092 specs: Windows Phone 8.1 OS, Qualcomm Snapdragon 200 processor with 1.2 GHz Quad Core CPU, 4-inch IPS display, 1500 mAh battery, 5MP rear camera with flash; 0.3MP front camera
For all the latest Technology News, download Indian Express App