Written by
Mihir Patkar
|
Published: September 1, 2014 10:58:52 am
What Is It?
The Logitech X100 is about the size of a big donut—and it looks just as tempting. It's colourful, it's cute, and its disc shape with the little paracord to hang makes it a perfect match for your car's rear-view mirror. It connects with any device via Bluetooth, has a 3.5mm audio jack as well, and a microphone for hands-free phone calls.
The Logitech X100 costs Rs 2,995, but is available in stores for around Rs 2,200.
Pros:
– The audio is surprisingly rich and clear. Whether you're listening to the latest from Bollywood, Western classical tracks, or some acoustic rock, you won't be disappointed. It's loud enough to fill a room, delivering higher volume than any laptop or phone we compared it with.
– The rubber-finish body is sturdy — drops from a height of 3 feet didn't even show. The colourful two-toned design and the odd circular shape makes it a gizmo you'd happily flaunt, taking it with you on trips.
– The hands-free on the X100 is decent, although not fantastic. While it perfectly plays back what the other person is saying, your own voice sounds artificial. It's clear and the other end can make out what you're saying; but it's like speaking into a phone with an app like auto-tune making you sound like a machine.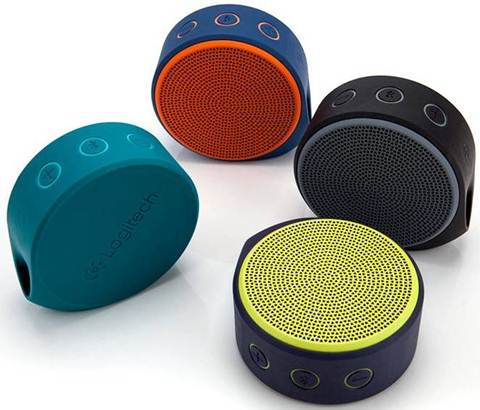 Cons:
– The small range of the X100 is a problem. If you're in the same room, it's fine. If you step out with your phone, the X100 will just stop playing.
– The advertised 5-hour battery life holds up if the audio playing device has Bluetooth 4.0 (which the X100 also supports). Switch to devices with Bluetooth 2.0 or 3.0 and the battery won't go more than 4 hours.
– The bass can't be felt, the audio is mono output, the speakers lack any warmth. The X100 gets the job done, but not for an audiophile.
Who Is It Good For?
If you're looking for travel-friendly portable speakers, then the X100 is a good option. Given its looks, we think it's an ideal companion for car owners, since you can pair your phone to listen to audio as well as answer calls.
Who Is It Bad For?
If you care about how your music sounds, especially the bass, don't bother with the X100. The battery life is also an issue, so you will need a charger as well—thankfully, it uses a standard microUSB cable.
Also read: Creative Woof Bluetooth Speakers review 
For all the latest Technology News, download Indian Express App