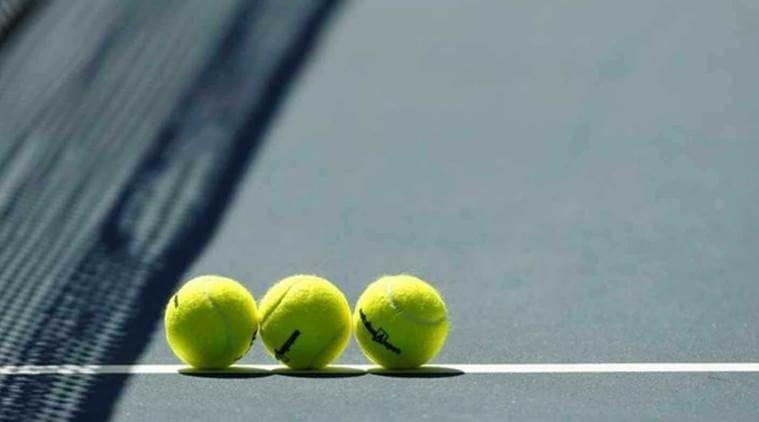 Sadio Doumbia of France battled out Prajnesh Gunneswaran of India in three sets, while India's Purav Raja and Divij Sharan saved two match points to lift the doubles title at the $50,000 KPIT-MSLTA Association of Tennis Professionals (ATP) Challenger being organised by MSLTA at the Mhalunge Balewadi Tennis Complex on Saturday. In the 128-minute-long singles finals, 359 ranked Doumbia, 26, won his first challenger with 4-6,6-4,6-3 scores against 346 ranked Prajnesh Gunneswaran, 26.
Gunneswaran broke Doumbia in the ninth game of the first set and held on to win 6-4, in the second set Doumbia broke the tall and lanky Prajnesh to level the scores and clinch the set. Prajnesh made unforced errors to be broken twice and losing the set 6-2, handing Doumbia his first career title win. Doumbia is the ninth player in the 300s to win a challenger title this year. "I'm thrilled and have no words. I hope this will sort my future roadmap," said Doumbia. "Making it to the finals has given me confidence in myself," said Prajnesh.
The winner of the KPIT Challenger won $7,200 (Rs 47,100) and 80 ATP points while the runners-up took $4,053 (Rs 2,65,000) and 55 ATP points. Purav Raja and Divij Sharan exhibited their chemistry by winning the fifth ATP Challenger title of the year, apart from the two ATP Tour event wins coming back down from two match points, scoring a 3-6,6-3,11-9 win over Swiss Luca Margaroli and French Hugo Nys in a 68-minute match.
Raja and Sharan won 7-9 before levelling scores, taking four points on trot to win their first-ever challenge title in India. The winner got $3,100 (Rs 2,07,093) and 80 points, while the runners-up got $1,800 (Rs 1,20,000) and 48 ATP points. KPIT managing director and chairman of the organising committee, Kishor Patil, gave away the prizes at the event, along with director and honorable secretary of MSLTA Sunder Iyer Tournament and MSLTA former president Sharad Kannamwar and Prabodh Chiplunkar. Organising secretary Kaustubh Shah welcomed the guests, while Jayant Kadhe proposed the vote of thanks.
For all the latest Sports News, download Indian Express App