New data from Adobe has confirmed the 2014 FIFA World Cup is the most social sporting event ever, surpassing the Sochi Olympic Games and the 2014 Super Bowl. Since June 2013, the World Cup has generated more than 19 million social mentions.
Adobe Digital Index has been capturing data through Adobe Social, covering buzz from social channels including blogs, Facebook, Google+, Reddit, Twitter, Dailymotion, Flickr, Instagram, Tumblr, Foursquare and YouTube. More than 69 million social mentions have been included in the sample from 230 countries and territories talking about the World Cup.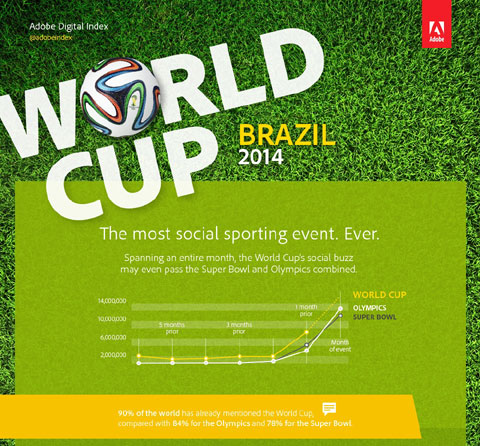 Tamara Gaffney, Adobe's Principle Analyst with Adobe Digital Index, said the World Cup has had more social mentions in the month leading up to the event than both the Sochi Olympics and the 2014 Super Bowl.
"Ninety percent of countries and territories around the world have already contributed to the World Cup conversation on social media, which is more than the Sochi Olympics at 84% and the 2014 Super Bowl at 78%."
Ms Gaffney said the greatest level of social buzz around the world is coming from the Asia Pacific region.
"The Asia Pacific region is producing 48% of the social buzz around the World Cup.  Europe, the Middle East and Africa is second with 32% while the Americas are third with 20%," Ms Gaffney said.
"Japan is leading the way with 37% of World Cup mentions, followed by the United Kingdom at 11% and Brazil at 9%. Germany and the United States round out the top five with 8% each, while South Korea in sixth with 4%."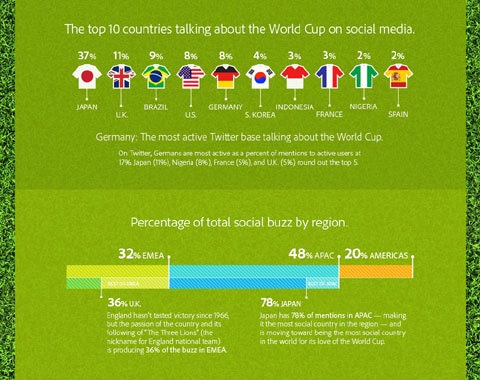 Adobe Digital Index is also tracking player social buzz. Cristiano Ronaldo is the most mentioned player on a World Cup roster with over 1.5 million mentions in May. Neymar da Silva Santos Júnior is the second most mentioned player with over 1.2 million mentions and Sergio Ramos is third with almost one million mentions.
Adobe will continue to track social trends around the world over the course of the 2014 World Cup.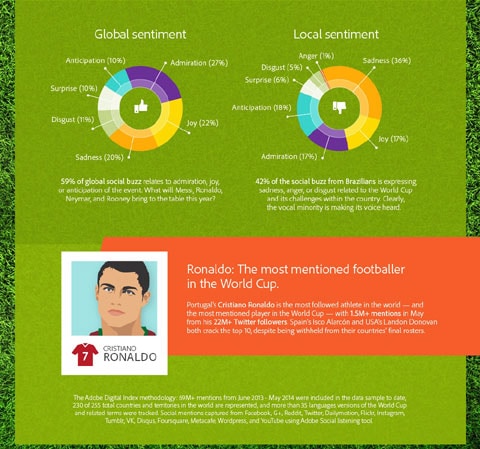 For all the latest Sports News, download Indian Express App