Napier |
Updated: January 21, 2014 4:19:08 pm
As Virat Kohli crashed Tim Southee between point and cover for a four to bring up his 18th ODI hundred, 12th in a chase, a software that the broadcasters have introduced, WASP, which predicts the batting side's winning percentage, said India had just 25. 
WASP factors in the situation of the game plus the team's last five years' record before making a forecast. The math seemed wrong, however, for if WASP does consider history, it seemed to have ignored a very significant piece of statistic about Kohli — that, before Sunday, whenever he had scored a hundred in a chase, India had won that match. Moreover, the visitors, chasing 292, were 190/4 in the 38th over, with Kohli having for company one of the game's finest finishers, Mahendra Singh Dhoni, batting on 20.
Against these facts, the odds given looked outrageous. And this conviction grew as the duo plundered their way through the batting powerplay overs and beyond to take the team to 223 for four in 42 overs.
Eventually, however, WASP's prediction turned out to be as spot on as Sunday's weather forecast of a balmy afternoon in Napier, as India incredibly went on to lose the match by 24 runs.
What turned the tide in New Zealand's favour was what had seemed to be their misfortune. In the 41th over, tearaway Adam Milne picked up a back injury and hobbled off, leaving New Zealand with one bowling option less. New Zealand skipper Brendon McCullum had to bring in Mitchell McClenaghan.
In his 19-match career, the 27-year-old left-arm pacer has made a reputation of giving Black Caps crucial breakthroughs. He unleashed a well directed bouncer at Dhoni, who tried to pull it only to top-edge it, and wicketkeeper Luke Ronchi took a diving catch to his left.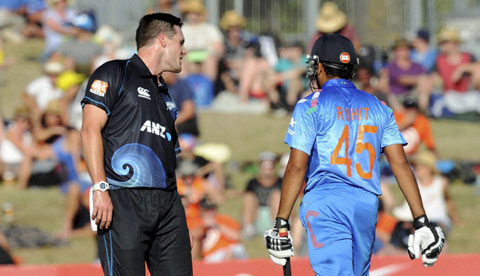 McClenaghan then removed Ravindra Jadeja caught-behind in the same over, before returning to claim Kohli's prized scalp in the 44th over. Having been hit for a four by the Delhi batsmen, McClenaghan came around the wicket and delivered a full toss. Kohli's eyes must have lit up as he looked to crash the ball through covers once again. However, he shot right into the hands of Jesse Ryder.
It was redemption of sorts for Ryder, for he had dropped the batsman when he was at 95.
As Kohli trudged back, McLean Park, which first sighed in relief, then gave him a standing ovation. At the same time, the DJ, who had been alternating between English and Hindi songs playing everything from Dire Straits to Honey Singh, often ill-timed, put on a rather obscure number from Company. "…Nahi dooja mauka milega, sambhalna…" it blared. Ironically, New Zealand, Ryder and Kohli, all three benefitted from the second chance.
India's resistance didn't last long as they folded up 35 runs later for 268 in 48.5 overs.
The hero of New Zealand's bowling, Mcleanghan, had finished the job that his teammate Corey Anderson had started with the bat.
Before the start of the series, two 'fast' Kiwi players had been built up quite a bit. Anderson, who had hit the fastest ODI century, against the West Indies in 36 balls on New Year, and Adam Milne, who became the fastest New Zealand bowler since Shane Bond when he clocked a 153.9 delivery against WI in a T20 match last week.
Going fast, piling runs
While Milne did touch 153 again, it was Anderson who touched heights. First, Anderson built on a platform set up by Kane Williamson (71) and Ross Taylor (53), who had added 122 runs for the third wicket, by smashing an unbeaten 40-ball 68.
The boundaries may be small in New Zealand as has been documented, but a couple of Anderson's shots landed well outside the stadium, with the biggest of them being 121m. His knock propelled what was looking like a 250-run total to just shy of 300, making Dhoni perhaps regret his decision to send the hosts in.
Then, when the India batsmen were looking like making a recovery, after Rohit Sharma's early dismissal, the left-arm pacer Anderson removed Dhawan and Rahane in two overs. IPL teams must be watching keenly.
Soon after, McClenaghan removed Suresh Raina with a bouncer as the batsman top-edged it while trying to play a pull shot — not the first Indian batsman on the day to get out in this fashion nor the last. India were 129 for four at this stage when Kohli and Dhoni set about getting India back on track. They started gradually before cutting loose during the batting powerplay.
With his back to a stunning crimson sunset, which looked like a volcano erupting, Kohli too exploded in the 35th over, starting with successive fours off Mitchell McClenaghan as India plundered 41 runs in five overs.
Then, the law of averages and McLenghan hit back at Kohli and India.
For all the latest Sports News, download Indian Express App