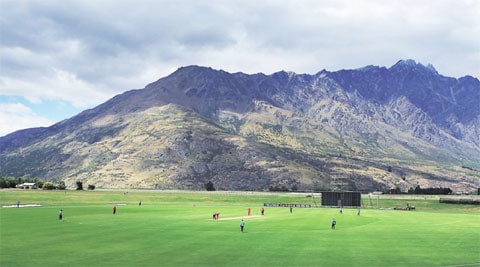 The ICC World T20 qualifier is in progress at Queenstown, a typically scenic venue in New Zealand. Despite the view, visiting teams often struggle to deal with the wind and the lively green tracks that confront them in the country.
Greetings from New Zealand
"Kia Ora, Welcome to New Zealand. What do you think so far?"
Having grown up in New Zealand and having seen many famous people interviewed on their arrival here, be it to play sport, act in a movie or buy a patch of paradise, one can only assume the greeting mentioned above is the be all, and end all, of NZ Journalism School's "Top things to know before you graduate".
Almost every newspaper, radio or television interview conducted with visitors, has an element of insecurity to it, we pine to know we fit in on the world stage and are liked by others who are bigger, better and more popular than us.
With only 4 million people in the whole of New Zealand, we've got almost as many people as Chennai but our 4 million is spread across an area the size of the state of Andhra Pradesh. Don't get me wrong, we do well for our size, and we have our fair share of success, but it can be frustrating.
There is something about New Zealand's history that has left a lingering self doubt around our place in the world; or contributed to a desire to please, impress and be reassured that we are competent and worthy adversaries.
MS Dhoni and the Indian cricket team are the latest such, high-profile adversary, who have touched down here and were met with the same standard welcome. Dhoni's response of it being "quite far from India" is an understatement to say the least, as there are differences on and off the field that will challenge and frustrate his side while they are here.
One usual contrast between the countries, which they shouldn't have to worry about, is the cold weather because, unlike the last time they were here in 2008-09, all matches for this tour will be in the warmer, North Island with temperatures set to range between 25-30 degrees Celsius.
This is an important, and timely, visit for the current ODI World Champions, as they prepare to defend their title when the ICC World Cup is held here, and in Australia, at the end of 2015. Dhoni has made it very clear already that their eyes will be open, and plans will be formulated, as they record the unique characteristics and nuances the local multi-sport stadiums present. New Zealand's passion for Rugby has influenced the shape of most grounds here and it's successful recent hosting of the Rugby World Cup in 2011, probably secured it the rights to co-host the Cricket World Cup here next year.
The use of the grounds for both sporting codes makes for some short boundaries, some strange pitch angles and provides a real advantage to the local team; …continued »