He is hailed by the cricket world for resisting BCCI's attempts to dominate, and is heavily criticised at home by his former colleagues for harming India's interests. Is Shashank Manohar a hero or a villian , or simply a man who has read the moment well? Shamik Chakrabarty weighs in.
For years Shashank Manohar was known as the man who rolled out that infamous 'green track' for an India-Australia Test that sent Sourav Ganguly pulling out of the game in a huff. The Vidarbha Cricket Association didn't believe in pressing the 'home advantage' but in 'sporting pitches', Manohar would say. But speculations were rife about how it was done to snub the then BCCI president Jagmohan Dalmiya, who had just orchestrated Sharad Pawar's first electoral reversal.
Manohar would spin it as walking the righteous path. That was 2004. In the years to come, the lawyer from Nagpur would justify most of his unpopular stands with similar upright indignation. Even in 2015, when a vicious spin track had India roll over South Africa in a Test at his homebase Nagpur, and was criticised as poor pitch by ICC, he tried to walk away saying, "I never interfered in the inquiry process".
His rivals, though, would say that Manohar was an opportunist, a fair-weather friend who wasn't consistent when it came to decision making.
Manohar finds himself between extreme reactions again these days. His intent is questioned back home by his critics within the BCCI, even as he is hailed by the ICC and foreign press as Mr Clean, the man who would clean up the system. Within days of becoming the ICC chairman, he said India didn't deserve the special status – 22 per cent of ICC's total revenue – that his predecessor N Srinivasan had managed to swing for the BCCI. Srinivasan, and the current board officials believe India should get the lion's share as it was they who generated most of it. Manohar wants a roll back, though.
Whether his conscience pushed him, or his sensible reading of the moment and sense of timing triggered him, he has undoubtedly made the right moves within the ICC. It's not a surprise that the international press and followers of the game are eyeing him with respect. Can a neutral question the morality in a more equitable revenue model? Can a neutral question the need for an independent chairman of ICC? For them, it's a reform-move, the one that will disabuse India of being a bully, and ensuring a fair share of the revenue among all the countries.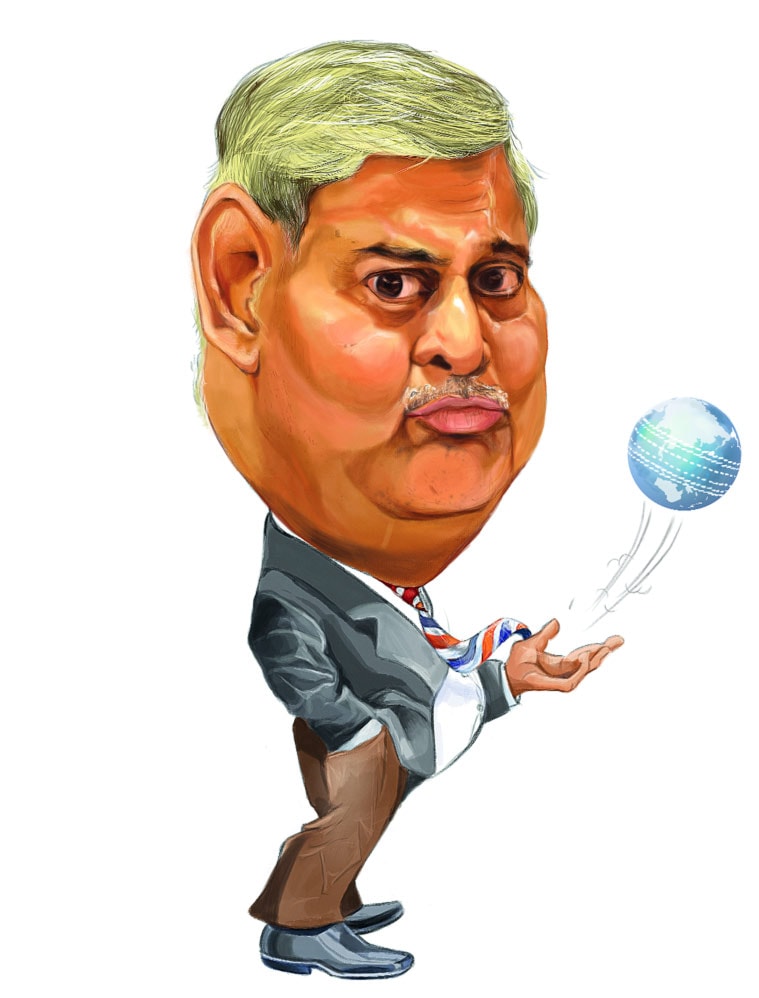 "I don't agree with the revenue-sharing formula, because it's nice to say that India (BCCI) will get 22 per cent of the total revenue of the ICC, but you cannot make the poor poorer and the rich richer, only because you have the clout." It wasn't a popular stand within the BCCI since this would mean a potential loss of about Rs 1200 crore for Indian cricket.
Former ICC president Ehsan Mani offers a neutral's perspective. "I have been encouraged by Mr Manohar's statements about undoing the terrible damage done to the ICC. I think a test of Mr Manohar's ability as an administrator and as the ICC President will be in undoing the changes brought about in the ICC by England, Australia and India," Mani tells The Sunday Express.
Until very recently, BCCI was confident that they would muscle their way and get the 22 per cent. They bad-mouthed Manohar but they didn't wage an all-out war against one of their own.
But soon things began to boil; an event in particular would push the BCCI into a full-scale attack on Manohar by threatening to pull out of the Champions Trophy.
***
The story (ICC chief executive David Richardson has confirmed this in a recent interview) goes that the BCCI, read president Anurag Thakur, wanted the ICC's intervention in helping them stall the Justice Lodha Committee that was forcing a major overhaul of cricket in India.
The Indian board wanted the world body to invoke Article 2.9 of the ICC's Articles of Association that prohibits government interference. In the past, the Cricket Association of Nepal (CAN) and Sri Lanka Cricket (SLC) were pulled up by the ICC since their autonomy was undermined by the respective governments. The board saw it, now, as their jailbreak.
However, Manohar didn't oblige Thakur. He wanted the BCCI to first write to them about the allegations of judicial interference. Thakur's hands were tied as any comment on Lodha recommendation would have seen as contempt of the Supreme Court. The Indian board now had one more grudge against the Indian ICC chairman.
"He quit BCCI presidentship when Indian cricket was dealing with its biggest crisis and now he wasn't even helping us as the ICC chairman," says a board official.
The chairman, meanwhile, was going global. "Today I'm unconnected with any particular member of the ICC. I'm the independent ICC chairman, so I have to look to the best interests of the ICC. It's for the BCCI representative to look after the best interests of the BCCI," he told this paper.
The BCCI sees India's non-representation in the ICC's all-powerful finance and commercial affairs committee and executives committee as a humiliation, and Manohar's refusal to help as a betrayal. "Brijesh Patel had raised the issue (of being part of these important committees) in one of the working committee meetings, and Manohar had said he would get it done. He claimed he had that much of clout to ensure India's representation in both committees. All important BCCI meetings are video-taped these days and we got a video recording of that," a top official informs.
Tamil Nadu Cricket Association secretary Kasi Viswanathan, N Srinivasan's right-hand man, says that Manohar doesn't listen to people. "He takes his own decisions. We acquired the right at the ICC. He gave it away. Our association had openly opposed to India's reduced share. We put it on record," he says. Cricket Association of Bengal treasurer Biswarup Dey too isn't a Manohar fan. "I knew him (Manohar) as an upright administrator who keeps his words. But from 'won't return to cricket administration' to the independent ICC chairmanship – he has proved to be a let-down," Dey opines. Even Niranjan Shah, an old buddy, speaks about having "a sense of betrayal", although he wants to give Manohar "the benefit of the doubt".
Others make specific allegations. "He arbitrarily terminated Kochi Tuskers and the BCCI later suffered a loss of face at arbitration. He insisted Chennai Super Kings and Rajasthan Royals pay their franchise fee despite being suspended. And the BCCI eventually had to return their money. Manohar doesn't comprehend the practical side of the game as also the commercial side of it," a BCCI member from North Zone says.
***
For a supposedly low-profile man, Manohar seems to have enjoyed the myth-making of him – of his reclusive nature and moral image. He prides himself as technologically challenged, his men continue to flaunt the fact that he got a passport only in 2010 when he had to travel abroad for cricket meeting. He likes his Nagpur and is mostly a hands-off administrator. He doesn't even have a personal secretary.
As the VCA president he had once fined his father VR Manohar, the former Advocate General of Maharashtra, for not parking his car at the designated space inside the stadium. Manohar Sr had to pay the fine and was given a receipt.
Such incidents were used to oil-up his squeaky-clean image but in all this myth-making of him, it shouldn't be forgotten that much of the recent muck that emerged in the cricket board had happened when he was at the helm.
Despite being a legal luminary, he didn't object to the controversial amendment to the BCCI constitution's clause in 2008 that allowed Srinivasan's India Cements to become the owner of the IPL franchise Chennai Super Kings. To turn around, as he did during his second term of presidency, and talk about conflict of interest as an issue he was keen on cleaning up is well and good, but he had missed a great opportunity to pre-empt the entire issue in the first place.
The conflict of interest issue eventually led to Srinivasan's removal from the board by the apex court, setting up of the Lodha panel and now the near-dismantling of the BCCI.
"When he became the president, he said that Lodha Committee was coming and we needed to make certain changes. He assured the house that if we did things like appointing an independent ombudsman and others, then the Lodha impact would be reduced. When he said Justice (Retd) AP Shah should be the ombudsman, nobody questioned him. He had that kind of authority. Now we see an unbelievable change – his attitude towards the BCCI," a senior board functionary from West Zone laments.
Manohar is the ICC chairman, responsible for the well-being of the game globally. "I have to look after the interests of 105 countries and suppose tomorrow, if this logic is extended, if there's a person from South Africa at the helm (do you think) he should only look after the interests of South Africa?" Manohar had asked during a recent interview with this paper. People close to him claim that Manohar has every document to support his case.
***
For years, his strength lay in being an outsider. "I don't have any vested interest in the BCCI," was his constant refrain over the years. And it is the BCCI which propped up that image further, turning to him in crisis – it was him they turned to nail Lalit Modi at the end of controversial 2010 IPL; it was him that Arun Jaitley and BCCI turned to for the president's post in 2015 after the death of Jagmohan Dalmiya, when N Srinivasan attempted to a back-door entry by trying to patch up with Sharad Pawar.
He had become the outsider who pitched in as a moral voice of BCCI. He played on that image further, and a myth grew about him – charming technological luddite who doesn't own cell phone or operate computers were irrelevant, perhaps amusing, trivia at best, but became essential ingredients in the myth-making.
The outsider had leaned in so much that soon the line of separation began to blur. In the later years to come, emails between Lalit Modi and him (from 2013 onwards) would be leaked. It was alleged that the purported luddite was in communication with Modi, who was pushing for scraping of CSK and Rajasthan Royals and team owners blacklisted ("I will probably be hated by my relatives for saying this," says Modi in an email).
Manohar was probed about this by the media after he became the BCCI president for the second time but he posed a few counter questions. "I'm not admitting to anything, just putting out a worse-case scenario. What if I had mailed the Queen of England? Does it prove anything? Does it say that she knows me? Anyone can say they have mailed me; the question is whether it will affect the way I function. I'm saying I won't allow anything to affect me."
The logic in emailing the Queen can't be equated to exchanging favourable communications with a person under board's scanner and his promise that 'I won't let it all affect my judgment and actions' is the definition of conflict of interest.
It's not the actual event of wrongdoing happening but the potential of it. But back in October 2015, Manohar had been enjoying a huge authority in the BCCI, so no one raised his voice.
In fact, just a few days after these old emails eventually made their way to media, the BCCI again made Manohar its president. So in some ways, the BCCI has repeatedly propped up Manohar, and their whining now does sound a bit hollow. Even as Manohar's old mates now want the "mask" to be taken off, the outsider with no vested interest in BCCI pushed for the post of ICC chairman, and is now seemingly pulling the strings to rein in BCCI.
Ehsan Mani believes Manohar's reputation would also depend on whether he is able to lead reforms in ICC.
"Whether he is able to persuade the Board of ICC to consider and implement the Woolf recommendations," Mani says.
In 2012, the ICC's independent governance review, headed by Lord Woolf, had recommended sweeping administrative reforms, shaking up the cozy big boys' club. The BCCI, expectedly, raised objection and the proposals fell flat.
Does Manohar personally support the Woolf report? "I wasn't at the ICC, when it came. I have to go through it first. At the moment, my top priority is the constitutional amendments. A five-member committee is working on this," he says.
Is Manohar under pressure following India's threat of pulling out of the Champions Trophy in England next year? The independent ICC chairman claims he has never hunkered for positions and will step down if he is not allowed to function properly.
But if he is eventually forced to resign – it won't go that far – will that be a victory for the BCCI? Results become meaningless in a pyrrhic war.