Going into the final, India were the heavy favourites to lift their fourth U-19 title. On the day, Sarfaraz Khan scored 51 runs but didn't find any support at the other end as India U-19 could only muster 145 runs. In reply, West Indies suffered a few bumps but in the end, cruised past the finishing line thanks to a 69-run sixth wicket partnership between Keemo Paul (40) and Keacy Carty (52). In the process, West Indies lift their maiden U-19 title.
AS IT HAPPENED: India U-19 vs West Indies U-19
1549 hrs IST: Keemo Paul gets a boundary and West Indies U-19 win the World Cup by 5-wickets.
1545 hrs IST: Sammy is ready to dance!
I am waiting for the springerdance at @westindies victory #U19CWC #FutureStars

— Darren Sammy (@darrensammy88) February 14, 2016
1544 hrs IST: West Indies opting to do it with singles. Need 3 runs from the last over.
1543 hrs IST: DROP! Paul hits it in the outfield but it is dropped by Avesh Khan who is leaning forward. Two balls later, Carty brings up his fifty. Very crucial innings given the circumstances.
1540 hrs IST: Khaleel ends his ninth over. West Indies require 9 runs from 12 balls.
1536 hrs IST: Two consecutive singles. 12 required from 15.
1532 hrs IST: Edge of the seat stuff! West Indies need 14 runs from 20 balls.
Admirable from these young West Indians, Paul and Carty. This is their biggest stage so far and they are looking good.

— Harsha Bhogle (@bhogleharsha) February 14, 2016
1522 hrs IST: Fruitful over for the West Indies to overcome rising required rate. Avesh concedes crucial six runs. Need 25 runs from 6 overs.
1512 hrs IST: What they're playing for
1511 hrs IST: That's that for Mayank Dagar in this match. A tough catch chance for Rishabh Pant and that brings to an end his bowling spell. Finishes with figures of 10-1-25-3.
1509 hrs IST: SIX! Dagar gets hit for a six by Keemo Paul. That's got to reduce the pressure on West Indies.
1500 hrs IST: Dagar is spinning the ball beautifully to earn himself more praise.
Dagar is turning the match on it's head. 3 wickets in his first four overs as India U-19 come back from the dead vs Windies..Game on!

— Mohammad Kaif (@KaifSays) February 14, 2016
1430 hrs IST: Dagar earning plaudits from players – past and present.
Dip and Spin…Mayank Dagar is turning this game in India's favour. Best spinner of the lot. #U19WCFinal #INDvWI

— Aakash Chopra (@cricketaakash) February 14, 2016
Game is on 👊well bowled Dagar we can win from here now #ICCU19CWC

— Suresh Raina (@ImRaina) February 14, 2016
What a spell from Mayank Dagar👏Love the way he is fighting the ball & forcing the batsmen to play big shots👌👌Keep it up👍 @BCCI #Under19cwc

— VVS Laxman (@VVSLaxman281) February 14, 2016
Fine spell from Dagar #U19WCFinal good to see flight bowling in an age where aggressive batting has resulted in spinners bowling flat.

— Matthew Hayden AM (@HaydosTweets) February 14, 2016
1426 hrs IST: Tide turning in India's favour. Mayank Dagar removes Jyd Goolie. West Indies at a concerned 78/5.
1421 hrs IST: Game opening up.
This #U19WCFinal is fairly open now. Question from here is who handles pressure better.

— Harsha Bhogle (@bhogleharsha) February 14, 2016
1413 hrs IST: GONE! Shamar Springer top-edges Mayank Dagar and it's taken comfortably by Armaan Jaffer. West Indies with a slight wobble at 71/4.
1405 hrs IST: WICKET! Just as West Indies were coasting along and playing calmly, the skipper Shimron Hetmyer tries to go over the top. And Mayank Dagar has a wicket to his name with the Windies scoreboard reading 67/3.
1340 hrs IST: Drinks! West Indies cruising after 17 overs and have 50 runs on the board at the cost of two wickets. Need 96 runs but have a comfortable 8 wickets in hand.
1335 hrs IST: Four! Keacy Carty slashes Rahul Batham for four. West Indies progressing calmly after early dismissals. West Indies firm at 42/2 after 15 overs.
1320 hrs IST: Introduction of spin by Ishan Kishan. Washington Sundar comes on with West Indies at 32/2 after 10 overs.
1305 hrs IST: Had it not been for Sarfaraz's knock, India U-19 would have had a much reduced target to defend. He reached a milestone in the process too.
1303 hrs IST: GONE! Khaleel Ahmed strikes! Tevin Imlach goes for 15 and West Indies are 28/2 in the eighth over.
1240 hrs IST: OUT! Gidron Pope goes for 3 and West Indies suffer an early blow. The Caribbeaners are 5/1 as the usual suspect in Avesh Khan strikes.
1235 hrs IST: The ultimate question
Amazing celebrations from the @westindies U19 players when taking a wicket. Can they chase these runs down ? #ICCU19CWC

— Niall John O Brien (@niallnobiobrien) February 14, 2016
1232 hrs IST: Some positive:
Can India U19 restrict West Indies U19 to less than 145
The senior West Indies side in #CWC 1983 were restricted to 140 #U19CWC final 2016

— Mohandas Menon (@mohanstatsman) February 14, 2016
1230 hrs IST: Players are in the middle and the chase is on.
1227 hrs IST: Who do you think will emerge victorious in the end?
Game@on in the #U19CWC Who's your money on? 140's shouldn't be enough but India has runs on the board. @StarSportsIndia @BCCI @westindies

— Matthew Hayden AM (@HaydosTweets) February 14, 2016
1209 hrs IST: Quite a turnaround in West Indies' approach and fortunes.
This has been quite a turnaround for the West Indies U19 from that last over against Zimbabwe to stay alive. #CWCU19

— Harsha Bhogle (@bhogleharsha) February 14, 2016
1201 hrs IST: Sarfaraz Khan's fifth fifty in the tournament is the only shining light in India's disappointing batting. Score a meager 145 runs as West Indian pacers Alzarri Joseph (3/39) and Ryan John (3/38) make merry.
1200 hrs IST: ALL OUT! Rahul Batham goes back and India's innings is wrapped up at 145.
1155 hrs IST: DROP! Keemo Paul drops an absolute sitter! Khaleel Ahmed doesn't connect properly, ends up skying in the bowler's direction but it is dropped.
1154 hrs IST: He's got the time to do it.
Rahul Batham will have to bat as Ian Botham did in the 1981 #Ashes Test at Leeds#U19CWC final 2016

— Mohandas Menon (@mohanstatsman) February 14, 2016
1144 hrs IST: FOUR! Welcome boundary for India. Batham gets an edge and beats the keeper.
1139 hrs IST: OUT! Avesh Khan connects with the ball cleanly but it is returned with an equally well taken catch.
1132 hrs IST: OUT! And it's the big fish! Sarfaraz departs at 51 runs off 89 balls. Ryan John catches the right-hander lbw. India now 120/8.
1123 hrs IST: OUT! Just as Sarfaraz and Dagar were possibly going towards something, the latter departs. Ryan John with the wicket and India are 116/7.
1120 hrs IST: FIFTY! The only positive so far for India U19 today has been Sarfaraz. Reaches his fifty from 83 balls, laced with five fours and one six.
1116 hrs IST: SIX! Sarfaraz hits India's first six of the innings. Reaches 48 and India are up to 113/6.
1109 hrs IST: Mayank Dagar brings up India's 100 with a four.
1102 hrs IST: Sure hope not!
India 87/6, in walks Sehwag's nephew Mayank Dagar. Girls think he looks like Varun Dhawan. Hope he doesn't bat like him. #INDvWI #U19CWC

— Daksh Panwar (@Daksh140) February 14, 2016
1055 hrs IST: OUT! Mahipal Lomror goes for 19 from 43 balls as Chemar Holder strikes. Edges the ball back to keeper Tevin Imlach. India's woes compounded at a score of 87/6.
1037 hrs IST: Alzarri Joseph has bowled nine overs and Chemar Holder has bowled eight in the West Indian push to get more wickets through the seamers. But will this backfire?
Interesting tactics by Hetmyer…Holder has bowled 8, Joseph is bowling his 9th. Might backfire later. #INDvWI #U19CWC

— Aakash Chopra (@cricketaakash) February 14, 2016
1027 hrs IST: The damage
1010 hrs IST: Runs have dried up as India try to build something. Run-rate of 2.9 after 20 overs as India stand jittery at 58/5.
1004 hrs IST: Nice confident drives by new man in Mahipal Lomror. Only the fifth four of the innings as India are in a miserably spot.
1001 hrs IST: Despite India's batting depth, this looks like an arduous ask reckons Aakash Chopra.
Unfamiliar territory for India U-19…there's still some batting left but looong way to go too. Tough. #U19CWC #INDvWI

— Aakash Chopra (@cricketaakash) February 14, 2016
0956 hrs IST: OUT! Everything going downhill for India U-19 at Mirpur. Armaan Jaffer drives Shamar Springer and is taken at short cover. India in a messy situation at 50/5.
0944 hrs IST: OUT! Washington Sundar's been patient in his 41-ball 7 runs but not beyond. Plays an uppish shot to Ryan John and is caught by Alzarri Joseph. India are in all sorts of bother now at 41/4.
0940 hrs IST: Bengal's Manoj Tiwary continues to root for the boys despite a disappointing start.
All the best to the Indian U19 team in the Final. Tough start but keep digging in boys. 👍 #U19CWC

— Manoj Tiwary (@tiwarymanoj) February 14, 2016
0936 hrs IST: A very loud appeal! Sarfaraz lets that one go but there was a definite sound to deceive the West Indies players. Replay suggests it didn't touch anything. Good call, Mr. Umpire!
0930 hrs IST: Former West Indies opener Daren Ganga also sends in his best wishes to the youngsters.
Best Wishes to WI U19 & Captain Hetmyer at ICC U19 Cricket World Cup. You have made the Caribbean proud, now go all the way & lift the title

— Daren Ganga (@DarenGanga) February 14, 2016
0920 hrs IST: At the end of the first Power Play, India are 34/3 with Washington Sundar and Sarfaraz Khan at the crease.
0905 hrs IST: UH-OH! Skipper Ishan Kishan plays across the line and is caught lbw by Joseph. India are 27/3 as the pacer picks up his third wicket.
0850hrs IST: West Indies junior side have the senior side's captain looking over.
Wishing captain #Hetmyer and his team all the best in the #U19CWC #finals I'll be watching… http://t.co/9lbTQe1Ul3

— Darren Sammy (@darrensammy88) February 13, 2016
0847 hrs IST: OUT! Anmolpreet Singh, the saviour in the semi-final against Sri Lanka, goes back too. A gem of a delivery by Alzarri Joseph. There is pace and bounce forcing Anmolpreet to offer a shot but goes back to keeper. India are 8/2.
0840 hrs IST: India haven't been tested so far in the tournament but Aakash Chopra expects that to change today.
Expecting India U-19 to be tested by West Indies today…have depth in both departments. Need at least 230-240 on the board. #IndvWI #U19CWC

— Aakash Chopra (@cricketaakash) February 14, 2016
0837 hrs IST: OUT! Pant is late to get back to his crease after leaving the ball through the keeper. Keeper reacts quickly and Rishabh Pant is gone. India are 3/1 after four balls only.
0814 hrs IST: Wishes come in from both camps:
India u-19 team hav dominated the WC so far & I am sure they will do the same in the finals against WI.Wishing the entire team lots of luck👍

— VVS Laxman (@VVSLaxman281) February 14, 2016
All the best to the WI U-19 Team… #RallyHard

— Lendl Simmons (@54simmo) February 14, 2016
0810 hrs IST: The teams:
INDu19 XI: I Kishan, R Pant, A Singh, S Khan, A Jaffer, W Sundar, M Lomror, M Dagar, R Batham, A Khan, K Ahmed

— ICC Live Scores (@ICCLive) February 14, 2016
WIu19 XI: G Pope, T Imlach, S Hetmyer, K Carty, S Springer, J Goolie, K Paul, M Frew, R John, A Joseph, C Holder

— ICC Live Scores (@ICCLive) February 14, 2016
0803 hrs IST: West Indies win the toss and opt to bowl first.
The build-up
Photogenic spinner looks for perfect final frame
In India U-19's 15-member squad in which players come from diverse backgrounds, Mayank Dagar is the urbane one.
How Sammy's gain means Joseph's loss
If seniors have their way, it would amount to less pay for domestic cricketers, including some of the juniors who guided West Indies to final.
Five India players to watch out for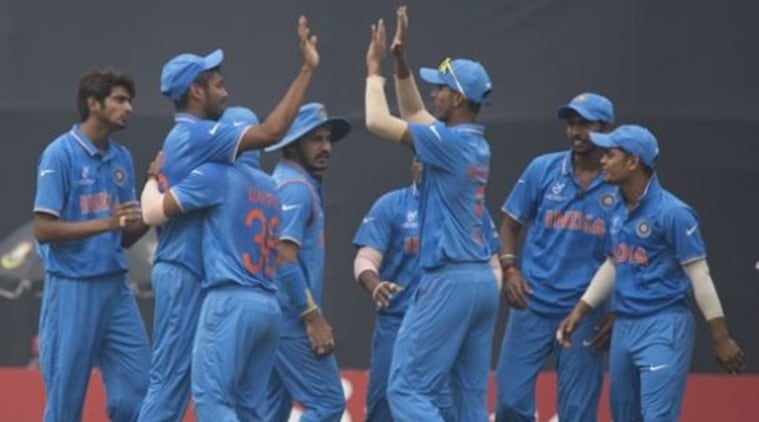 India, playing their fifth U-19 World Cup final on Sunday, would like these five individuals to get going.
West Indies' roller-coaster ride to final
Here's a look at West Indies U-19's road to the U-19 World Cup final.
For all the latest Sports News, download Indian Express App