India began their five-match ODI series with a five-wicket loss to Australia in the first ODI in Perth of Tuesday. Riding on Rohit Sharma's 171* and Virat Kohli's 91, India posted 309/3 and then debutant pacer Barinder Sran reduced Australia to 21/2. But Steve Smith and George Bailey scored 149 and 112 to guide their team to victory. (Fixtures: Ind vs Aus)
Scorecard: India vs Australia, 1st ODI
As it happened
1629 hrs IST: ALL OVER! James Faulkner hits the winning runs as Australia beat India by 5 wickets and take a 1-0 lead in the five-match series
1620 hrs IST: WICKET! Steve Smith won't get his 150. Hits it straight to Virat Kohli at covers. Barinder Sran picks up his third wicket
1610 hrs IST: 12 required of the last 18 balls. Australia have strolled in this chase
1605 hrs IST: Australia need 17 runs of the last 4 overs. Smith still out in the middle
1555 hrs IST: WICKET! Glenn Maxwell tries to hit Ashwin out of the park but only manages to find Shikhar Dhawan at long-on. Can India do a turnaround?
1547 hrs IST: WICKET! India finally dismiss George Bailey. Bhuvneshwar Kumar takes a good running catch at long-off
1535 hrs IST: Hundred for Smith! In his last ODI against India, the Australia captain scored 105
1530 hrs IST: 200-run stand between Bailey and Smith. They have put Australia in command of the game
Great understanding running between the wickets @stevesmith49 and Bailey big learning curve for youngsters to how to bat in one days

— yuvraj singh (@YUVSTRONG12) January 12, 2016
1520 hrs IST: HUNDRED! George Bailey gets to his third ODI ton after an overthrow but what an innings with his team chasing 310
1509 hrs IST: 200 up for Australia. India need wickets but Bailey and Smith are closing in on their hundreds
1500 hrs IST: 30 overs gone and Australia have scored at a run-rate of exactly 6 runs
It is a very long time since the ball asked a question of the bat…….

— Harsha Bhogle (@bhogleharsha) January 12, 2016
1450 hrs IST: Another surprise move from MS Dhoni! Virat Kohli into the attack now
1443 hrs IST: Ashwin has proved to be very expensive for India. Smith and Bailey have taken him all around the park
1440 hrs IST: That's FIFTY for Steve Smith. His 9th in ODIs. Australia 136/2 in the 25th over
1435 hrs IST: 100-run partnership between Smith and Bailey comes up of 112 balls
1430 hrs IST: FIFTY for Bailey, his 18th in ODIs and 4th against India
1420 hrs IST: 100 up for Australia. Smith and Bailey not allowing the Indian spinners to settle down
1418 hrs IST: Right then, Ravichandran Ashwin into the attack. India in need of a breakthrough
1415 hrs IST: Australia 82/2 after 17 overs and it's drinks
1400 hrs IST: Bailey and Smith easily negotiating Umesh and Jadeja
1352 hrs IST: Umesh Yadav replaces Barinder Sran. Australia slowly recovering after losing two early wickets
1348 hrs IST: Surprise! Rohit Sharma into the attack
1345 hrs IST: FIFTY up for Australia in the 11th over. Smith and Bailey doing a fine recovery job for the hosts
Excited 2 see the way Barinder Sran bowled so far in this game on his debut👏👌Has all the qualities 2 become a world class bowler #IndvsAus

— VVS Laxman (@VVSLaxman281) January 12, 2016
1340 hrs IST: Sran has been impressive on debut. At the half-way mark of his spell, his figures read 5-18-2
1330 hrs IST: India bowlers keeping things tight in the middle. Both Bhuvi and Sran giving nothing away
1315 hrs IST: WICKET! India off to a fine start. Sran strikes again, removes Warner on this occasion. He's pumped up!
1310 hrs IST: WICKET! Debutant Sran strikes early. Gets rid of dangerman Aaron Finch by taking a sharp catch off his own bowling. Australia 9/1
1300 hrs IST: David Warner and Aaron Finch in the middle. Australia need a brisk start to chase 310-run target. Debutant Sran to commence proceedings with the ball
1255 hrs IST: India out in the middle, doing their warm-ups. It will be interesting to see how the visitors operate with the ball. There's nothing in the pitch for the bowlers
Hitman you world class ' @ImRo45 @imVkohli mr consistent

— yuvraj singh (@YUVSTRONG12) January 12, 2016
1219 hrs IST: 309/3 it is. Rohit Sharma remains unbeaten on 171. Forgettable debut for Boland, ends with figures of 0/74. Rohit was well supported by Kohli (91) and some contributions from Dhoni and Jadeja
WACA erupts in applause for centurion Rohit sharma #AusvIND http://t.co/yeYEhHemvt

— BCCI (@BCCI) January 12, 2016
1209 hrs IST: WICKET! Dhoni muscles one off the back-foot but Boland takes a sharp catch at short mid-wicket to end the Indian skipper's innings. India 286/3
1205 hrs IST: Rohit brings up his 150 off 155 balls. 12 4s and 5 6s so far
1203 hrs IST: Meanwhile, Rohit in elite company
Most ODI 100s in Australia by Indians 3 VVS Laxman & ROHIT SHARMA 2 Sourav Ganguly, Gautam Gambhir, Virat Kohli #AusvInd

— Mohandas Menon (@mohanstatsman) January 12, 2016
1159 hrs IST: SIX! Dhoni is going after the bowling. Length delivery and he hits it way back into the stands
1150 hrs IST: WICKET! Kohli goes big but finds Finch in the deep. Out after scoring a fluent 91. India 243/2
1140 hrs IST: 200-run partnership between Rohit and Virat comes up off 218 balls
1130 hrs IST: We are into the last 10 overs now. India looking good to cross the 300-run mark
1125 hrs IST: SIX! Rohit breaks free after ton. Hits one straight, hits it big. India go past 200 now
1120 hrs IST: A very special hundred for Rohit, here's why
.@ImRo45 is the first Indian to score an ODI century in Perth #AusvIND pic.twitter.com/891AzjMsox

— BCCI (@BCCI) January 12, 2016
1116 hrs IST: HUNDRED! for Rohit Sharma. His ninth in ODIs, third in Australia. Expect some fireworks now
1107 hrs IST: Steve Waugh, with 22 scalps, is the second highest wicket-taker at WACA. Akram leads the list with 26 scalps
1100 hrs IST: Australia missing their two Ms. Johnson, retired from cricket, is in the commentary box and Starc is recovering from injury
Aus bowling looks absolutely pedestrian. No serious pace. #AUSvIND

— Shamik Chakrabarty (@shamik100) January 12, 2016
1054 hrs IST: SIX! Virat brings up his 35th ODI fifty with a maximum. Partnership with Rohit swells to 125
1050 hrs IST: Rohit guides one to the ropes and brings up the 150 for India in the 31st over. The right-hander moves to 87
1044 hrs IST: Not only boundaries, Rohit and Virat have run hard in the middle so far
The ability to hit boundaries at will sets Rohit apart…and that's why he's able to score daddy hundreds in ODI. In silken touch today. 👏👏

— Aakash Chopra (@cricketaakash) January 12, 2016
1037 hrs IST: 100-run stand between Rohit and Virat comes up off 122 balls. Rohit 77*, Virat 42*
1035 hrs IST: SIX! Rohit dances down the track and launches it into the stands. Attacking the part-timer Maxwell
1025 hrs IST: Spin into the attack. Maxwell to bowl his gentle offies
1015 hrs IST: 100 up for India in the 22nd over. Kohli and Rohit doing a fine job for the visitors
1010 hrs IST: That's FIFTY for Rohit Sharma. Top knock by the opener. Got India off to a positive start and would be eyeing the big score now
1002 hrs IST: FIFTY-run partnership between Rohit and Virat comes up, off 68 balls
That awkward moment when India has a bowler (Umesh) who can bowl at 140kmph but Australia has none 😉👏🙏🇮🇳 #AUSvIND #StarSports

— Aakash Chopra (@cricketaakash) January 12, 2016
0948 hrs IST: Another change! Faulkner into the attack now
0946 hrs IST: Rohit and Kohli keep India brisk after Dhawan's early departure
It has been wonderful so far watching Rohit Sharma bat!

— Harsha Bhogle (@bhogleharsha) January 12, 2016
0944 hrs IST: Australia are not learning. Continue to pitch it up, and India continue to feast on those deliveries
0940 hrs IST: Pitched up, and Kohli drives it through the covers region. It's a very good strip for batting
0937 hrs IST: Double change! Boland replaces Paris. India looking good at 61/1 after 11 overs
0933 hrs IST: Easy pickings for Rohit. Back-to-back full tosses from Marsh and the right-hander picks his spot on the second occasion
0931 hrs IST: A punch down the ground by Kohli brings up the 50 for India in the 10th over of the innings
0930 hrs IST: Kohli is away! On the pads, and he flicks it in fine fashion to the ropes. In complete control there
0920 hrs IST: Plenty of support for the Men in Blue at the WACA
Seen outside WACA Ground in Perth,Australia a short while ago (Earlier visuals) pic.twitter.com/Fke26E0WM0

— ANI (@ANI_news) January 12, 2016
0920 hrs IST: Hazlewood greets Virat Kohli with a sharp bouncer. Top over by the seamer
0919 hrs IST: WICKET! Hazlewood bangs one short, Dhawan goes with the pull but finds Marsh in the deep. Much needed breakthrough for the hosts. India 36/1
0910 hrs IST: Dhawan creams one through the covers for boundary. When he executes the shot, he's a treat to watch
0905 hrs IST: SIX! Short, and Rohit pulls it in fine fashion for a maximum. Made good connection there
0900 hrs IST: Hazlewood bowls a sharp bouncer, Rohit goes ahead with the pull and the ball just out of wicketkeeper's reach
Bhuvneshwar flies in as a replacement but plays ahead of the original choice bowler…wondering if Ishant has a niggle too. #AUSvIND

— Aakash Chopra (@cricketaakash) January 12, 2016
0855 hrs IST: Paris to share the new ball with Hazlewood and the debutant bowls a beauty first up. Full, swinging delivery and Rohit just gets the bat down in time
0852 hrs IST: Mitchell Johnson is glued to the action
With the family in the Presidents Room at the Waca watching Aus vs Ind ODI #differentview… http://t.co/nz3BPjwL1u

— Mitchell Johnson (@MitchJohnson398) January 12, 2016
0850 hrs IST: India openers Rohit and Dhawan are out in the middle. Josh Hazlewood with the new ball for Australia
0842 hrs IST: The two teams are out for the national anthems. We are moments away from live action now
0840 hrs IST: Australia are very formidable at home, aren't they? Enjoy a 14-match unbeaten ODI run on home soil
0836 hrs IST: AUS XI – D Warner, A Finch, S Smith, G Bailey, G Maxwell, M Marsh, M Wade, J Faulkner, S Boland, J Hazlewood, J Paris
0835 hrs IST: IND XI – S Dhawan, RG Sharma, V Kohli, A Rahane, M Pandey, MS Dhoni, R Jadeja, R Ashwin, U Yadav, B Kumar, B Sran
0832 hrs IST: For Australia, Boland and Paris make their debuts. George Bailey picked ahead of Shaun Marsh
Former paceman Bruce Reid presented @Joelyp92 and @sboland24 with their Aussie ODI caps. Good luck fellas! #AUSvIND pic.twitter.com/pZZMGNl6Jb

— cricket.com.au (@CricketAus) January 12, 2016
0830 hrs IST: Manish Pandey gets a nod ahead of Gurkeerat Mann. Sran, as we told earlier, makes his debut
0820 hrs IST: TOSS! India elect to bat first. Both captains happy with the outcome. Smith wanted to field first anyway. Still cloudy at the WACA
0804 hrs IST: Right then, ODI debut for Barinder Sran. Receives the India cap from captain MS Dhoni
India captain .@msdhoni hands over the ODI cap to young Barinder Sran. Proud moment for the pacer #AUSvIND pic.twitter.com/O2MLON9E6j

— BCCI (@BCCI) January 12, 2016
0800 hrs IST: It will be one hell of a series if India play to their potential, India team director Ravi Shastri says ahead of the opener
0750 hrs IST: Some bad news coming in. Light drizzle in Perth
Just as the players walked out to warm-up there is a slight drizzle at theWACA #AUSvIND pic.twitter.com/cRZ3DPDau7

— BCCI (@BCCI) January 12, 2016
Follow the game in HINDI here!
The Build-up
Face-to-face with men who rule the world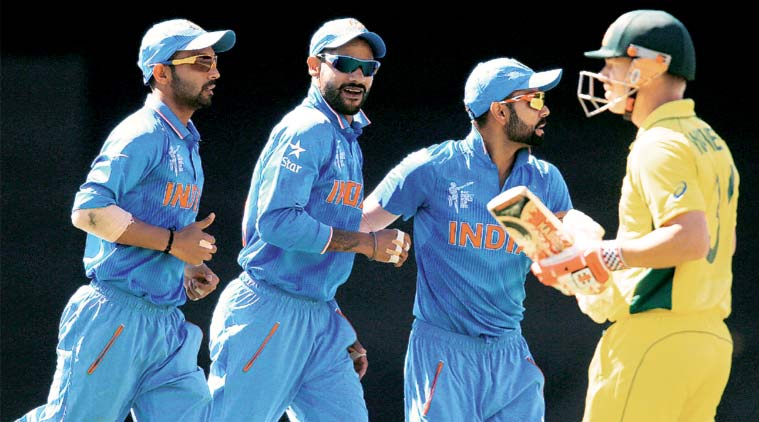 Two teams undergoing transition square off as India take on Australia in an important limited-overs series beginning Tuesday.
Saw Sran in the IPL, he was impressive: Smith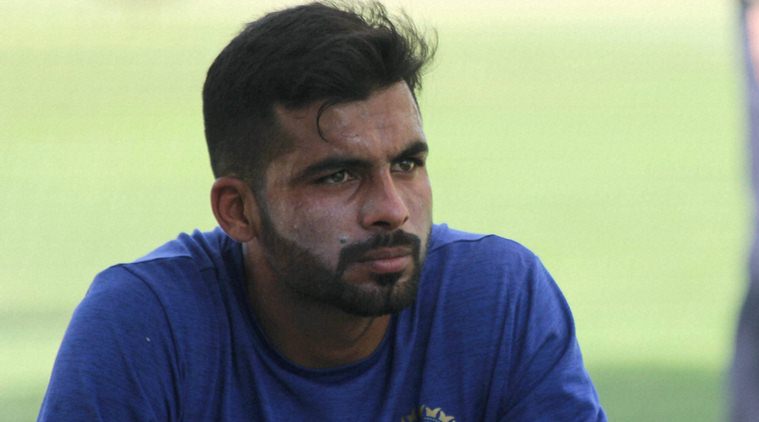 He may be an unknown entity in international cricket but Barinder Sran is not quite unfamiliar to Australian captain Steve Smith, who says the rookie pacer has impressive variations in his armoury and was discussed in the dressing room.
Harsha Bhogle: India's performance depends on Kohli, Dhoni roles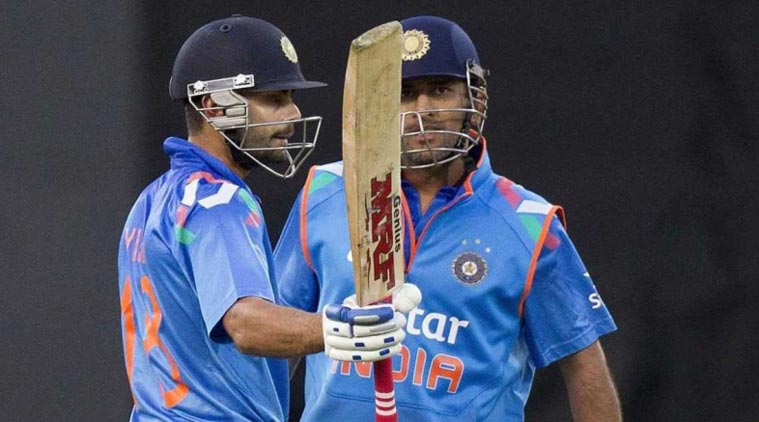 If Virat Kohli can slip back into the role of a lieutenant, if he can keep looking up to MS Dhoni as leader, it will make the team stronger.
For all the latest Sports News, download Indian Express App