Batting first, Afghanistan were again given an explosive start by captain Shahzad. Later, Shenwari and Nabi joined the act with 43 and 52 respectively to propel the side to 186. In response, Zimbabwe were never in the competition as they lost wickets regularly. Not one batsman provided real resistance and the Full members lost to the Associates again in a T20 match – this time by 59 runs.
SCORECARD, STATISTICS AND COMMENTARY
AS IT HAPPENED:
# GROUP 1: England, South Africa, Sri Lanka, West Indies and AFGHANISTAN.
# Man of the Match: Mohammad Nabi
# Zimbabwe crumble to 127 and lose by 59 runs.
# Nothing to lose, captain Asghar comes on to bowl and takes the final wicket.
# One over left and 64 required. Gives chance for Inzamam-Ul-Haq to chat and share a laugh.
# Beautiful bowling indeed. Spin helping spinners and spinners making merry.
Brilliant spell from Rashid Khan. Taking advantage of the opportunity.

— Harsha Bhogle (@bhogleharsha) March 12, 2016
# BOWLED! Beautiful yorker by Zadran cleans up Masakadza. What was a difficult task has become a lost cause now. Zimbabwe are 118/9.
# Two sixes in that over but damage already done. 70 from 2 overs.
# SIX! Dot and then another six. It's traveled 91 metres. Too little, too late, again.
# SIX! 85 runs required from 3 overs.  Start off with a six. Panyangara steps aside and hits it long for a six.
# OUT! Poor, poor work by Tiripano to not ground the bat. He was in place but didn't keep his bat on the ground and Shenwari hits the stumps.
# Raza tries to scoop it behind the keeper but misses as Hamid bowls him out. Zimbabwe are 95/7 as Afghanistan near Super 10.
# 15 overs gone, Zimbabwe are 91/6. Still need 96 runs from 5 overs at 19.2 per over. Looks mighty improbable!
# OUT! And Chigumbura falls now. Goes for the slog but mistimes it to give a simple catch at long-on.
# OUT! Nope no Williams special. The left-hander tries to sweep Rashid Khan but misses completely and captain Shahzad is quick to remove the bails. 
# Based on the current showing, it's difficult to imagine.
Makes you wonder how Afghanistan lost to the UAE in the Asia Cup. Almost through now unless there is a Williams/Chigumbura special.

— Harsha Bhogle (@bhogleharsha) March 12, 2016
# OUT! And that ask just got formidable (if it wasn't already). Shenwari clean bowls Waller. No footwork and on a wicket already favouring the spinners, it spun nicely to hit the stumps.
# At half way stage, Zimbabwe are 58/3. 129 required from 10 overs. Huge ask!
# OUT! Another one bites the dust! Mutumbami falls now to Nabi. Things getting dire for the Full members over the Associates. But big target was going to do this to you.
# OUT! Sibanda top edges Rashid Khan and it is easily taken by Hamid Hassan. Both openers gone now. Zimbabwe's worries and required rate rising.
# FOUR AND FOUR! Two consecutive fours to alleviate pressure. Poor over by Shenwari. Zimbabwe are 35/1 after 5.
# DROP! Short delivery by Shenwari and Sibanda thumps it but it should have been taken by the fielder at short midwicket. It was travelling but worth taking at this level.
# BOWLED! Hamilton Masakadza departs. Poor shot selection as the skipper plays off the line to Hamid Hassan. Zimbabwe lose first wicket at 26.
# SIX! Masakadza pulls Dawlat for a huge six. Short of length and pulled away for a maximum.
# Decent start by Sibanda and Masakadza. 13 runs from 2 overs.
# Players are out in the middle. Zimbabwe begin mammoth 187 run chase. Can they do it?
# Afghanistan have been the hotshots at WT20
The top two scores in #WT20 2016 belong to #Afg
186/6 today v #Zim
170/5 v #Sco #AfgvZim

— Mohandas Menon (@mohanstatsman) March 12, 2016
# That's a bye to end the inning. A huge 187 run target for Zimbabwe.
# OUT! In attempt to steal a single, Nabi gets run out. He returns with 52 next to his name from just 32 balls. Courageous innings!
# SIX! Beautiful start to the final over. Shafiqullah joins the party with a straight six.
# FIFTY! When he came on to bat, Afghanistan were in dire position. Now Nabi has scored a fifty – albeit with a lucky four – and Afghanistan are 173/5 with an over left.
# WICKET! The stand ends at 98 runs as Shinwari goes for 43 from 37 deliveries. Tiripano throws in a slower delivery and Sibanda takes a comfortable catch in the deep.
# More fascinating numbers: this partnership is now worth 95 runs from 10 overs.
# Afghanistan's second 50 took 53 deliveries. The third 50? 22 balls.
# SIX! And now six! That's gone high – very high – but no problem as it clears the boundary with much, much ease.
# FOUR! 150 comes up for Afghanistan in brilliant improvisation fashion. Sami with a switch hit to get a boundary.
# FANTASTIC OVER FOR AFGHANISTAN! First ball Nabi hits Masakadza for a six. Third ball Shanwari hits a four and a six from the fifth delivery. Very productive 21 runs from the over. Afghanistan are 130/4 after 16 overs. The partnership now worth 67 runs from 48 balls.
# FOUR! Welcome boundary for the Afghans after that little scare.
# Tough call for third umpire Ian Gould. Waller runs forward and takes a catch which would have dismissed Shanwari but the third umpire reckons there was a bounce just as the fielder got both his hands around the ball.
# Afghanistan's run rate not a concern despite the quick fall of wickets. They're 91/4 after 13 at a healthy 7 per over. But, question is, will it be enough?
# From high to low in 20 balls
From 49/0 in 4.4 ov to 63/4 in 8.0 ov#Afg have lost 4 wkts for 14 runs in 3.2 ovs (20 balls)#ZimvAfg#WT20

— Mohandas Menon (@mohanstatsman) March 12, 2016
# WICKET! Another wicket tumbles in the over. Noor Ali Zadran sees his flicked shot taken by Raza in the deep. Afghanistan are 63/4 after 8 overs.
# GONE! Things not going well for Afghanistan. Gulbadin Naib goes back after dragging the ball back on to the stumps. The pitch is wearing down and needs patience. Afghanistan are 60/3.
# That Shahzad inning was apparently underwhelming by his standards. Or so the numbers suggest.
#Afg Mohd Shahzad's 40 in 23b @ S/r of 173.91 is only his 9th fastest in T20Is of 30+ runs
He has 11 30+ scores of S/r 150+#ZimvAfg#WT20

— Mohandas Menon (@mohanstatsman) March 12, 2016
# WICKET! Just as Afghanistan reached 50 in 5.2 overs, captain Asghar Stanikzai stepped forward to relax his arms but can't find the room to hit a short delivery. Raza takes a low diving catch and Afghanistan are 50/2.
# WICKET! Mohammad Shahzad tries to play a reverse sweep to Sean Williams but doesn't find the gap. Taken at point. Afghanistan are 49/1 and Shahzad goes for 40 (23 balls).
# Yes he can!
This guy Mohd Shahzad can bat! Must watch batsman. #AFGvZIM #ICCWT20

— Sanjay Manjrekar (@sanjaymanjrekar) March 12, 2016
# That six has gone deep into the seating area and it needs five people to hunt for it.
# After 4.1 overs, Afghanistan are 43/0. Shahzad is on 39 from 21 balls – seven fours and one massive six!
# Change in bowling as Tiripano comes on. But no problem for Shahzad. First a four behind as the ball creeped on to him, then Sehwag-esque no-foot-movement thumping four and now cuts it fine and wide for another. Three boundaries in a row.
# Good third over from Zimbabwe now after that thumping. 5 runs from it and Afghanistan are 22/0 after 3.
#Afg batting in #WT20
Dots: 81
1s: 95
2s: 19
3s: 3
4s: 24
6s: 7
Balls: 229
280 runs
%dots: 35.37
%1-3 51.09
%4-6 13.54#ZimvAfg

— Mohandas Menon (@mohanstatsman) March 12, 2016
# FOUR! Make that four fours in a row. 17 runs from the over.
# FOUR, FOUR, FOUR! Shahzad doing what Shahzad does best – thumping the ball to all sides. Three consecutive boundaries to Tendai Chatara.
# PITCH DETAILS: It is dry, dusty, plenty of cracks and spinners are likely to thrive on this surface.
# BEFORE FIRST BALL…
Williams and Shahzad have been the stars so far. How will they play in today's Group B decider? #WT20 #ZIMvAFG pic.twitter.com/zumJBH5cB4

— ICC (@ICC) March 12, 2016
Expect Afghanistan vs Zimbabwe to be a wonderful game.Two sets of players who have made this far the hard way. #WorldT20

— Harsha Bhogle (@bhogleharsha) March 12, 2016
In Hamid Hassan and Mohd Nabi Afghanistan have serious players. Sean Williams, Elton Chigumbura among others to watch out for, for Zim

— Harsha Bhogle (@bhogleharsha) March 12, 2016
Here's the two teams as it is quite literally ALL or nothing with winner of #AFGvZIM going through to #WT20 Super 10 pic.twitter.com/oZkYYgVNog

— ICC (@ICC) March 12, 2016
# TEAMS:
AFG XI: M Shahzad, N Zadran, A Stanikzai, G Naib, M Nabi, S Shenwari, N Zadran, S Shafiq, R Khan, D Zadran, H Hassan

— ICC Live Scores (@ICCLive) March 12, 2016
ZIM XI: H Masakadza, V Sibanda, R Mutumbami, S Williams, M Waller, S Raza, E Chigumbura, D Tiripano, T Panyangara, W Masakadza, T Chatara

— ICC Live Scores (@ICCLive) March 12, 2016
# TOSS: Afghanistan have won the toss and they are batting first.
BUILD UP
# Zimbabwe's Wellington Masakadza's worth is on the rise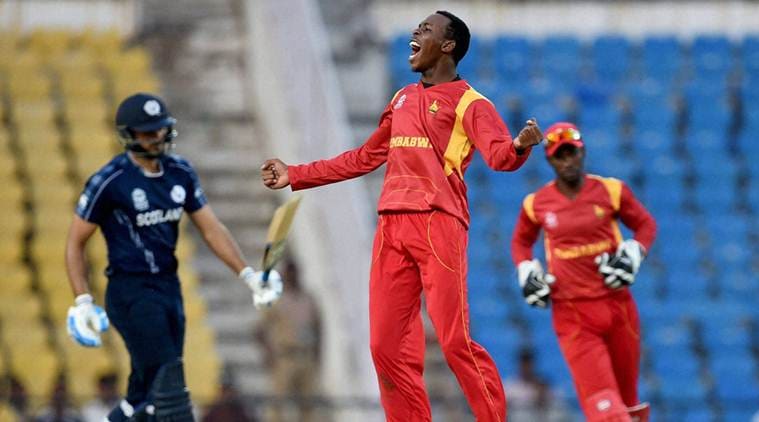 Left-arm spinner Wellington Masakadza was bowling in the nets last May; now takes 4 for 28 to help Zimbabwe beat Scotland.
# Afghanistan have won both their games against Hong Kong and Scotland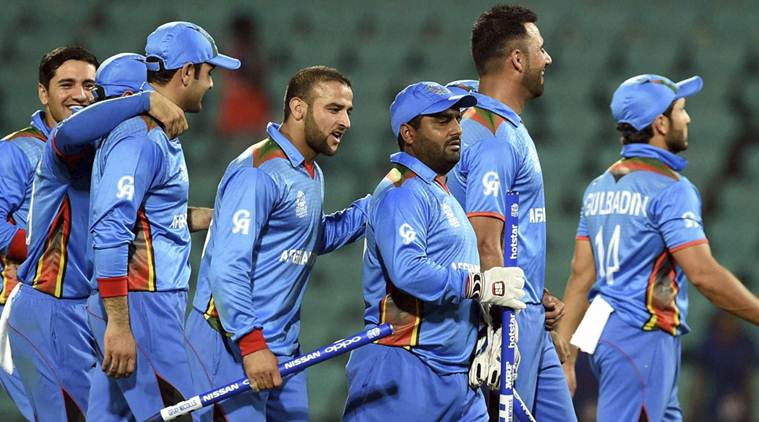 Afghanistan have won both their games in the Group Stage so far. Today they face Zimbabwe.
# Zimbabwe on the other hand survived Hong Kong's scare and also beat Scotland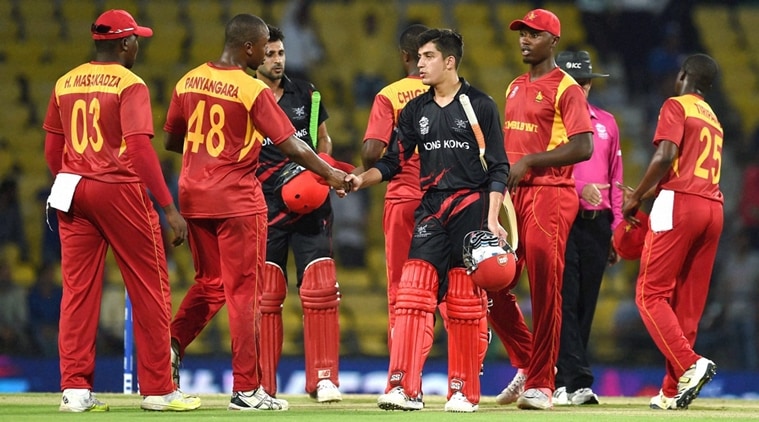 Zimbabwe – like Afghanistan – have won both its qualifying games so far. Today one of them knocks the other out in Nagpur.
For all the latest Sports News, download Indian Express App