For a while, around the 25th over of Bangladesh's innings on Thursday, it actually looked like the Indians were in a bit of bother. Tamim Iqbal and Mushfiqur Rahim had hit Hardik Pandya out of the attack and had dominated Ravichandran Ashwin. The ominous clouds had passed by harmlessly, the floodlights had been turned off and the Birmingham sky was now clear with Edgbaston basking in the bright sunlight. This very much seemed like Bangladesh's moment in the sun, too. Perhaps this was their chance to make a match of it. You wouldn't have thought so, however, by the eventual margin of the victory, or the facile manner in which it was achieved, with one ball short of 10 overs to spare and Rohit Sharma and Virat Kohli virtually having a net session in the middle against a hapless Bangladeshi attack. If anything, the mid-point of Bangladesh's innings seemed like a brief blip in an Indian win that seemed obvious from the moment they won the toss and put the Tigers in on the flattest wicket Edgbaston had seen during the tournament.
It takes a lot more than a threatening partnership to shake India up these days, after all. Both Pakistan and South Africa, too, had their moments under the sun against India. But they were brief blips in the otherwise comprehensive Indian victories. To beat India, it seems, you need a team to play out of their skins — as Sri Lanka did.
It's a form of indomitability that Australia of the noughties made famous, where every win looked inevitable and every defeat an upset. It was a team which always seemed to have a trump card hidden somewhere. How often would we see a Mark Waugh come and turn a match with the ball? It was a team against whom no opposition could ever feel good as a result. It was a team that knew how to win, the big moments and the big matches.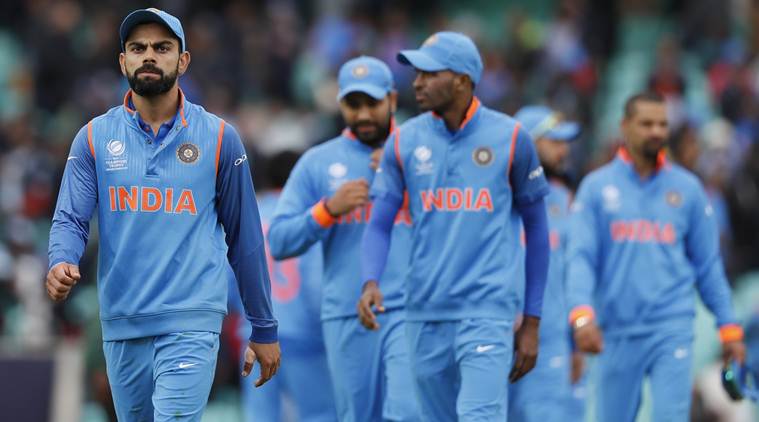 It's the kind of aura this Indian team exudes match after match under Kohli these days. They overcame rain interruptions and overcast skies against a challenging Pakistan bowling attack to bat them out of the game. Their fast bowlers set up the game on a flat and slow wicket against a mighty South African batting line-up in a crunch match. And here, on a day when they suddenly needed someone to stall the Bangladeshi charge with their fifth bowler having been compromised, up stepped Kedar Jadhav, who apart from pulling the hand-brakes on the Bangladesh innings, also plucked out two match-turning bonus wickets in the bargain.
Iqbal and Rahim who had been free-flowing in their strokeplay till that point, lost their timing, and as a result their momentum, before losing their wickets to Jadhav. Bangladesh never recovered from that period of play — they'd score 93 in 12 overs before Jadhav came on and scored 41/3 in the next 12 overs during which he bowled his six overs with figures of 2/22 — and that was pretty much it for them and their rather ambitious hopes of making the final. It was frustrating for the Tigers as they had survived — and to an extent overcome — the major challenges in the Indian bowling attack, but then slipped to Jadhav's innocuous yet percentage bowling.
"I asked MS…and we both decided that Kedar is a good option at the moment, and he bowled really well," Kohli said after the match. "Credit to him. Kedar doesn't bowl much in the nets, but he is a smart cricketer. He knows where the batsmen get troubled, and if you can think like a batter when you are bowling, it's obviously a bit of an advantage to any bowler. So I think that today he executed plans perfectly."
India's journey to the final has been based on percentage cricket. Their new-ball bowlers have stuck to disciplined lines and lengths with the new-ball, rarely slipping in the quest for wickets. Their spinners have done pretty much the same. India has been among the most superior fielding sides in the tournament, even if there have been the unavoidable dropped catches here and there, and the likes of Ravindra Jadeja and Kohli have saved a lot of runs on the field. Against Pakistan and South Africa, they produced crucial run-outs ensuing from the relentless pressure produced by their bowlers. It all sounds rather boring, but like Kohli loves to reiterate, and he did once more later in the day, successful teams play boring cricket.
The run-chase on Thursday though was rather exciting and for a reason. India's target of 265 was well below par, at least 50-60 runs short of what would have been considered a reasonable total here. But this was also their chance to make a statement to Pakistan two days prior to the final. It's what dominant teams do.
At their peak, Australia would always use the semifinal as a platform to intimidate their final opponents. And this was India's chance to do the same, which they did with the openers launching themselves into the Bangladeshi new-ball bowlers, a change in strategy considering they have preferred to play a lot more cautiously early on till this point in the Champions Trophy. That's another feature with this Indian team, recognizing moments and then seizing them. The ploy from the Bangladeshis was clearly to pitch it short to the openers, and not once did Sharma or Shikhar Dhawan not throw their bat at an attempted bouncer. And once Dhawan left, Kohli too came out firing, rather than trying to play himself in, like he generally does. Drives and flicks flowed from his bat and he ended with an unbeaten 96 scored at a strike rate of 123.07. That's left them with just a step more to take to enhance their fast-burgeoning aura, one that the Australians of yore turned into a vocation, carrying that aura into a big final and doing what they do best — win.
For all the latest Sports News, download Indian Express App