Says a garbage-picker at Southampton to Sandeep Dwivedi, who followed the Indian cricket team's downhill drive to disaster after the historic turn at Lord's 
London
July 5: Early morning at Heathrow. Want to call a friend, look for '1 pence per minute to India' Lyca kiosk. Finally find a vending machine that throws out SIMs too. Hear an Indian officious voice. He is wearing a fluorescent vest. "Outside you even get SIM free, take my phone and call," he says. Namaste London.
Nottingham
July 6: First look of the Indian cricketers. Stuart Binny is getting undivided attention. Nets over, time to fool around. Shikhar Dhawan wants to bowl. "Right arm, bent elbow," he shouts on top of his bowling mark.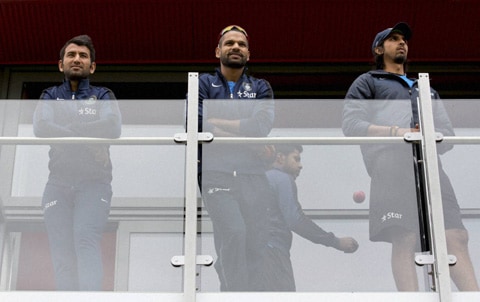 July 7: Meet a very talkative hotel manager. Owner pays by 'word count' is the collective assumption of the waiters. He explains everything in detail and is in the habit of repeating himself. He is also an amateur magician. Wants to show tricks, play the fool.
July 8: Match eve, excitement in the air. Flags in windows around stadium. Hotels have put up 'no vacancy' signs. Trent Bridge Inn is crowded. The river front too is buzzing. A thin houseboat sails in. On the deck stands a man, ready to anchor. He and his friend are here for the cricket. They save on accommodation, parking and also cook on board. Turns out to be cheaper than land. After the game, they sit on the deck, sip wine and enjoy the breeze.
July 9: On the first day of this series, Brazil's World Cup comes to an end with a 7-1 thrashing to Germany. Should have seen the signs. Forty days later, Indian fans feel quite same. Had this been an eight-match Test series, this too would have finished 7-1.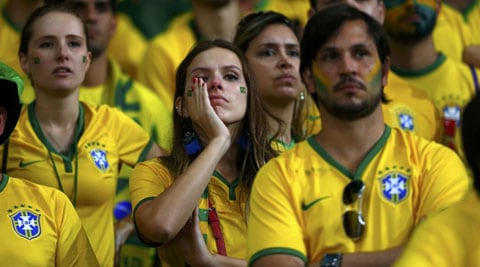 July 10: Jam-packed stadium. Hustle and bustle in the aisles at lunch, and a push in the corridor just before the dressing room. It would take four hearings, millions in lawyer fees, bad-blood, lies, analyses, edit pieces and leaks to find out that nothing happened. No one was punished. The only revelation: Cricketers talk like truckers. As if we haven't been reading their lips already.
July 11: Our lodge owner senses a big turnout and bigger business opportunities. See him hurriedly scribbling 'PARKING, 10 POUNDS' on a whiteboard enroute to the stadium. On our return, the sign has returned to '5 POUNDS'.
July 12: At former England player Usman Afzal's restaurant 'Slumdog'. Meet his brother with boy-band looks but Bollywood dreams. He often mentions Salman bhai. Offers lift to team hotel in his sports car with doors that turn into wings while opening. Loud Punjabi music and louder Punjabi talk. Just for a few minutes there, Nottingham feels like Gurgaon.
July 13: Join an adventurous foodie to an Ethiopian restaurant. Great service, sumptuous fare. It's getting late so shout out for the cheque. But someone spots 'Ethiopian coffee ceremony' on the menu, so stay back. Lady spread mats on the floor, brings coal and coffee beans. Shows up at the table to allow us a waft of the roasted beans. Then returns to mat, boils, re-boils in odd-shaped containers with horsehair filters. Fight sleep, sip black coffee.
London
July 14: Stay at Alan's Victorian BnB, in his late mother's room. She loved cats, rather worshipped them. Figurines, paintings, artefacts, key rings, book marks, coasters, paperweights, greeting cards… everything has kitties or looks like kittens. The masterpiece though is an artist's impression of Alan's mom as a cat. Can't sleep at night, so begin counting cats.
July 15: A few reading observations on London's tube. Elderly man: London Evening Standard. Boy with football shoes: Chess for beginners. A tourist girl: Love Sonnets, William Shakespeare. Kid with glasses: The Cricket Paper. Lady with magenta nails: Dan Brown's Inferno. Paint a scene from Delhi Metro in mind. College student: Temple Run. Working woman: Angry Bird. Corporate kind: Candy Crush.
July 16: On my walk to the underground station, stop to watch rink football. A young British African boy shows magical ball-skills. The ball seems to be in love with his feet. They seem inseparable. He twists, turns, looks right and punches a hole in the defence on the left with the outside of his boot. Make inquiries. His name is Michael — already drafted into the West Ham academy. Some serious talent headed to Upton Park.
July 17: At Lord's, the good old steward Mr Winters is at the gate. He knows them all from Sir Alex Ferguson to Imran Khan and is never short of stories. His latest is about a young boy named Arjun Tendulkar, whose father, also a cricketer by the way, lives a short walk away from the stadium. "Lovely boy, tall, plays well. He was here most of the summer. When he left, he said he will miss me," he says. A book title comes to mind — Summers with Winters.
July 18: Rahul Dravid's plate at lunch looks greener than the pitch at Lord's. No wonder he still looks as fit as he was during his playing days. Goodies, sweets, toffees, chocolates at the press lounge and the cakes at Test Match Special, Dravid stays well away from.
July 19: Meet Mohammed Asif, an Allahabad-boy in the British army uniform at Lord's. He joined the forces eight years back after spotting an opportunity while surfing the internet late one night. The pleasant, handsome man is part of the army's enlistment awareness drive. Asif speaks with an accent — British English and UP Hindi. He has served in Afghanistan and Iraq — where his knowledge of Urdu and Pashto made him a handy translator. He has seen life, death and the world. Can't help but to notice that he remains truly Allahabadi when he refers to his wife as 'Mrs'. (Pronounced 'misses' and not 'missus').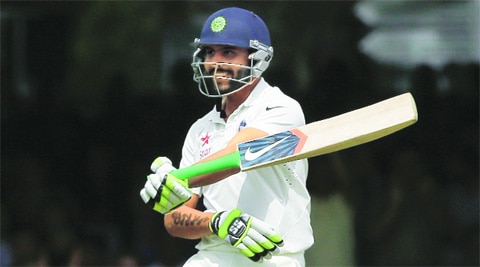 July 20: Just for charging down the track to James Anderson, Stuart Broad and Liam Plunkett at Lord's, Ravindra Jadeja needs to be put on top of an elephant on Republic Day. After reaching 50, he starts twirling the bat over his head. An English voice in the press box says: "Like nunchakus." Almost roll on the floor laughing with images of Ravindrasinh Lee and Jackie Jadeja flashing before my eyes. For us Indians he's always Bapu. Bapu twirling his walking stick.
July 21: India win an overseas Test by bowling short. Doesn't happen often. Dhoni is in the mood to talk about his boys. He says Ishant Sharma, the day's hero, insists on bowling full all the time. Captain and coach Duncan Fletcher want him to bowl short more often. Cannot believe that Ishant actually has a mind of his own. Refreshing.
July 22: One day since India's historic win at Lord's, the Royal Baby turns one. The last time Kapil Dev won at the home of cricket, London was celebrating the Queen's 60th birthday, Lady Diana was 25 and The Baby's father was 4. It's taken a while, you realise.
Southampton
July 23: Long train journey to Southampton. Get into a coach, dump bag and go to check on a friend who gets in from another door. Return after 5 minutes to see panic on an old man's face. "You disappear after keeping your bag. I was in the army, my mind starts working. You know the times," he says. We laugh. He talks about serving in India, wife's death and his daughter's five daughters.
July 24: It has been a month now, haven't won $1 million in lottery. That's when the phone beeps — £2,497.47 still waiting in your name, it's compensation for the accident that you had, get this sent out asap. Fill out form at http://www.injured.so, says the text. Okay, that's how they do it in these parts.
July 25: Live at a highway hotel. The buzz from the motorway never stops. Nothing much to do. But rural folks are nice guys. The merchandise shop owner lends a bat and ball, the ground staff doesn't mind us using the training area. Play till dark. 10 pm to be exact.
July 26: Girl with sad eyes at McDonald's advocating Happy Meals to kids has a tattoo on wrist. "Daddy made me, Mummy raised me," it says.
July 27: Phil Tufnel is speaking to fans at lunch, an ECB initiative on match days. He is a wickedly funny man. It doesn't take long for an Ashes question. "The Waugh twits… no sorry, the Waugh twins," he says at the start of a story. Was it twits he said or something more un-parliamentary. Doesn't matter, hideous cackle all-round. They love the Aussies, these Poms.
July 28: Gladstone Small famously described as someone walking with a coat-hanger inside his jacket is equally entertaining. He speaks about his county mates at Warwickshire. After Brian Lara joined, the physio table was never used for what it was meant to be. When Lara batted everyone wanted to watch. When he didn't, he would sleep on the table. "He loved parties," he says.
July 29: Call the manager of a Manchester apartment to finalise booking. The Ghanaian man, in a happy and obliging voice, patiently answers all questions with an ever-increasing 'ya' count.
Q: Does the place have wi-fi? A: Ya, ya.
Q: Is there a washing machine? A: Ya, ya, ya, ya.
Q: Can we invite friends over? A: Ya, ya, ya, ya, ya.
Q: Is the place close to the Manchester cricket stadium? A: Ya, ya, ya, ya, ya.
Q: Can we train with Manchester United at Old Trafford?
A: Ya, ya… Oh, no, no, no, no.
July 30: End of the game, walk out with a tall goofy boy with a litter-cleaning stick in hand and some 834 piercings and tattoos over his body. Looks at media card, is amused. "What are your hours?" he asks. "Morning 9 till the game ends," I reply. "Same as me," he says with a smile. He isn't impressed by the Indian cricketers. Moans at the lack of competition and sums up his feeling: "Buddy, like me, you too are dealing with rubbish."
July 31: Meet an old acquaintance, the jovial Italian restaurant owner of Parma Café and a master storyteller. Football season is round the corner and he has a tale about his former employee, a Latvian kitchen hand. "Never seen a football fan and a calculative gambler like him," he says. In 2005-06 season, the apprentice cook put £1,000 every time Chelsea played. He loved Mourinho. Now the 'happily lived after' last line. "He returned to Latvia with £45,000. Has a Mourinho poster in his porch," he says. He should. Check the table for that season. Chelsea – 38 played, 29 won.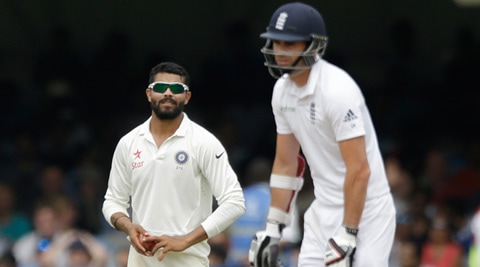 August 1: No media allowed at hotel that's hosting the Jadeja-Anderson hearing. Manage to sneak into its coffee shop. "Are you from the media?' asks a stern looking lady. Come up with the best-ever "Don't understand English" face. It works.
Manchester
August 2: Very late train to Manchester. Ticket-checker on graveyard shift sits to chat. Not married, no friends, hates sports, loves nightshift, doesn't laugh, doesn't go to church. Looks lonely. He doesn't stop talking. Has two houses, awaits hefty pension, goes on vacations, has cats, likes food. Maybe he isn't all that lonely.
August 3: Staying at a society flat, 'gated community', as they are known in Delhi. Very comfortable stay but so many codes to remember. Press 2623 for car park, Q2603z for pedestrian gate, key-2334-key for Block entry, r566key for garbage disposal, y6456 for post box, 420bull for air-conditioned swimming pool cum open-air theatre. Made up the last one, of course.
August 4: This one has to be a first. Spot an Indian restaurant with no 'neon-lighted mini-Taj' in the window, counter or side-table. Not trying too hard, must be authentic.
August 5: Read 'letters to editor' and begin to pity England's cricket writers. It's an angry rant of a purist. New ball is never 'due', it's always 'available'. Team can never-ever 'trail' after the first innings, they are merely 'behind'.
August 6: Cops all over the tram platform, few Railway officials too. It's a surprise ticket check. A young girl is in tears while searching her purse. Boy with beanie has a 'it-will-never-happen-again look'. Trust me, no one uttered those magic words, "staff", "press" or "Rail mantri" to wriggle out of the situation.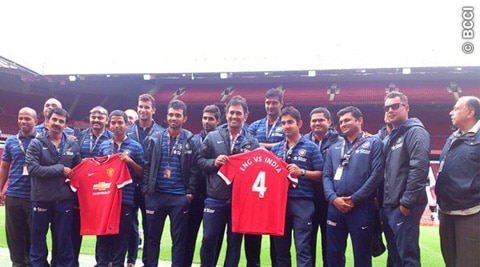 August 7: A father hands over his sons to the granddad's care before heading for the ticket-window. Children are wearing Rooney shirts and have Man U back-packs. The older man is wearing a cricket sweater, the middle-aged father sports a 'Three Lions' T-shirt. Wonder how long the two elders can manage to drag the soccer-mad kids to the lesser visited of the two Old Traffords.
August 8: Moeen Ali is the toast of Manchester. They call him 'Mo' in the dressing room. English papers, true to their habit, are getting carried away. If you believe every word you read, the bearded all-rounder is a combination of Mohammad Ali and Bishan Singh Bedi. "Floats like a butterfly, stings like a bee," writes someone. When's the Ashes. SOS, Aussies.
August 9: India 161 all out. Hail a cab that evening after dinner. The standard cabbie question: Are you here for the cricket? "No," I say. Enjoy the breeze and the peaceful ride.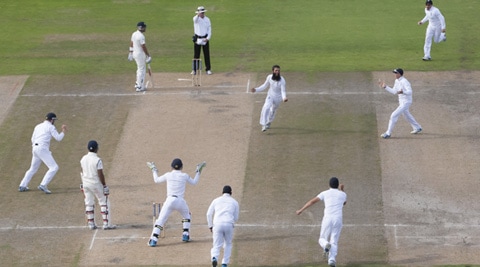 August 10: Sister posts rakhi. Get a call from courier guy, William, while at stadium. Ask him to drop it at Aadams, a Pakistani kebab place, with Aamir at the counter. William, Aamir, rakhi. Manmohan Desai certainly would have been misty-eyed.
London
August 11: After getting off a train from Manchester, walk into a cornershop to buy water. As it's afternoon, the man at the counter looks bored. Wants to talk, sounds Jamaican. Asks when the final Test starts, say it's on Friday. "Oh nice, so you are here till Sunday," he says. No comeback line after that. Yeah, give it all you have. Pity the expat Indians here.
August 12: Football season is starting. Newspapers full of Premier League. Read interesting story about massive protests outside FA office. Arsenal's season ticket at '£1,955' is the most expensive in "bum on seats business".
August 13: Primrose Hill, not recommended for stunning view of the distant London skyline but for the close view of the city's social milieu. Arab family sprawled on carpet with hookah, vodka and birthday cake with candles. A British group of elders chat while their same-age, same sized 'four legged children' with collars run around. A woman in sari, with pooja thali in hand, talks about 'Teej' to husband, son and gown-clad daughter-in-law. African runners, East European pilates practitioners, American social group with baseball mitts. Tai-chi, aerobics and men sitting cross-legged breathing in and out. Laughing club? No.
August 14: During the pre-Test interview Jonathan Agnew asks Cook: "After Broad's injury, have you and your boys been looking at your equipment?" Innuendo, the staple of British humour. Never heard Cook laugh like that.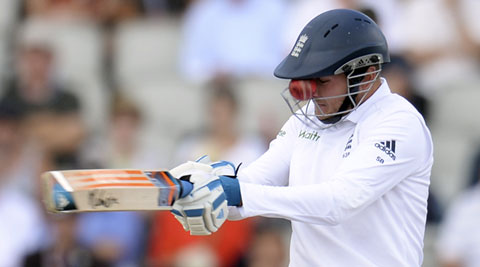 August 15: At a cafe near the Oval. Overhear a conversation between a young lady sitting next to a child sleeping in a pram and the very-popular and motormouth waitress in her 60s. From eating habits to sleeping hours to clothing to grooming, it's a long lecture by the granny. Listening patiently, the younger woman finally says, "But this is not my child, the mother sitting next to me has gone to the washroom." Silence, smiles.
August 16: At the Oval, a man wearing India's blue has a couple of spare tickets. Calls friend, gets abused. Hangs up, looks around, wants a shoulder to cry on. Volunteer. "Imagine, these guys first fight like animals for tickets. And now they are saying they don't want to waste a day watching losers," he says pointing his finger to the phone speaker. Meanwhile, England's lead crosses 300. Wise guys, the ones at the other end of the phone.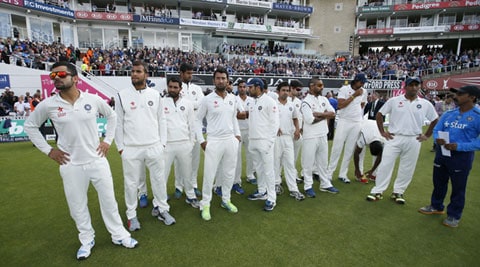 August 17: Test over in two-and-a-half days. Press conferences to attend and reports to file. It's rush hour. Stopped by an old stewardess, who once lived in Chennai. She has a chit in hand, which is actually a brief bio-data of who she says is "a talented cricketer, and the son of a family friend in Tamil Nadu." There are a couple of phone numbers and a main road address in Perambur. "In case you guys are looking for an all-rounder, he is the boy," she says in all seriousness. After 94 all out, everyone has a chance.
For all the latest Sports News, download Indian Express App