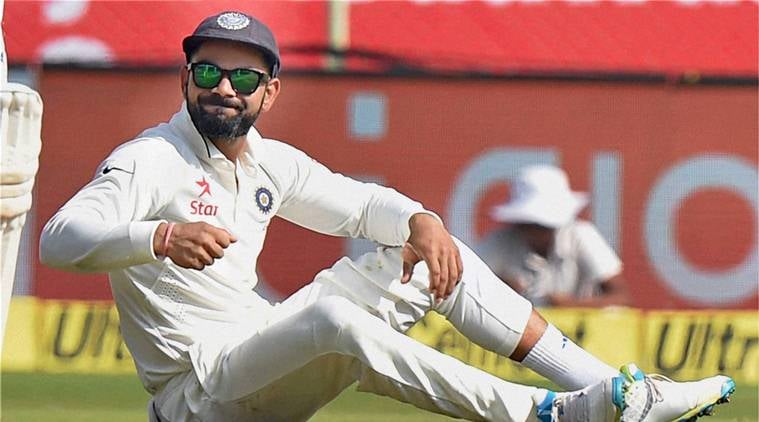 Test captain Virat Kohli was on Tuesday accused of ball tampering during the drawn first cricket Test against England at Rajkot by a British daily.
British tabloid 'The Daily Mail' has produced inconclusive evidence to show that Kohli used to shine the ball with the residue of a sweet in his mouth.
The newspaper has claimed that Kohli put his hands deep in his mouth, and then shined one side of the ball during the match which was played between November 9 to 13.
"Footage has emerged of India captain Virat Kohli appearing to shine the ball using residue from a sweet during his country's draw with England in the first Test," the report in The Daily Mail read.
"Television cameras caught Kohli, who finished on 49 not out on the final day in Rajkot, putting his right hand towards his mouth," it added.
"The 28-year-old can be seen rubbing his fingers in his mouth, inside of which is a sweet. He then appears to shine one side of the ball."
But the doubts raised by the English media seemed to backfire as Kohli's actions were not cited by the umpire or the match referee after the match. According to the rules, a complaint should have been lodged with the match referee within five days of the occuring of the incident. Since the English players and umpires didn't make such a complain, such an allegation remains void.
ICC says Faf du Plessis guilty of ball tampering using mints, Here is virat kohli Doing The Same. Why wasn't he punished? ICC = Big 3 pic.twitter.com/6FSH9sjnQY

— Asfandyar Bhittani (@BhittaniKhannnn) 22 November 2016
Fake Fb Wall: Piers Morgan reacts to Virat Kohli's alleged ball-tampering http://t.co/YeYZqBPIqF pic.twitter.com/8cz6jEwHSS

— Sujjad (@ImSujjad) 22 November 2016
And ICC Rejects The Investigation Of Ball Tempering Against #Viratkohli Because @ICC = @BCCI #cricket

— MD Bilal Ali Rajput (@ItxBilal47) 22 November 2016
#ViratKohli caught red handed ball tampering but @icc is not taking any action against the #Indian

— Rao Sohail Afzal (@Raosohailafzal) 22 November 2016
Slow overrate, ban for one match🇵🇰
Ball tempering, fine match fee🇿🇦
Ball tempering, too late to call🇮🇳#ICC #MisbahUlHaq #Faf #Viratkohli

— Shahzada Shaheryar (@SSyar) 22 November 2016
The allegation comes in the wake of Faf du Plessis being fined 100 per cent of his match fee for alleged ball tampering against Australia.
For all the latest Sports News, download Indian Express App