Modi's moment alone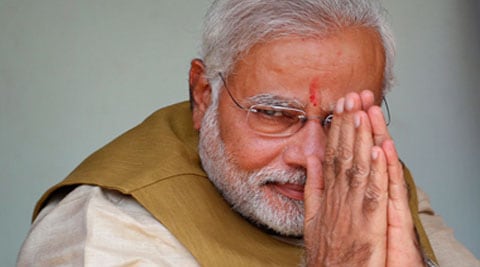 The voters have not been swayed by narrow horizons. They have voted what they thought was in the
national interest.
Narendra Modi has scripted one of the most gloriously spectacular political triumphs in the history of independent India. There is no other way to describe this election. Just think of the magnitude of the achievement. For the first time since Independence, a non-Congress party has got a majority on its own. By enlarging its footprint, it has become a genuinely national party and transformed India's political landscape, perhaps forever.
The Congress has been brought to the verge of extinction. Every known rule of Indian politics has been transformed. Caste-based political parties have been sidelined at a national level. A party has been able to create a broad-based support, across social classes, across rural and urban areas, across different castes. A chief minister from a small state has become a national figure. And perhaps most importantly, this election has belied the cliché that all politics is local.
This election was fought on national themes. The voters have not been swayed by narrow horizons. They have voted what they thought was in the national interest. The idea of India is not an intellectual abstraction. It is created and enacted by millions of voters thinking about the future of India as a whole, joining in a national discourse and delivering their verdict. This is a community of fate charting its future together.
But Modi is a political phenomenon without precedent. In the annals of democratic politics, there are few stories to match his. He is a politician who embodies the quintessence of politics: converting adversity into opportunity. That single characteristic, more than any other, sums up his appeal. It stood out in distinction to a political culture where a ruling dispensation lost no opportunity to miss an opportunity, where privilege masqueraded as victimhood, and care for the poor as a paternalistic excuse to keep them poor.
In a discourse suffused with all that cannot be done, he came to be an embodiment of all that can be done under adversity. He rose from a humble background, and in some ways, understood the possibilities democracy affords for mobility more than its princely custodians. He was an outsider, demonised by the intelligentsia, with a Central government arrayed against him. But he has broken through and will now produce the biggest churning that India's power structure has seen since Independence.
He has tenaciously fought every charge. He has overcome the opposition of his own party establishment. But he has done what his opponents failed to do. He continued to think politically, sensing the national mood, mounting a formidable political machine, by sheer dint of will crisscrossing the country, connecting with crowds from West Bengal to Kerala, and demonstrating an old truth: politics is about creativity, will, organisation, imagination, aspiration. …continued »