BJP has a gender problem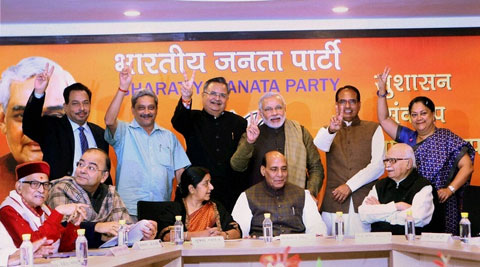 The BJP's aggressive style of campaigning, which often invokes militarist references, is less likely to find sympathy with women voters. ( Source: PTI )
No matter which coalition is voted to office on May 16, this election, apart from its ideological polarisation and rhetoric, will be distinctive for three things. First, India will have recorded the highest voter turnout in general elections ever. Provisional estimates suggest two in every three Indians have voted, that is, more than 66 per cent turnout (See Figure 1). This is higher than every previous Lok Sabha election. Second, the gender gap in turnout (the difference between female and male turnout) appears to have become negligible.
In many states, women voters have outnumbered their male counterparts. Third, the increase in female turnout has unfortunately not led to a greater number of women candidates competing for a seat in the Lok Sabha (7 per cent of total candidates in 2009 and approximately 8 per cent of total candidates in 2014). It is likely that the 16th Lok Sabha will not see any significant increase in the number of women MPs (there were 58 female MPs in the 15th Lok Sabha).
The fact that women have turned out in equal numbers to men raises questions that should concern those who forecast election results using opinion polls, as well as the BJP. The BJP faces a serious challenge among women voters. As Rajeshwari Deshpande of the University of Pune, after analysing the National Election Studies (NES) data from 1996 to 2009, has pointed out, women are less likely to vote for the BJP. In this respect, the BJP appears to be like conservative parties in other parts of the world. In the US, women are less likely to prefer the Republican party. In the 2012 presidential elections, more women voted for the Democrats whereas more men voted Republican. A similar pattern seems to be taking shape in India.
Deshpande's insights are supported by NES 2014 pre-poll data (the fieldwork was conducted between March 18 and 25). The BJP faces a large gender disadvantage, much larger than previous years, with men more likely to vote for it. Opinion polls suggest that for every six men who said they would vote either for the Congress or BJP, almost four preferred the BJP. As far as women are concerned, their votes are almost evenly split. For every five women who said they would vote either for the BJP or Congress, two said they would vote for the Congress. If these survey findings are accurate and if the provisional turnout data is correct that as many women are turning out to vote as men, the number of seats the BJP will finally get largely depends on to what extent the party has managed to address this gender gap.
Why …continued »