Believing in India again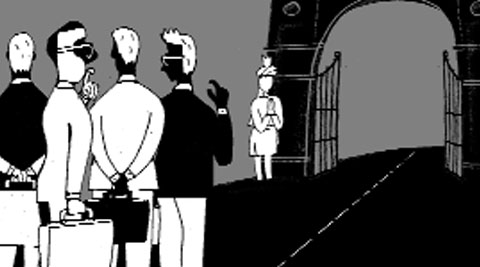 Corruption scandals have hogged the headlines.
It is a matter of confidence, credibility and trust. Whatever be the political hue of the next government and whoever its leader, the challenge will be to reinvigorate investor confidence in the political stewardship of the economy, restore the credibility of the executive and rebuild trust in the sanctity of policy and contracts. Else, the much-needed investment in infrastructure and manufacturing will not be forthcoming and the numbers of un- and underemployed will continue to mount. The social consequences will most likely limit the new government to one term.
Corruption scandals have hogged the headlines, but arguably the most damaging effect on investor sentiment over the past several years has been the activism of the tax authorities and the twists and turns in the interpretation of policies and contracts. A fly on the wall of the board rooms of Vodafone, Nokia, Microsoft, BP, Shell, Posco, Tesco, Walmart and many more would be struck by the paradoxical tenor of conversation. The directors would be in agreement about the potential of the country. All would accept that notwithstanding the slowdown in growth and the lacklustre leadership over the past three years, the fundamentals remain intact and India remains on track to be an economic giant. They would endorse the view that relative to opportunities elsewhere, India is an attractive destination and that it would be imprudent to push it off their agenda. That said, they would collectively hesitate to put their signature on further new investments, other than perhaps for amounts required to sustain existing activities. They would substantiate their hesitation by allusions to the arbitrariness of the tax charges on MNCs, the announcement by the BJP to reverse the UPA government's policy on multi-brand retail, the unilateral tightening of contractual conditions that assured petroleum companies market-related prices for gas and the right to market it freely, the labyrinthine approval procedures that have bogged down major mining and power sector projects, the reluctance of the bureaucracy to take decisions for fear of attracting a vigilance enquiry and the long lead times in judicial decisions. The thread linking all such conversations would be the loss
of confidence and trust in public institutions.
Cornell Professor Eswar Prasad's wonderfully written book, The Dollar Trap: How the US Dollar Tightened its Grip on Global Finance, brings into sharp relief the positive impact that confidence and trust in public institutions has had on the direction of capital flows in our globalised and connected world. And, by implication, the negative consequences of loss of confidence and trust. Prasad writes that, notwithstanding recurring bouts of financial crisis in America that should have led to an outflow of capital, rising interest rates and a falling dollar, US treasury securities and dollar denominated assets have continued to be a favourite haven for investors. In September 2008, for instance, following the collapse of Lehman Brothers, US financial markets went into a …continued »